Sky Deutschland Achieves 4K/UHD Live Channel Infrastructure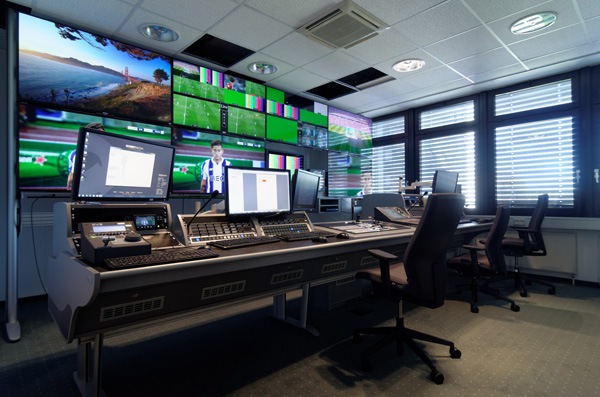 The 2016 Bundesliga season brought significant change to Sky Deutschland when the company put two new Ultra HD channels on air and was able to broadcast matches in Ultra HD. For the project, systems integrator Qvest Media undertook the design and planning of the redundant system architecture, and implemented an IT-based broadcast system integration for the 4K live production infrastructure and Ultra HD broadcast management.
In order to implement Sky's new UHD channels within a project schedule of around 12 months, Qvest Media developed a 4K production environment with a live broadcast chain. In the first stage in October, Sky's pay TV channel delivered one match per Bundesliga matchday, as well as selected games of the UEFA Champions League in Ultra HD format on the channels Sky Sport Bundesliga UHD and Sky Sport UHD. Apart from football, other live sport events will be shown in UHD in the future.
Redundant Storage Transfer
About 15km of video cable, 6km of network cabling and seven Schäfer IT-Systems 43 HE racks are needed in order to connect and support the 4K infrastructure. Storage transfer for file and live ingest is handled through Rohde & Schwarz Element and VENICE 4K servers, which are connected to the Sky headquarters. As a result, all content is recorded and saved in two different places, simultaneously and independently from each another. In the event of deviation or damage, this completely redundant configuration means that 4K productions can still be implemented and distributed without interference or interruption.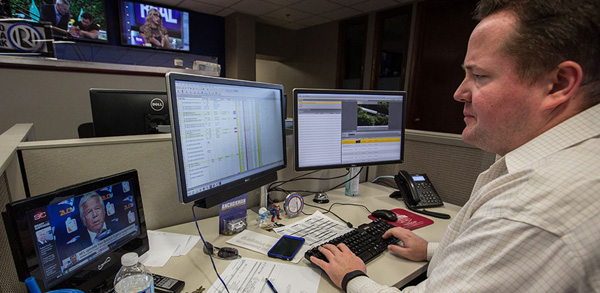 Three of the VENICE 4K servers are used to set up channels for playout and to record the live program. Immediately after recording, the program can be played out as repeat programming or re-purposed within compilations to produce other programming. As a 4K server, VENICE 4K records a UHD signal as a complete native file, and Sky says they no longer have to merge HD quadrants via an external system, making it easier to optimize their workflows.
During ingest, incoming files from external sources, such as an OB vehicle, are received and recorded in Sky's production format - the XAVC-I (intraframe) single file with a class 300 codec and a bandwidth of 500 Mbps. 'Single file' refers to the fact that XAVC generally uses the MXF wrapper, with the audio and video configured in a single file. For the playout format, Sky uses the UHDp50 standard.
The R&S SpycerBox Ultra TL is used for nearline storage, and a R&S CLIPSTER mastering system prepares the film material for broadcasting. CLIPSTER converts the interoperable master format (IMF) video, in which the large production studios generally deliver their material, into Sky's own customized version of IMF.
Production and Editorial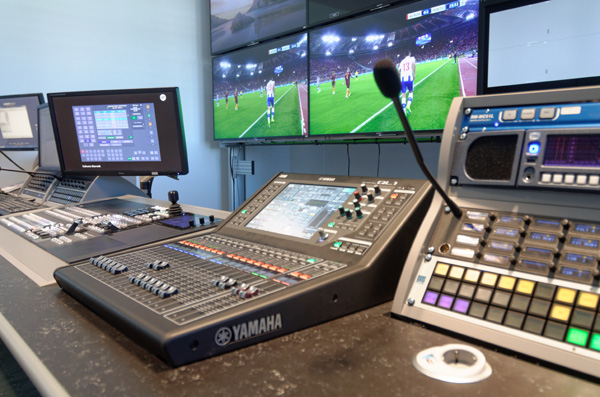 The SpycerBox and CLIPSTER systems have a gross capacity of over 500 hours of 4K material and serve as a central access and processing source for the Avid editing suites, Adobe and Vizrt graphic suites, quality control and UHD playout. The Avid suites are based on the MediaCentral Platform,built with a NEXIS | E4 software-defined storage platform connected to Media Composer, through which Sky can acquire, edit and deliver content in resolutions up to 2K and Ultra HD.
Also, before adopting MediaCentral, Sky's audio team operated in a silo. Now, they have seven Pro Tools | S6 modular control surfaces networked and running on the same platform as the news and editing rooms. Qvest Media installed a Dolby E-capable audio processing system, and integrated the internal voice communication into Sky's Riedel intercom-ring. 4K HDR class 1 monitors from Sony and Canon are installed for reference monitoring.
Producers and editors in remote locations connect with the newsroom through the Avid MediaCentral | UX, the cloud-based web front end to MediaCentral. From connected locations, Sky editors can use this system to write scripts, view and edit video, record voiceovers, add and preview graphics, search across multiple systems simultaneously, send stories directly to air, and publish to social media platforms or the website.
File Management
Highlight editing and slo-mo clips – also in Sky's XAVC-I single-file production format - are implemented via the EVS XT4K live production server. An EVS XFILE 3 system, which is integrated in the workflow, allows the ongoing archiving and restoring processes to be controlled and monitored.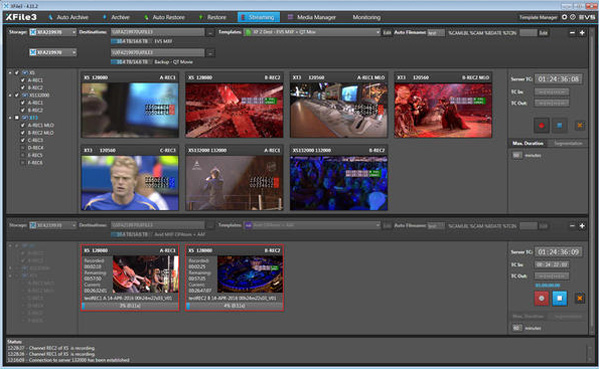 From a connected workstation, XFile3 automatically backs up media to disk with on-the-fly creation of transcoded editions throughout the production. Operators can monitor and manage the file transfers from the one interface, which gives control and visibility of the content across its lifecycle. Without waiting to the end of live production to archive content from the server, XFile3 starts transfers during live operations, which can then be completed a few moments after the event.
Real-time Automation
Automating work steps and processes was an important goal of this integration. For this purpose, Qvest Media integrated and put into operation a customized and adapted ADC automation system by Imagine Communications. The ADC real-time Device Controller both controls devices and manages multiple playlists on multiple networked and serial devices. Individual device controllers can manage several channels, while ingesting other channels at the same time. The controllers can be paired for redundant operations, with manual or automatic failover.
Meanwhile a file server with a standard Microsoft SQL database stores all metadata needed to support automated workflows, which has a flexible enough database structure that users can create their own database tables or use the standard schema. These file servers may also be paired for redundancy.
The ADC set-up controls almost all components of the infrastructure and production processes, including the Vizrt Media Sequencer middleware the ADC uses to define the configuration settings and playlists, connecting render engines, newsroom systems, video servers and so on. Thus, the ADC also controls the video and logo server, two Evertz EQX routers with connection to the Lawo VSM studio control, a chroma keyer from FOR-A, and the audio and video mixer. www.qvestmedia.com