Omnitek Ultra XR 12G-SDI UHD Waveform Analyser to Support VOIP
The new Omnitek Ultra XR waveform analyser includes video-over-IP support and continues Omnitek's development of devices supporting 12G-SDI product design and 4K system infrastructure testing. It works with Omnitek's Ultra 4K Tool Box, released in 2015.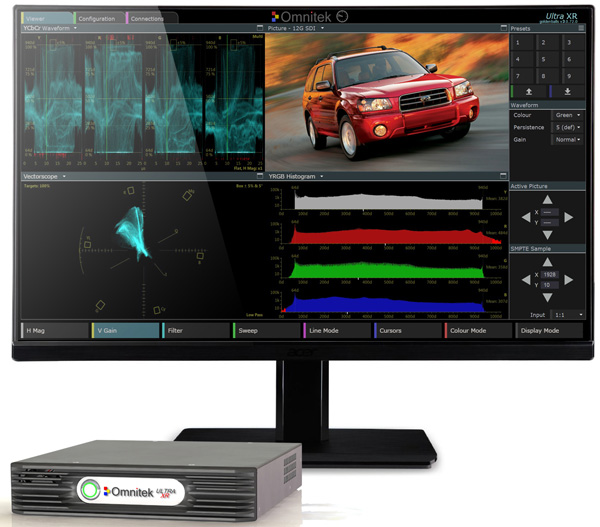 Moving into the operational sphere for broadcasters, post production facilities and pay television providers, the new Ultra XR is designed for 4K/UHD content creation, post processes and programming quality control. It will be displayed at the 2016 NAB Show.
Technically, the Ultra XR has the traditional range of waveform analysis tools but is engineered specifically for 4K/UHD media. It supports 12-bit 4:4:4 SDI input formats in YCbCr, RGB, and XYZ, Wide Colour Gamut RGB - ITU-R BT.2020 and High Dynamic Range inputs - ST2084 / PQ and Hybrid Log Gamma. The picture monitor, true 4K waveform monitor, vectorscope, BT.709 / BT.2020 CIE gamut charts, data / cable views, video timing, audio meters and video / audio / ANC status instruments will be supplied as standard for SD to 4K resolutions, in order to support analysis of a wider range of physical interfaces. On the output side, a full resolution monitor output is a part of the unit, with complete colour management functionality.
A demonstration of the Ultra XR at NAB will include a video-over-IP implementation based on SMPTE 2022-6 as part of Omnitek's on-going agnostic support for the different streaming systems under consideration in the broadcast industry for IP-based production.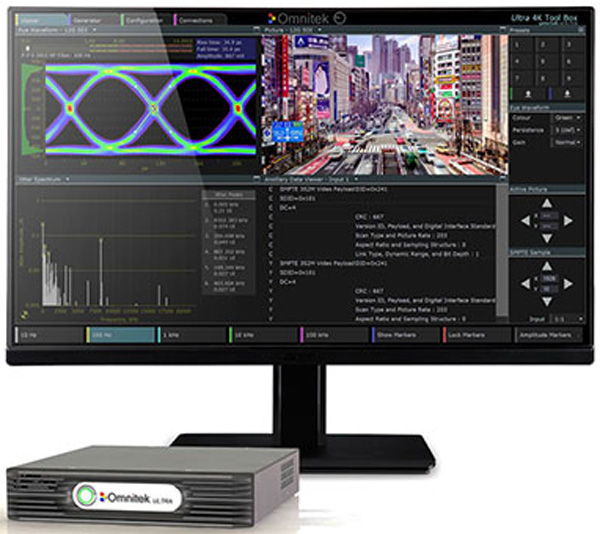 The Ultra XR 4K waveform monitor complements Omnitek's Ultra 4K Tool Box, which has been shipping with 12G-SDI since mid-2015 and is among the first 12G-SDI test and measurement systems to market. It is built with a set of tools for real-time physical layer analysis, low-level SDI-sample analysis, ANC packet analysis and decode, audio PPM monitoring, and gamut and link-timing measurement.
The Tool Box is also able to generate and capture moving test patterns, which includes active video and blanking data, making it useful for offline analysis. Full gearbox cross-conversion between the various I/O includes support for all SDI versions from SD to 12G, enabling 4K over quad 3G, dual 6G or single 12G-SDI, for example.
Also showing at NAB will be Omnitek's 3G-SDI-capable Advanced Waveform Monitor, the OTM1000, plus the OTR1001 waveform rasteriser and Picture Quality Analyser with in-service A/V delay measurement. www.omnitek.tv