ClearView Player IP Automates Playback for SMPTE 2022 Networks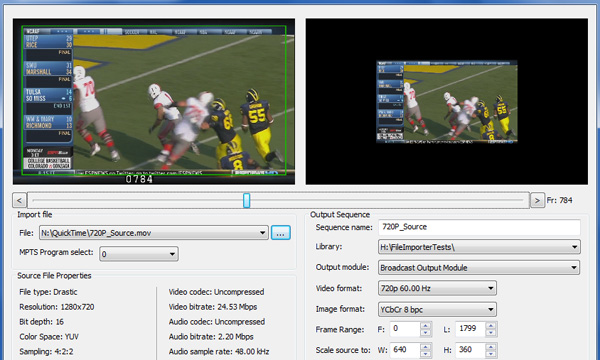 Video Clarity's ClearView Player IP is a high-capacity server with playlist functions for automatically playing and recording uncompressed video using new IP-related video transport standards. ClearView Player IP opens the potential for manufacturers who want to produce a new category of playback servers specifically designed for use in an IP infrastructure.
"We've been developing an uncompressed video recorder/player line in the SDI domain for some time, but now that new IP network standards are making their way into professional production and transmission applications, product manufacturers and programmers need reliable source-video systems in their test labs," said Blake Homan, president and founder of Video Clarity. "For developers of new broadcast equipment, or any facility using uncompressed video player/recorders, ClearView Player IP is a purpose-built product that plays video 24/7 in the IP domain, making it possible to test products and apply uncompressed video to program playback applications."
ClearView Player IP is built for product manufacturers that need a reliable system to play back one or two channels of video programming into a SMPTE 2022-6/7-compliant network, with a plan to support SMPTE 2110 (TR-03 and TR-04) as the standard develops. Manufacturers can rely on the system to subjectively view the video for quality or feed the output to a processing engine for prechannel or preprogram deployment quality testing. ClearView Player IP systems can also be deployed for broadcast- or venue-based playback when an uncompressed video source is required in an all-IP environment.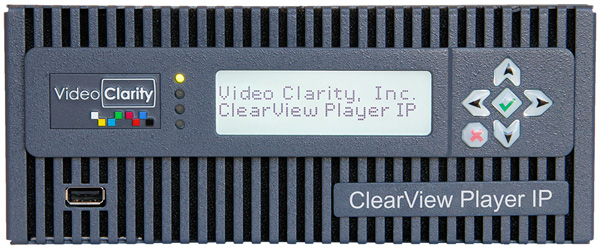 ClearView Player IP works within the new uncompressed video networking standards to record one and play up to two programs of uncompressed video and audio to and from a large storage array. Users can play back video and audio with start commands from the unit's GUI, and they can play up to two sequences of video locked to one command, loop or stop. They can also automate program playback and create a playlist of back-to-back video/audio sequences.
The ability to continuously play high quality, uncompressed video and audio over IP makes it possible to dependably test receiver devices and video/audio processors, such as encoders and statistical multiplexers, as applied to a video network.
ClearView Player IP is available now in three models - 1-RU, a small portable device and 3-RU, all of which can record one or play two HD programs as uncompressed IP up to 1080p/60Hz. The 1-RU and portable versions come standard with an IP interface, while an SDI-only configuration is optional. The third model is a hybrid 3-RU server system that can not only record or play HD uncompressed on IP, but also record or play 4K formats on HD-SDI and play back with HDMI outputs. videoclarity.com