BBC Studioworks Builds an IP/HDR Future with Imagine Communications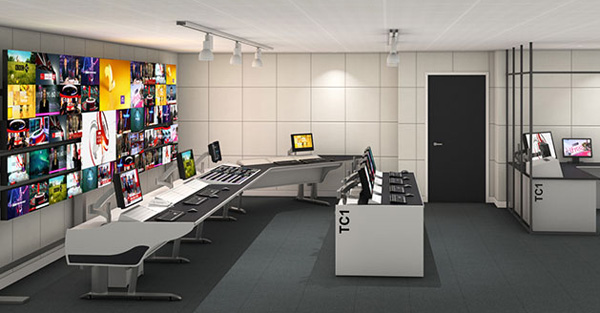 Above and below – Architectural renderings anticipating BBC Studioworks Television Centre, showing Studio 1's (TC1) HD Production Gallery and the exterior.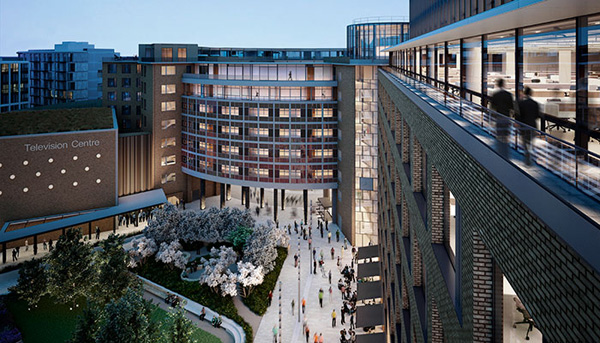 The Television Centre of BBC Studioworks - formerly BBC Studios & Post Production - are being redeveloped as the BBC's long-term home with three large studios and post production facilities integrated into a mixed-use site. The new studios, Studio TC1, TC2 and TC3 - are part of a greenfield development, creating an opportunity to design and supply the systems supporting a modern production facility essentially from scratch.
BBC Studioworks is working with systems integrator Dega Broadcast Systems on the new infrastructure, aiming to purchase equipment that will be able to support the facility's broadcast demands over time. Recognising that television facilities will require more complex signal management and support for multiple formats, BBC Studioworks chose the Platinum IP3 router from Imagine Communications as an agile hub for managing SDI video and AES audio signals in the complex.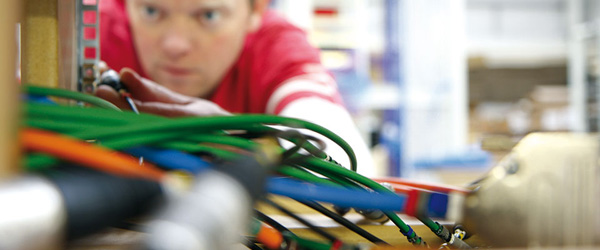 Apart from signal distribution, the Platinum IP3 supports audio multiplexing and de-multiplexing to combine multiple audio channels into a single stream to save on resources, integrated multiviewing, and discrete AES or MADI signals. It is designed to work in a hybrid SDI-IP environment, with transparent operations across the two signal formats and synchronous switching between SDI and IP domains. It also supports a complex control layer through the Magellan SDN Orchestrator, a software control system for hybrid SDI-IP facilities that allows the IP3 to be integrated into a service-oriented architecture.
"The hybrid routing functionality prevents the need for a separate audio matrix, and the I/O processing capabilities simplify the system architecture and increase flexibility," said Elom Bell, procurement manager for BBC Studioworks. "The router's integrated multiviewer also simplifies overall system architecture, and the Magellan controller integrates with the Sony Live Studio management layer we have selected.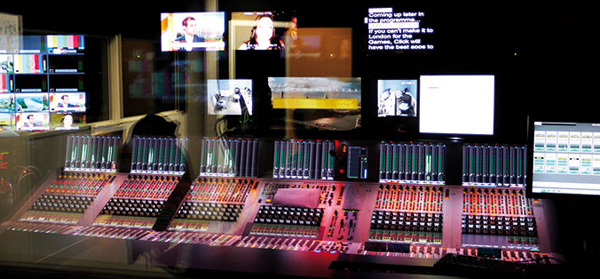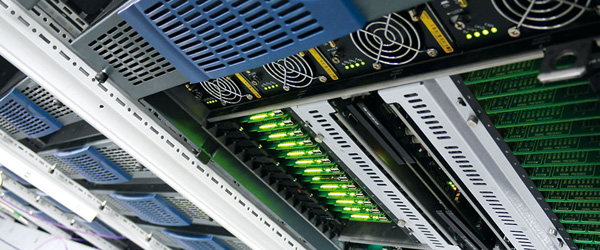 "Studio TC1 will be capable of producing 4K content from the start, and we see high dynamic range production as an early opportunity. The Platinum IP3 is ready for that, and for IP connectivity, which we are also working on." The Platinum IP3 can be extended with IP input and output modules based on the AIMS [Alliance for IP Media Solutions] roadmap to seamlessly connect to IP networks. Its control layer can be software updated to support IP networks based on commercial off-the-shelf Ethernet switches.
The design of the new BBC Studioworks facility calls for two Platinum IP3 28RU router frames. One will be dedicated to Studio TC1. The other will handle signaling for Studio TC2 and Studio TC3. Both support a mixture of copper and fibre connectivity and have interface modules to link to the facility-wide MADI audio infrastructure. Platinum SX Pro multiviewer modules are included in each frame, supporting multiple displays to add the flexibility required for a fast-moving, live studio environment. The IP3 is suitable for multivendor set-ups by supporting a large number of industry standards, and is compatible with various third-party IP network switch manufacturers.
The studios and post production facilities are expected to open their doors on 1 September 2017. www.imaginecommunications.com