Marshal Brings 4K/UHD PTZ Camera and 18.5in Analysis Monitor to ISE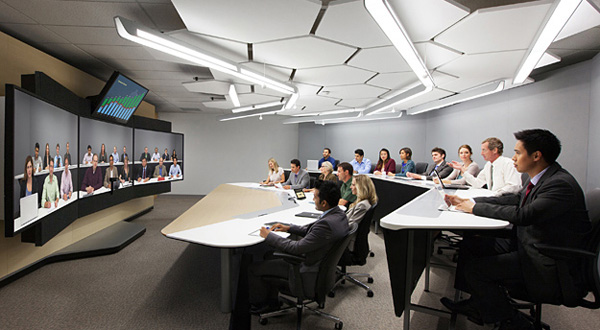 Marshal Electronics is attending the ISE Show in Amsterdam with two new pieces of broadcast production gear, the CV612HT-4K PTZ camera with HDBaseT and ORCHID 18.5-inch Master confidence monitor.
Marshall Electronics' first 4K/UHD PTZ camera records 3840x2160p resolution video simultaneously over HDMI and HDBaseT cables with pan-tilt-zoom controls. The CV612HT-4K PTZ has a 9 Megapixel ½-inch sensor and, by using up-to-date HDBaseT connectivity, users can run a single Cat5e/6 cable to the camera location, carrying 4K uncompressed video, camera control and 48V Power over Ethernet and making set-up simpler. HDBaseT transmits uncompressed UHD video transmission with very low latency.
The PTZ housing is designed for smooth, simultaneous 4-axis control of pan, tilt, zoom and focus. Typical applications include distance learning, corporate events, public speaking, live performances and house of worship that demand ultra clear images with low latency.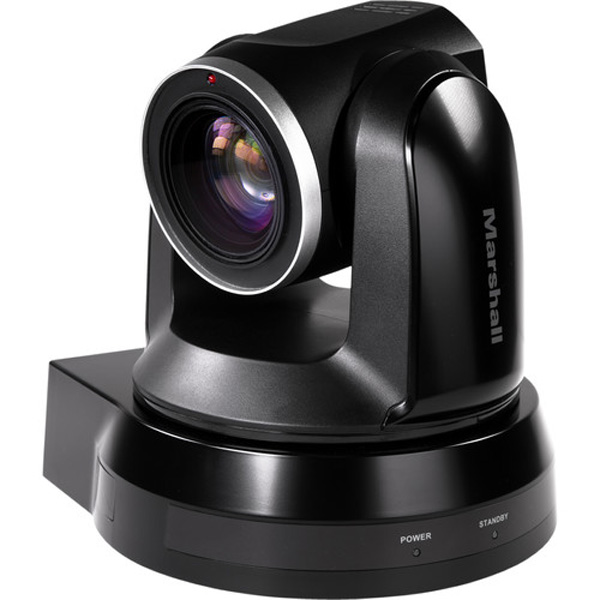 The CV612HT-4K supports sharp 4K UHD video, as well as standard HD 1080p/1080i/720p resolutions, which works well for mainly-HD infrastructures ready for 4K or that want to future-proof their equipment. The CV612HT-4K has regular, adjustable broadcast settings such as white balance, dynamic range, exposure, iris control, gamma, red/blue gain, black level plus operational adjustments.
Marshall's new PTZ UHD camera is compatible with most integrated control systems, supporting remote operation and control via RS232/RS422 using common protocols. Crestron modules and Visca/Pelco command lists are available for handshake setup and compatibility.
The recommended setup includes the Marshall VS-PTC-200 integrated PTZ Joystick Controller, which can control up to 7 cameras via RS232 or up to 255 cameras via RS422 with single-button controls, simultaneous 4-axis operation, 128 preset locations, adjustable transition speeds, flippable images and switchable directional joystick control.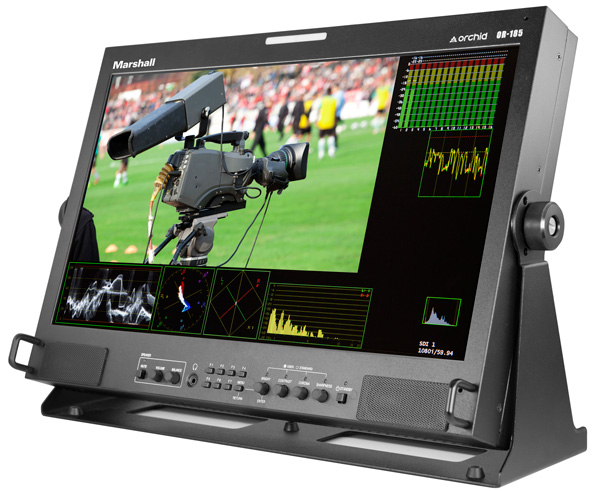 ORCHID 18.5-inch Master Confidence Monitor
The ORCHID OR-185 is a new 18.5-inch Master confidence monitor for broadcast control rooms, transfer facilities, production control and editing areas. The OR-185 uses a 1920 x 1080 Full HD panel that can display images at high quality from any source or aspect ratio. All OR-185 screens are colour matched at the factory.
The monitor is built with production tools for video including real-time waveform, vectorscope, histogram, audio level meters, audio phase monitor and audio peak alarm. It includes 3D monitoring and analysis functions.
The OR-185 comes standard with two auto-sensing 3G-SDI inputs, DVI-I, VGA and analogue inputs. This unit can be used as a portable stand-alone monitor equipped with front panel stereo speakers.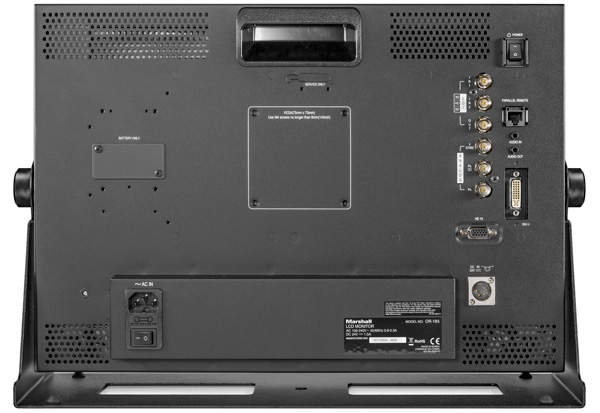 The OR-185 has seven user-assignable function keys and four rotary encoders for access to various monitor settings and functions. Analysis functions and measured data graphics are displayed as overlays leaving original video images intact. Other display options include full screen views of the waveform, vectorscope and audio data.
The OR-185 can de-embed and display up to 16 channels of audio. Audio metering options include up to sixteen 64-segment tri-colour audio meters with user-adjustable reference levels. The audio level meters can also provide numerical indicators and a peak hold function. The audio channel loss warning feature alerts the user with any detected audio errors during monitoring.
Further functionality covers 3D review, anaglyph 3D views, side-by-side 3D, false colour mapping, clipguide, colour peaking filter and others. http://www.mars-cam.com/