Blackmagic Scales Down Switching, Streaming, Playback for Broadcast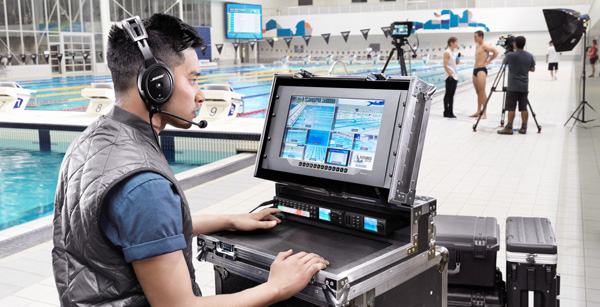 Blackmagic Design has introduced three new compact devices – an 8-input ATEM HD switcher, HyperDeck Studio Mini for 10-bit video and a Web Presenter for streaming.
The new live production switcher, the ATEM Television Studio HD, is made for both broadcast and professional AV. This switcher has 8 inputs, multi view, aux and program outputs, analogue audio inputs, built-in talkback, two flash based media players, creative transitions, a DVE for effects and others.
The new ATEM Television Studio HD replaces the original ATEM Television Studio, and is built with four 3G-SDI and four HDMI inputs, compatible with all SD and HD formats up to 1080p60. Users can connect up to 8 different sources such as SDI broadcast cameras, consumer HDMI cameras, computers and video game consoles. It includes two channels of analogue audio in, RS-422, Ethernet and a built in IEC power supply. Having both SDI and HDMI multi view outputs allows monitoring of all sources, preview and program outputs, with labels and audio meters, all on a single large screen television or broadcast monitor.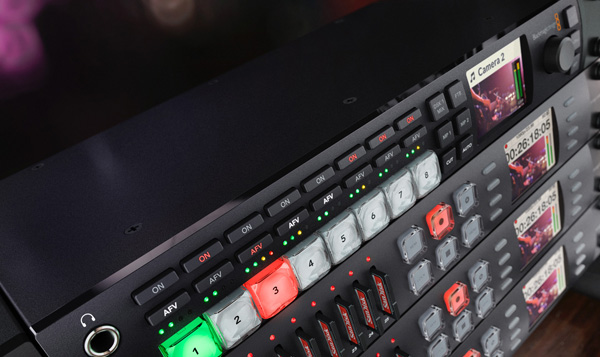 The switcher's applications range from professional broadcast studio shows and broadcast sports, to video blogs, gaming videos, internet talk shows, weddings, concerts and seminars. Resynchronization is available on each input so switching is less prone to glitches, making it suitable as a front end controller for AV systems cleanly switching between sources with one button.
ATEM Television Studio HD takes up two-thirds of a rack space in width but still has enough functionality for a complete live switched program, including effects and transitions, from the front panel. The panel has 8 large buttons for switching between sources, plus corresponding audio buttons, a down stream keyer, fade to black, media player and cut buttons. A talkback converter for SDI camera is built in.

Other controls are a built in LCD screen, spin knob and extra buttons for menus and to adjust settings like transition and effect parameters. Users use the buttons to select the source that they want to see next in the program, then hit the cut or auto button to switch sources, add effects, or key in graphics.
The free software control panel has different pages for switching, managing media, mixing audio, and remote controlling and colour correcting cameras. On the Media page you can drag and drop up to 20 RGBA graphics into the media pool and automatically upload them to the switcher's flash memory for use in realtime during a live program.
The software control also has a 20 channel audio mixer and a camera control section for remotely controlling cameras over the SDI program return feed. Blackmagic Studio, Micro and URSA Mini cameras are all compatible with the SDI control protocol. Because the cameras have DaVinci Resolve primary colour correction that can be remote controlled, it is possible to balance the colour and create looks from the switcher. Users can adjust focus and iris on compatible lenses, change camera settings and remotely control PTZ heads.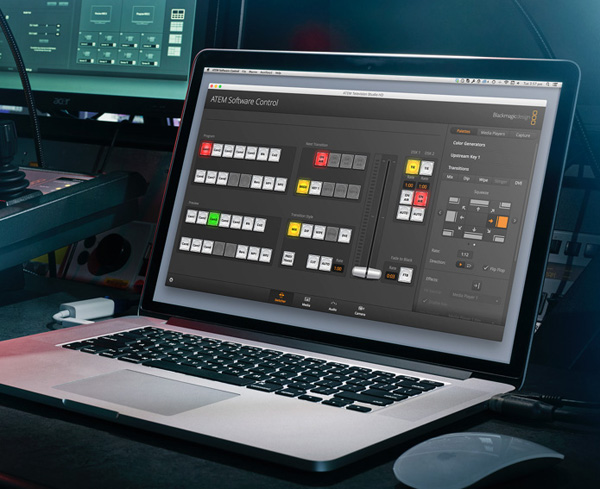 Via the software panel, multiple users can be connected at the same time, so that one person switches the program while others remotely mix the audio, upload or change graphics, colour balance and control the cameras.
Eighteen customisable transitions can be applied from the device's front panel, with a built in 2D DVE for adding digital video effects that can position, resize and scale live video in realtime. ATEM Television Studio HD has a media pool that can store 20 graphics for use with the two media players. The media pool uses flash memory to store custom graphics for use in programs. An upstream keyer with chroma keying for green screen shots allows the use of weather maps, graphics or virtual sets.
HyperDeck Studio Mini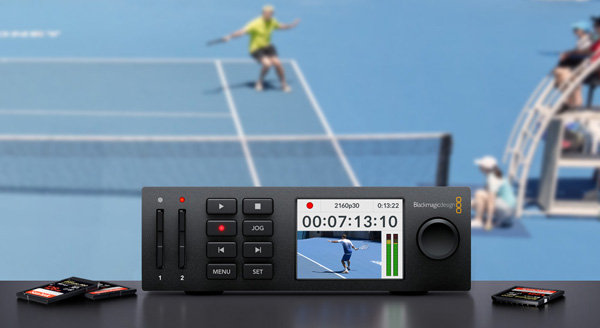 Blackmagic Design's new HyperDeck Studio Mini is a very compact recording and playback deck for broadcast quality 10-bit video using regular SD and UHS-II cards. It has 6G-SDI standard connectivity for working with SD, HD and Ultra HD formats up to 2160p30, and includes HDMI for large screen TV and projector monitoring, reference I/O with a built in sync generator and ethernet for uploading media via FTP, making it suitable for digital signage tasks.
HyperDeck Studio Mini measures only 139mm wide and 38mm tall, made possible by recording onto ordinary SD cards, which are not only cheaper but much smaller than typical SSDs or most other types of professional media. The design is based on the Teranex Mini's size, making it modular in a studio rack system - a customer could mount HyperDeck Studio Mini using the optional Teranex Mini Rack Shelf and combine it with other products to create a custom deck based on their own workflow.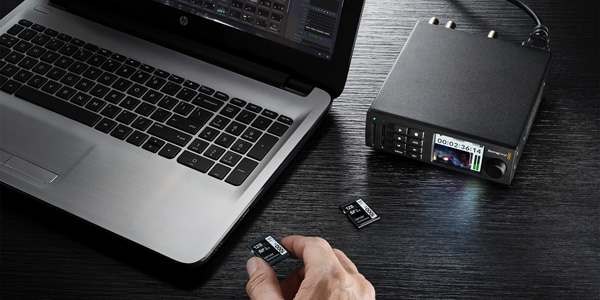 Blackmagic's example of this would be a customer working with analog material combing the new deck with a Teranex Mini Analog to SDI converter on the input, and a Teranex Mini SDI to Analog converter on the output, to create an analogue deck in a single rack space. HyperDeck Studio Mini can be used with the new ATEM Television Studio HD, Blackmagic Web Presenter [also new, shown below], URSA Mini and MultiView 4 in any combination.
Other applications are ISO recording at multi camera events, playback for multiple-screen digital signs, client suites and theatres for review and approval, or in post production with an editing system. HyperDeck Studio Mini records 10-bit YUV or 10-bit RGB video as ProRes, compatible with software such as DaVinci Resolve, Final Cut Pro X and other post production software.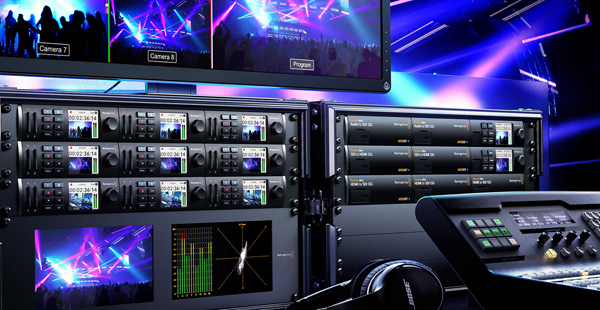 The Dual Link SDI outputs can be used to output separate fill and key material when operating in HD formats and playing back RGBA ProRes files that include an alpha channel. Fill and key output can send graphics with alpha channel out to a switcher for downstream keying over live video.
HyperDeck Studio Mini uses traditional deck style transport controls, or an RS-422 connection for deck control. It has dual recording card slots and an integrated high resolution LCD showing a thumbnail with timecode and transport information.
Blackmagic Web Presenter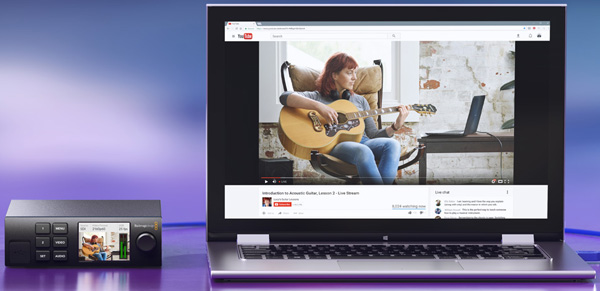 The Web Presenter uses professional SDI and HDMI video sources as webcam video for applications employing streaming software and internet delivery services such as YouTube Live, Skype, Twitch.TV and Facebook Live.
Its has 12G-SDI and HDMI connections and will down convert SD, HD and Ultra HD sources suitable for a 720p USB webcam and for working with streaming software. Streaming in 720p preserves HD quality and a 16:9 aspect ratio, but with low data rates so that uplinking streams to the internet can be done from a computer. If the streaming software detects a slow internet connection, Web Presenter can reduce the frame rate down to as low as 5 fps. It uses Teranex conversions for image scaling. Incoming SD, HD and Ultra HD sources are automatically converted to 720p and output via USB to the computer for streaming.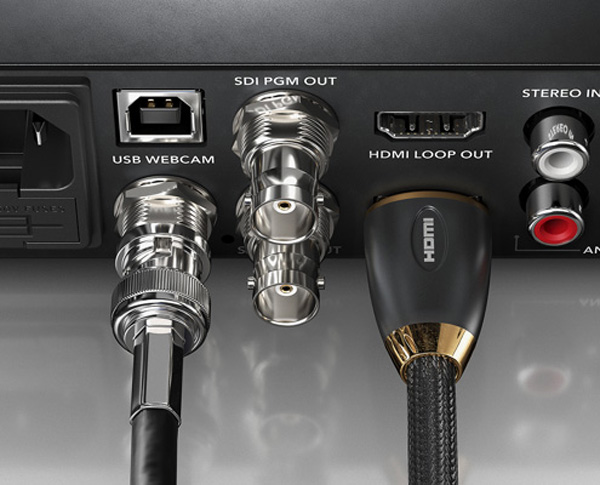 When the optional Teranex Mini Smart Panel is installed, Web Presenter can also live-switch programs using its built-in two-input production switcher, making it a small but complete live production system for location broadcast. For example, customers producimg online webinars can use it as a live production switcher to dynamically incorporate multiple sources.
Blackmagic Web Presenter is a fast, fairly simple way to move high quality video directly to the web, replacing dedicated streaming encoders and giving users the choice to use a chosen software and websites. Most webcam compatible software, such as Open Broadcaster or XSplit Broadcaster, can capture the USB video and audio from broadcast quality sources without the need for extra drivers.

The Web Presenter's applications are diverse. Traditional broadcasters deliver content online quickly to a global audience from any location. AV professionals can create high quality live streams of seminars and conferences, schools can stream performances and recitals to family members around the world, and gamers can share gameplay with player communities. In general, users can broadcast wherever an internet connection is available.
All three devices - ATEM Television Studio HD, HyperDeck Studio Mini and Web Presenter - are available now. www.blackmagicdesign.com