SDA Church Goes Global with Matrox Monarch HDX H.264 Encoder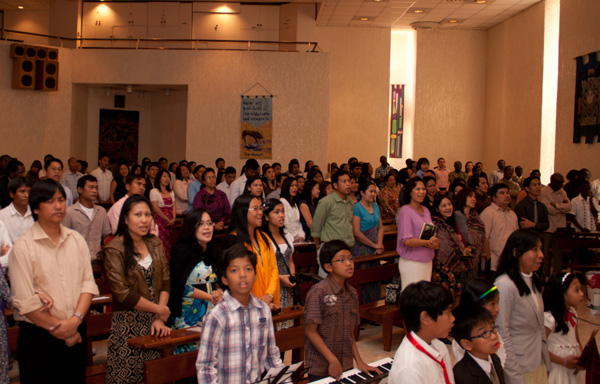 The Seventh-Day Adventist Christian church was established in 1863 in New York, but today it maintains headquarters in Beirut, Lebanon, and Ras Al Khaimah, United Arab Emirates as well as in the US. As a part of the church's vision to serve members around the world, the Church records and streams live events globally via their website and social media, including YouTube. By doing so, they are able to reach their followers and other interested people who are unable to attend in person.
Responding to demand from the community for an improved streaming experience and higher quality video delivery, the church decided to upgrade their systems from analogue to digital SDI. Because their earlier system had required combining and synchronizing audio and video components manually with clapper boards, resulting in poor audio quality, and relied on a lengthy post production process, the Seventh-Day Adventist Church also started looking for a simpler set-up and workflow.
Managing Files, Preserving Quality
The Church's team wanted to use recordings based on the H.264 codec, which preserves quality and outputs manageable file sizes when compared to DNxHD or RAW formats. They are now deploying the Matrox Monarch HDX streaming and recording appliance, a dual-channel H.264 encoder that supports SDI inputs, for their live events.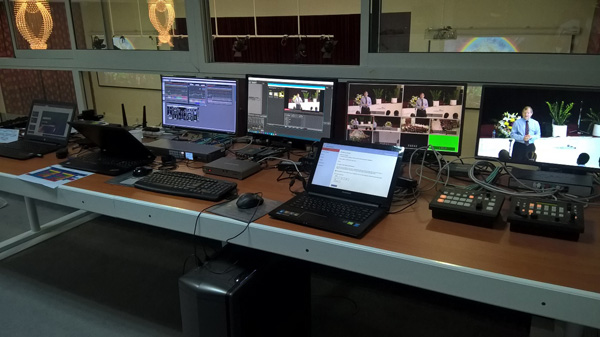 The first encoder they tested allowed the audio to drift after about 20 minutes of recording, but when they tested the Monarch HDX, its performance was reliable and consistent with the original recording. It also integrates with the church's existing SDI AV system and, as well as accurately synchronizing the audio and video and maintaining video quality, it produces smaller sized MOV or MP4 files and is simple for their staff to operate.
From a SDI or HDMI input source such as a camera or switcher, the Monarch HDX generates two H.264-encoded video streams at bitrates from 200 Kbps to 30 Mbps. Frame-synchronization, scaling, deinterlacing and noise reduction engines ensure that high quality images are sent to the encoders. For streaming, the encoders use either RTMP or RTSP protocol to deliver live streams to local or cloud-based media servers. On the recording side, the encoders write MP4 or MOV files to local USB drives, SD cards or network-mapped drives for post-event editing or archiving. Meanwhile, the dedicated encoder displays a remote preview of the input.
Special Events
The church brings together hundreds of people from all over the UAE for weekly services. Monarch HDX is used to live stream these services and record them at the same time to be edited and distributed as video on demand. During special events, local and internationally known preachers, speakers and musicians join the congregation.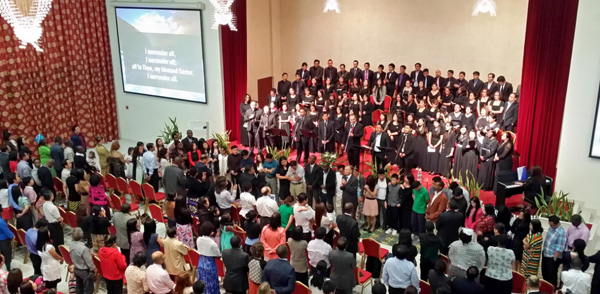 The church's recent four-day festival called 'Campmeeting', an annual event that grows every year, was held in Ras Al Khaimah with over 1,000 attendees and was the first event that the church broadcast using Monarch HDX. Campmeeting brings together diverse people from all over the Gulf Cooperation Council countries, Europe and the US, who have a chance to meet, learn together and listen to some of the world's best sermons and Christian music.
At the festival, SDI digital video cameras were connected to a video switcher and from there, the SDI signal was fed into the Monarch HDX. Presentations were streamed at high quality and low bitrate, and simultaneously recorded for archiving and future reference.
Jozsef Kurucity, serving as the Church's IT technician over the last four years, said, "Because the Matrox Monarch HDX can be controlled through a single button, any team member or even a volunteer can operate our system without a full-time technician to take care of manual A/V synchronization. The appliance saves us a lot of time during post processing - since the audio output from the Monarch HDX is of high quality and frame synchronized, extracting the audio and working on it separately isn't necessary. It can be edited in the same software used for the video."
New Closed Captioning

Matrox has now upgraded the Monarch HDX with the integration of closed captioning capture and streaming support, which gives broadcasters like those at the Seventh-Day Adventist Church greater options to transmit accessible video - from broadcast to digital signals - to all of their online viewers.
Monarch HDX retrieves captioning data from the SDI VANC or line 21, then embeds the data within the H.264 essence as CEA-608. Caption-enhanced content can be streamed via RTMP to media servers such as Wowza or content delivery networks including YouTube Live or Ustream, or recorded as MOV/MP4 files, and then be decoded by players such as Telestream Switch.
Closed captioning has played an important role in ensuring that all viewers have the intended television experience. Adding that capability to the Monarch HDX means broadcasters can make their on-line content as accessible as their on-air content. www.matrox.com