AJA's RovoCam is a compact block camera with an integrated HDBaseT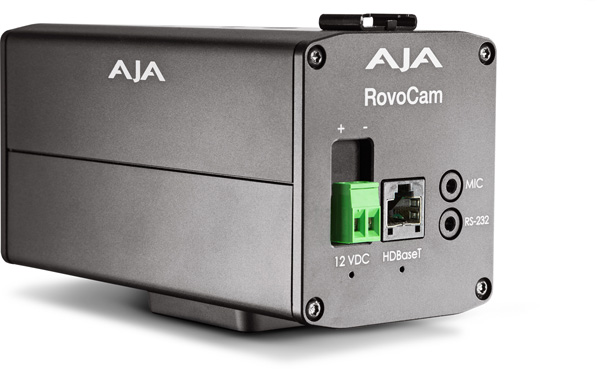 interface supporting uncompressed video, power, stereo audio and RS-232
control over a single CAT 5e/6 cable.
---
AJA RovoCam Integrates UHD/HD Video with HDBaseT Connectivity
AJA's RovoCamis a compact block camera for industrial, corporate, security, ProAV and broadcast applications, capturingUltraHDandHD videowith built-in 12x optical or true zoom and up to 20xSony Super Resolution Zoom. RovoCam's primary characteristic is an integratedHDBaseTinterface supporting uncompressed video, power, stereo audio and RS-232 control over a single CAT 5e/6 cable running at lengths of up to 100 meters.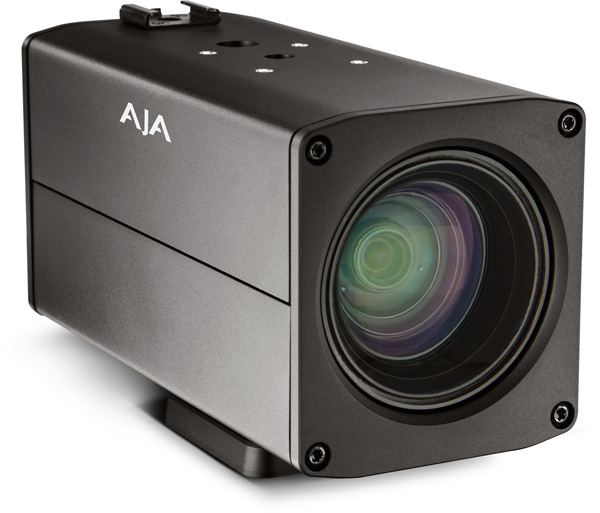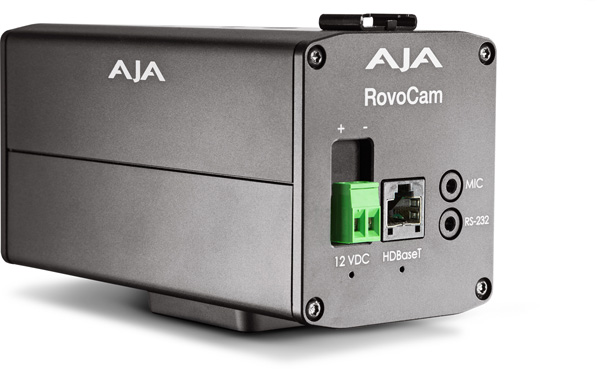 According to AJA, combining the HDBaseT interface with Sony's compact 4K camera makeshigh resolutioncamera acquisition possible with a very simple single cable setup and operation.
HDBaseT, created and powered byValens semiconductor, is a connectivity standard for commercial distribution of uncompressed UHD multimedia content. The basis of HDBaseT is5Play, functions that converge uncompressed ultra-HD digital video and audio, 100BaseT Ethernet, USB 2.0, up to 100W of power over cable, and various control signals through a single LAN cable for up to 100m. For longer distances, the latest specification of HDBaseT also enables the transmission of audio and video, Ethernet, USB and controls over fibre optic. AJA is anadoptermember of theHDBaseT Alliance.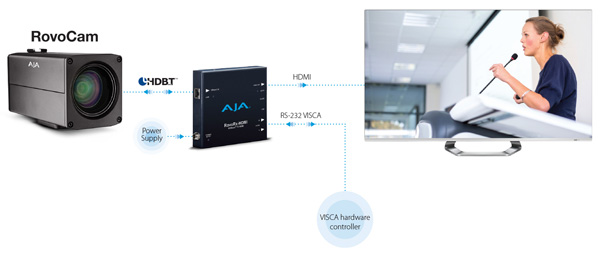 RovoCam is based onSony's 4K FCB-ER8300 Functional Camera Blockwith a1/2.3 type 8.9 megapixel back-illuminated CMOS sensorand Sony image processing with many options for automatic and/or manual control. Housed in rugged aluminum, RovoCam has a compact, lightweight body for mounting in a range of shooting scenarios. RovoRx-HDMI, the companion receiver unit, establishes a simple integration for RovoCam with an HDMI output, and all video/audio signals, power and control over HDBaseT. RovoCam is also compatible with some third party receivers.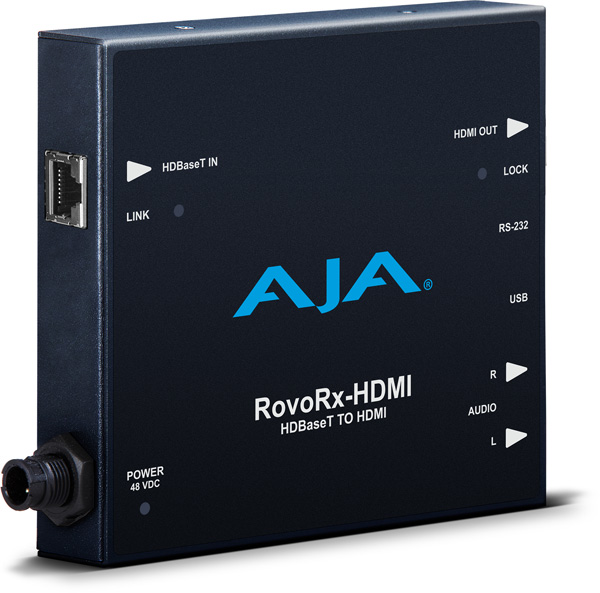 For more flexibility, apart from the UltraHD/HD HDMI output, the body has extraon-camera powerandRS-232connections and support for Sony VISCA camera control – although the power and RS-232 connections wouldn't be needed if those functions are supplied by the HDBaseT interface. Astereo mic inputsupports PiP power and a USB is built-in for firmware updates and other control.
Mini-Connect for ROI Mini-Converters
RovoCam and RovoRX-HDMI, which will be available soon through AJA's reseller network, were just introducedatIntegrated Systems Europe 2016in Amsterdam, along with AJA's new Mini-Connect. This is a compact device comprised of four USB connections and a built-in web server, which gives a user network control of up to four separateAJA ROI scan converterssimultaneously, from any location using a standard web browser.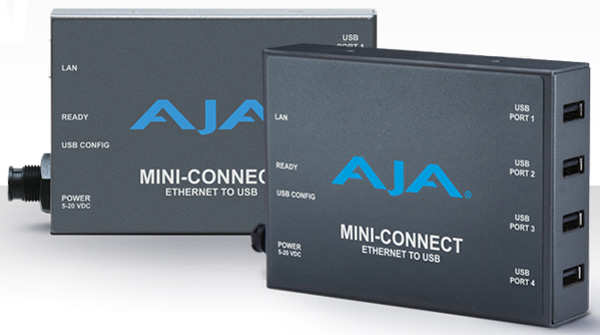 In effect, it extends theAJA Mini-Configsoftware UI across the network for access remotely, across a LAN or across the web. Once connected, users can configure ROI's functions and update firmware, using a standard web-browser. AJA's ROI scan converters are used to convert computer-based content to professional SDI video throughregionof interest image scaling, aspect ratio and frame rate conversion, plus various audio functions. ROI addresses the demand for a way to incorporate computer signals intohigh qualityvideo production without significantly increasing the budget or need for space.
AJA ROI, ROI-DVI, ROI-HDMIandROI-DP Mini-Convertersare all supported. Future updates will include support for other AJA Mini-Converters. www.aja.com