SAM Morpheus UX Defines User Control for Multi-Channel Playout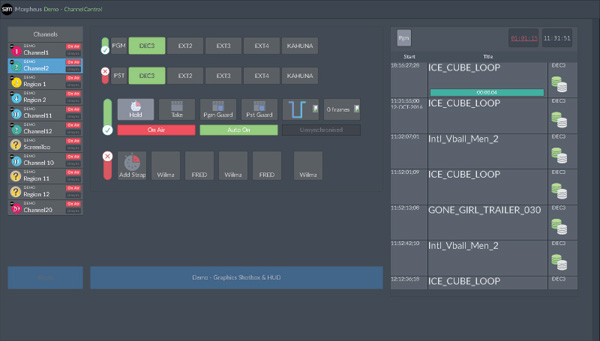 The new SAM Morpheus UX for multi-channel playout is a user-definable control interface that works with the company's Morpheus playout automation and ICE CiaB products. Users can precisely customize channel views and focus on the specific functionality they need.

Because playout environments vary in scale and complexity of channels, and because virtualization is expected to increase the ability to launch extra services, SAM believes that a new way of looking at control is necessary. Morpheus UX reflects the idea that customers need to define their own user interface, on a channel-by-channel basis if desired, and quickly access core functionality rather than manage unused tools.

Customers also need to be able focus on significant events such as live feeds or potential error points instead of using up screen space with established events that are guaranteed to go to air.

With Morpheus UX, ICE and Morpheus, customers can build user-defined panels that precisely match their playout operation and they can build screens made up of as many panels as they need. Specific functions can be built into any screen, in any layout, and recalled at any time. Unnecessary or rarely used functionality can be hidden, while functions that are required the most frequently are front and centre.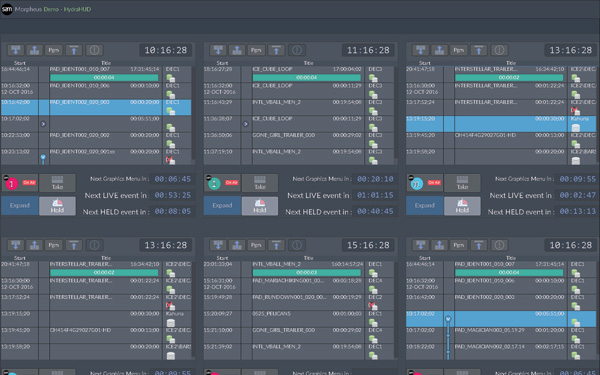 Examples of panel types and functions include a panel that shows only upcoming live events, or a screen for a supervisor who can see the next four events across ten premium channels, and then add emergency control buttons to advance or pause the playlist for each of those ten channels. A traditional, detailed list view with secondary events, event status and multiple countdown timers can be built as well.
For live interaction, a complete master control mixer can be built with program bus cuts, DSK and DVE control. This is made fully interactive with the running playlist to ensure everything is contained in the automation as run. A shotbox of graphic events can be built and put to air immediately during live events. Users can aggregate the control and monitoring of channels that have been split across multiple automation points of presence, which can improve operational responsiveness when controlling remote disaster recovery systems.

Using Morpheus UX, one operator can manage complex playout environments more easily. To increase speed and simplify the view visually, the operator can quickly develop the screen by identifying each channel with a different look using a set of basic editing tools.

SAM will give hands-on demonstrations of its new Morpheus UX interface, available now, at its booth at NAB 2017. s-a-m.com