Media Prima Malaysia Goes to Air with New Pebble Beach Automation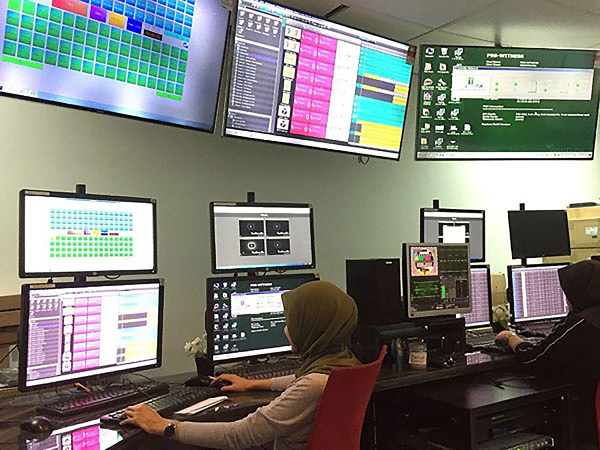 Media Prima Television Network media company in Malaysia, has now transitioned its legacy automation systems to a new infrastructure based on Dolphin, Pebble Beach's compact, integrated channel device, and Marina, the company's centralized ingest, content management and multi-channel automation system.
Media Prima operates four channels including TV3, Malaysia's most-watched channel. It also handles TV9, 8TV and ntv7, which went on air at the end of December following the transition to Marina and Dolphin. The new infrastructure, which was implemented with the assistance of Malaysian systems integrator, Tiara Vision Sdn Bhd, controls the playout of the four channels with complete redundancy. The Dolphin integrated channel devices deliver video playout, graphics and subtitles for Media Prima's TV3, TV9, 8TV and ntv7 free-to-air channels.
The Marina and Dolphin system was initially installed in 2015 and used as a backup for the main channels, before being commissioned as the main playout system. It has been built with redundancy options using mirrored playlists, creating a main and backup program output that the playout can switch between, in case of on air problems. This establishes redundancy for all of Dolphin's functionality including video playout and subtitles.
The new system includes 14 clients, five of which are used for playout, and nine for scheduling. Multiple user access rights can be configured according to different operator privileges, giving users the ability to view and edit playlists, to view media on Dolphin servers, or to access the Marina configuration, depending on their level of authorization.
Marina is centralized ingest, content management and multi-channel automation for systems from one up to hundreds of channels. Combining architectural flexibility with resiliency, it is designed to adjust to and meet the on-going demands of the broadcaster's media environment. The system interfaces with a Dalet MAM system and a customized IBS traffic system, while the Dolphin integrated channel device supplies simple Flash graphics and more complex graphics coming from Vizrt devices.
Dolphin's integrated audio, video and graphics functionality is highly automated for ingest, channel branding and frame-accurate multi-channel playout. Its software-defined architecture allows it to scale to the specifications of playout workflows either as a stand-alone, all-in-one system, or a hybrid system installed alongside third party channel delivery hardware and software. www.pebble.tv