Ventuz 5 Updates Real-time 3D Effects and Workflow Integrations
Ventuz 5, real-time 3D graphics for digital artists creating in-studio and on-air applications, is set to be released at Integrated Systems Europe 2016 in Amsterdam in February. The software was launched at IBC 2015 in September and has gone through beta-testing ever since.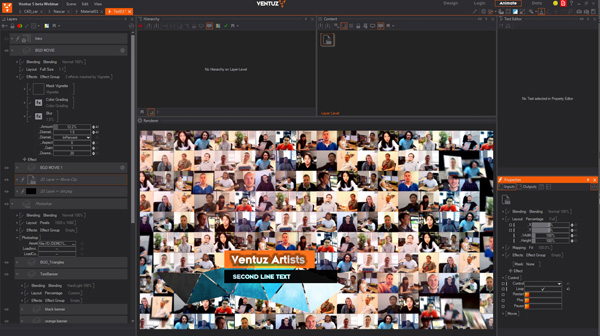 Ventuz 5 was developed with significant changes to the workflow, adopting a number of industry standards including layer-based real-time 3D compositing, making it possible to incorporate useful blending modes and effects. Ventuz 5 has also updated modes of operation intended to shorten the learning curve for newcomers and speed up processes for current users.
New third party integrations with Ventuz have been established, simialr to the existing live-link between Ventuz and MAXON Cinema 4D, allowing a direct exchange workflow between the two software tools for quick import and editing of 3D models. Another of these integrations is an import option for Photoshop files, which can now be brought into a Ventuz project including all layers and blending modes. Photoshop is the tool artists most commonly work with alongside Ventuz, and consequently development has continued through the beta-testing phase." Ventuz 5 has also upgraded its import options for many 3D formats, which include Collada, 3DS, DXF, LWO, LXO and FBX.
In line with the current interest in photo-realistic looks for broadcast, Ventuz has implemented a new material engine designed to produce more lifelike textures by increasing performance and by allowing the use of assets from libraries and texture creation tools. Further to this, the software is built on a completely new 3D real-time render engine with a shader permutation system, creating variations in complex 2D and 3D effects without having to monitor performance. Ventuz says they will continue to develop on this engine for subsequent releases, especially for dynamic graphics.
At the Ventuz booth at ISE, Eyevis is building a video wall of their OmniShape display modules, using Ventuz graphics. Four Partners, a creative agency from the UK, will demonstrate their design work in Ventuz and demonstrate the content creation side of the software, and MAXON will show 3D modeling and the before mentioned live-link between Ventuz and Cinema 4D.
ISE 2016 will take place at the RAI Exhibition Center in Amsterdam, Netherlands, 9-12 February. www.ventuz.com/ventuz5