Dejero Adds Mobility for Transmission, Virtual Routers & Content Searches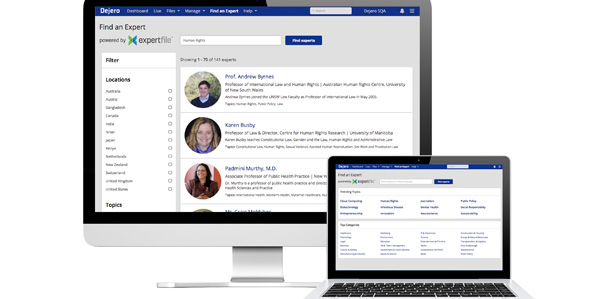 Dejero's LIVE+ EnGo mobile transmitter now has a Vehicle Mount Kit that makes it possible to position the device, usually used in a backpack, inside newsgathering or production vehicles and connect it to various roof-mounted high-gain antennas. This arrangement improves on EnGo's RF performance while reporters are driving or in locations where cellular connectivity may be challenging. When crews are on the scene of breaking news and at live events, the transmitter can be used in the same way as a rack-mounted encoder/transmitter in a cellular, satellite or hybrid vehicle, for extra mobility. Afterwards it can be disconnected and placed in a backpack or sling bag, or mounted directly onto a camera.
The ability to mount the EnGo in a vehicle can prevent having to buy and maintain dedicated equipment that may be used infrequently. The compact size suits markets where news vehicles are best kept small and agile. The EnGo vehicle mount kit can be purchased as a separate item and is compatible with Dejero's existing EnGo unit.
The Mount Kit was shown at the recent 2017 NAB Show with some other EnGo updates such as a three-modem version of the EnGo that supplements high performance transmitters in locations with consistently reliable, high-bandwidth cellular connectivity. The EnGo also supports international work more effectively now with global roaming options and a user-changeable SIM module.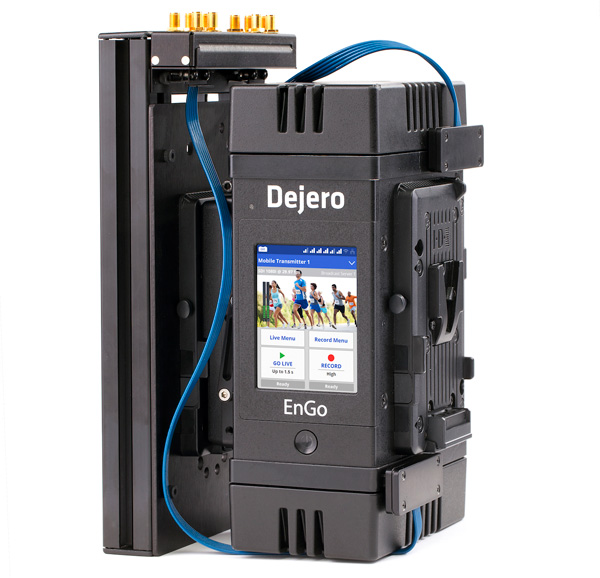 Users can now transfer video to a Dejero server while recording, upload clips at speed to get footage back to their station as quickly as possible, and rename clips on the server to simplify file management.
Gateway Remote Network
In contrast to the EnGo, Dejero has been developing their Gateway system to supply reliable, fast secure access to the public Internet and private networks for newsgathering and live production crews working in external locations where they can use it to quickly send and receive large files or access newsroom systems.
For example, on Dejero Gateway's high-speed blended network, field crews can complete stories while on location. Reporters in transit can connect a laptop and access newsroom systems and media asset management systems, search and download archived footage, edit packages and upload large video files without having to return to a broadcast station. The goal is to enable news crews to do everything in the field that they can do from a newsroom, and reduce time spent on return trips to their stations.
Gateway dynamically blends multiple Internet connections to create a virtual network, routing packets intelligently to minimize bandwidth fluctuation, packet loss and latency differences of individual IP connections either cellular, satellite or Wi-Fi. The blended network can yield the necessary bandwidth for quick real-time data transfer.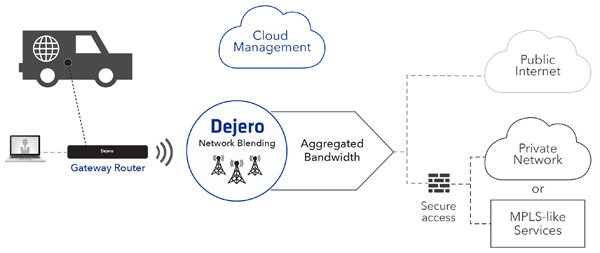 The Gateway system includes the Gateway router with network blending software, cellular connectivity services, access to the blended network, cloud-based management from LIVE+ Control plus technical support.
Expert File Partnership
Dejero has formed a partnership with ExpertFile, a global search engine and content platform for news crews, including broadcast reporters and editors, looking for expert viewpoints and sources when either outside or inside the newsroom.
ExpertFile is a resource for identifying specialists and emerging story ideas on over 25,000 specific topics. Dejero works as a video acquisition and management platform to transport and share video to and from newsgathering crews and solo reporters in the field. The new partnership makes ExpertFile's directory accessible inside Dejero's LIVE+ Control management system via a web browser.
People who already use Dejero equipment or software can be connected directly to the news organization, to bring together reporter and expert wherever they are in the world. The integration removes a level of complication for assignment editors, keeping more functionality within a common user interface. www.dejero.com