AJA's Hardware Supports New HDR, IP and HDMI 2.0 Workflows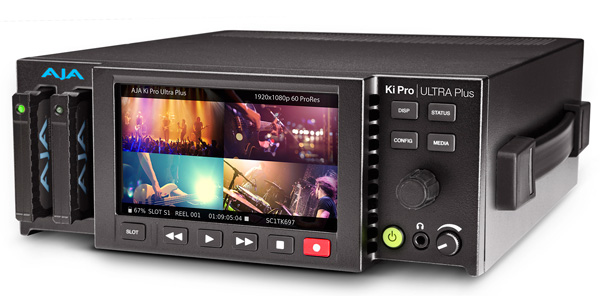 AJA has continued to develop the Ki Pro recorder's functionality for new video capture demands. The most recent version shown at NAB 2017, the Ki Pro Ultra Plus, extends to 1, 2, 3 or 4-channel simultaneous HD recording up to 1080 50/60p, with independent ProRes codec profile support for each channel, and HDMI 2.0 up to 12-bit capture and output for 4K/UltraHD workflows. Ki Pro Ultra Plus captures pristine 4K/UltraHD and HD video to commonly accepted production codecs including Apple ProRes and Avid DNxHD MXF.
The updates mean Ki Pro Ultra Plus can record multiple camera shoots in HD multi-channel mode, and record and playback 4K/UltraHD in single-channel mode. The recorder is straightforward to operate and built as a compact, standalone 2RU half-rack device. Its I/O and connectivity options include 3G-SDI, HDMI 2.0 and optional fibre connections.
Four channels of HD can be recorded simultaneously as Apple ProRes files, each with different compression profiles as required, to AJA's own brand Pak 1000 SSD media with options for recording to eSATA. Ki Pro Ultra Plus includes Ki Protect, functionality that secures recently recorded footage against damage from power failure or inadvertent withdrawal of a Pak Drive.
All four channels can be displayed on Ki Pro Ultra Plus's LCD screen as a quad-split during capture for confidence monitoring, as well as the ability to output the quad-split during capture over HDMI, SDI and on the integrated browser-based web UI as well. Multi-channel audio is supported via embedded SDI or HDMI, AES/EBU and analogue. Ki Pro Ultra Plus will be available soon through AJA's resellers.
FS-HDR for HDR Conversion Support
AJA showed their new FS-HDR as a technology preview during NAB, designed for HDR workflow conversions as a new product in their FS line of conversion hardware. It incorporates HDR processing functionality from the mastering software developer Colorfront, and performs HDR and Wide Colour Gamut (WCG) processing and conversion for real time 4K/UHD and 2K/HD workflows.
The device is a 1RU, rack-mount, universal converter/frame synchronizer that specifically meets the HDR/WCG needs of broadcast, OTT, post and live event AV environments, where real-time, low-latency processing, colour fidelity and metadata handling are especially important. AJA has licensed the video and colour space processing algorithms within the Colorfront Engine for HDR/WCG capabilities in the FS-HDR.

Owing to these algorithms, FS-HDR's HDR and WCG processing enables the real time processing of 4K/UltraHD and 2K/HD, including HDR conversions, and 4K/UltraHD HDR down conversion to HD HDR. The device can also convert common camera formats from multiple vendors into the HDR space, and also convert video to and from BT.2020/BT.709 as needed, a critical development for widespread acceptance of HDR alongside SDR in broadcast and OTT workflows.
The Engine was developed by Colorfront's CTO Bill Feighter and Lead Engineer Tamas Perlaki, both of whom are Academy Award-winners. Their goal was to deliver technically-accurate and visually pleasing results that retain the creative intent of the original material.Tamas Perlaki, with Gyula Priskin and Colofront's Mark Jaszberenyi, received an Academy Award in 2010 for the design and development of Lustre grading software. Bill Feighter received an Academy Award in 2007 for the creation of a Digital Colour Separation process for motion picture archiving.
FS-HDR can perform diverse real-time HDR to HDR, HDR to SDR and SDR to HDR conversions for a very wide range of inputs including SDR, PQ and HLG plus Sony S-Gamut3/SLog-3, ARRI Log C Wide Gamut, Panasonic V-Log, RED Log3G10 Wide Gamut and Canon Log 2. The outputs are SDR BT.709 100 Nits, PQ BT.2020 1000 Nits or HLG BT.2100
It operates in two modes - single-channel mode for 4K/UltraHD or 2K/HD frame sync and conversion including HDR conversions, and four-channel mode for simultaneous independent 2K/HD/SD channels for standard conversion and frame sync workflows.
The I/O options for 4K/UltraHD include quad 1.5G, dual 3G, and quad 3G, 6G and 12G over SDI and optional fibre choices. FS-HDR also supports SMPTE 2SI I/O for compatibility with 4K/UltraHD devices. It handles several types of four-channel 2K, HD and SD video processing and conversion, and audio I/O processing with a 272x208 matrix of possibilities and feeds from discrete AES to MADI and embedded SDI audio. To operate, the FS-HDR can be controlled via front panel buttons or a web-based UI over a LAN or across the web.
Demoed as a technology preview only, the FS-HDR's pricing and availability details will follow soon.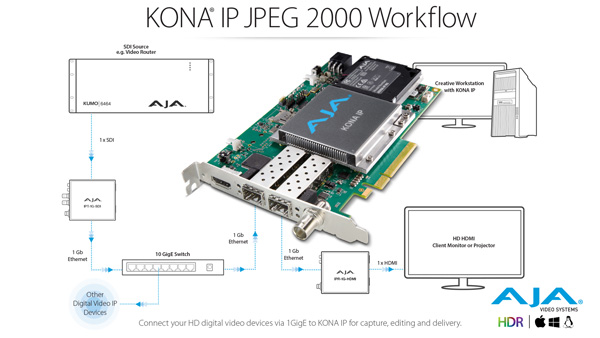 AJA Advances IP Workflows
AJA brought new firmware for its KONA IP desktop video and audio I/O card to NAB, with two new IP Mini-Converters, all of which add flexibility to IP-based workflows. A new KONA IP license option for JPEG 2000, a preview of KONA IP firmware for SMPTE 2110, and new IPT-1G-HDMI and IPT-1G-SDI Mini-Converters have been developed to help make delivery of work to and from creative software via 1Gb Ethernet more flexible and cost-efficient.
The new KONA IP firmware license enables compression and decompression of HD video in real time to and from JPEG2000 encoded within an MPEG 2 transport stream. With support for TR-01, the update establishes interoperability with other JPEG 2K systems and devices across the network. It supports three configurations - up to two simultaneous JPEG 2K outputs, up to two simultaneous JPEG 2K inputs, or a simultaneous JPEG 2K input and output to a system running KONA IP. A single KONA IP configuration with the new Desktop Software v13 [described below] installed adds functionality for creative software including Adobe Premiere Pro, Apple FCP X, Avid Media Composer and AJA v13 Control Room. Dual KONA IP configurations are also supported for more complex JPEG 2K workflows for SDK developers.
New KONA IP firmware for SMPTE 2110 was demonstrated at NAB 2017 with support for SMPTE 2110 up to HD rasters. KONA IP adds flexibility for live production through the addition of networking with separate essence flows. Broadcasters will be able to synchronize production of audio, video and ancillary data elements, without having to embed and de-embed to and from SDI while also reducing latency.
The new IPT products are IP receiver converters that convert HD video to VSF TR-01 and other JPEG 2K formats. IPT-1G-SDI has one 3G-SDI input with a loop through SDI output, and IPT-1G-HDMI has a standard HDMI type A input. The ability to convert baseband video to JPEG 2K MPEG-2 transport streams allows a source to be transmitted on a network, and enables IP compatibility with baseband cameras, digital VTRs, routers and switchers. The IPT-1G-SDI and the IPT-1G-HDMI can be used together with KONA IP, plus the IPR-1G-SDI and IPR-1G-HDMI Mini-Converters, to streamline video ingest, exchange and distribution across an IP network, including final reception to displays.

A KONA IP license for JPEG 2K will be available to purchase soon through AJA's website. KONA IP firmware for SMPTE 2110 is anticipated to be available soon as a free download from AJA's support page. IPT-1G-SDI and IPT-1G-HDMI will also be available through AJA's resellers soon.
Desktop Software v13 for KONA, Io and T-TAP
The AJA free Desktop Software v13 for the KONA, Io and T-TAP video and audio input/output devices increases options for HDR and IP pipelines by supporting HLG (Hybrid Log Gamma) workflows, as well as the existing HDR-10 support. HLG playout is now also possible from Adobe Premiere Pro with AJA KONA 4, Io 4K and KONA IP. New KONA IP firmware for JPEG 2000 adds TR-01 compliance to the cards, which will be available soon as an optional license that you can purchase from www.aja.com. Version 13 also adds Linux compatibility to AJA Control Room software for the KONA and Io lines.
Some other changes made to Desktop Software v13 include 12-Bit/BT.2020 support in Apple Final Cut Pro X, and 48p support for Avid Media Composer, for KONA IP, KONA 4 and Io 4K. KONA 4 and Io 4K can now be used to down-convert 4K/UltraHD video during capture for passing through to monitors or HD-based offline editorial on a second workstation.
For Adobe Premiere Pro and Apple FCP X users, the free AJA Control Room software now supports 12-bit ProRes 4444 XQ playback for KONA IP, KONA 4 and Io 4K. Other changes to AJA Control Room software are a burn-in option on output for timecode and closed captioning for KONA cards and Io devices, and a 30 second increase to maximum deck pre-roll time for the KONA and Io. Users can also route audio tracks in QuickTime files to selected output/monitor channels with KONA and Io equipment.
Desktop Software v13 will be available soon as a free download, as well as the JPEG 2000 license option for KONA IP mentioned above, from AJA's here. www.aja.com