Telestream Lightspeed Live Capture 2.0 Automates Tape Archive Digitization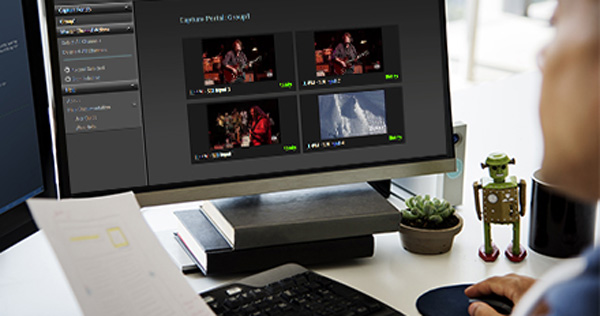 Telestream Lightspeed Live Capture is a 1RU multichannel video capture and processing system, now in version 2.0, used to convert existing tape libraries to file-based formats for long-term storage and future monetization. It especially suits content creators and owners with large tape archives who are concerned about the longevity of magnetically recorded tapes under variable conditions. Transferring master tapes to a file-based format makes the data easier to access and re-purpose, and avoids the effects of heat and humidity on magnetic recordings.
Telestream says that transfer becomes more cost effective when owners automate as much of the process as possible, including capture, conversion, analysis and QC. Also designed for fast tape ingest, Lightspeed Live Capture v2 now supports high-density log and capture, and can control and digitize four tape decks at once from a single system. All VTR transport controls are available with keyboard shortcuts, including audio meters with eight selectable stereo pairs and a HTML5-based browser client.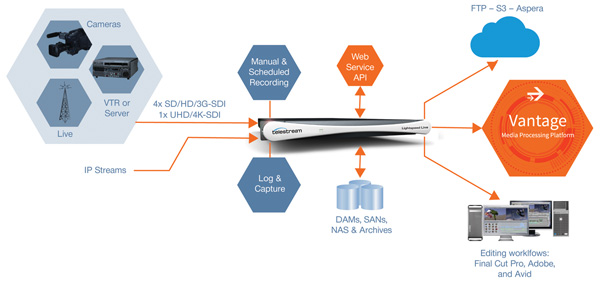 Depending on the project, it can capture four channels of HD-SDI or one channel of 4K/UHD into the required video format at frame rates of up to 60 fps. It also has a multi-tenant design, which means that either one operator can control all four channels, or four operators may each control a single channel, increasing a facility's options. As well as speed, digitizing a large tape archive involves a number of factors that the Live Capture device can simplify, including playback hardware, preservation of VBI/VANC data and other metadata, access to storage and automation.
Although usable as a stand-alone device, Lightspeed Live Capture has more functionality when installed as part of a Vantage automation system – handling automated capture, editing, transcoding and copying. A related application would be to use Live Capture as part of a live-to-VOD streaming workflow, based on Vantage and including Lightspeed Live Stream.
The device can be used to define and populate variables and labels for downstream actions, and now has new tape and capture origin actions in Vantage Workflow Designer. Telestream's Vidchecker application, which verifies video and audio quality, legality and correctness, can run directly on the Lightspeed Live server with Live Capture as well. www.telestream.net