Avid Brings 4Designer up to Speed for Real-time 3D Graphics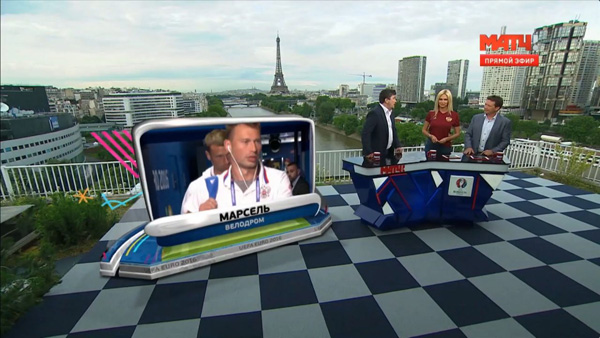 Avid recently announced a new version of Avid 4Designer graphics authoring software for news, sports and other broadcast productions due for release on 4 August 2017. Integrated into the MediaCentral Platform, 4Designer comprises tools for on-air graphics, virtual studios, channel branding, sports enhancements, video walls and interactivity. It is the core software in the Avid real-time 3D graphics Studio Suite, which includes 3DPlay for composing real-time channel branding, Maestro for creating, composing and playing out high-resolution graphics and animation, and TD Control to control and manage high-res studio displays.
Instead of receiving a major annual re-release, 4Designer and the Avid broadcast graphics render engine it runs on are updated on a six-monthly update schedule. This most recent update phase brings practical changes that speed up graphics creation in a broadcast context, applying them to productions in fewer steps, and adds more built-in functionality.
Render to File
This new version of 4Designer has a Render to File function, with which you can open and load an animated scene, and start recording a chosen portion. Render to File captures all content included in the scene, triggers the animation and renders it as a clip or image sequence that can be played back in the application player. Such clips can be used for client or production approvals, or whenever you need HD clips, proxy clips or image sequences in formats including JPEG 2000, DNxHD, XDCAM and many others.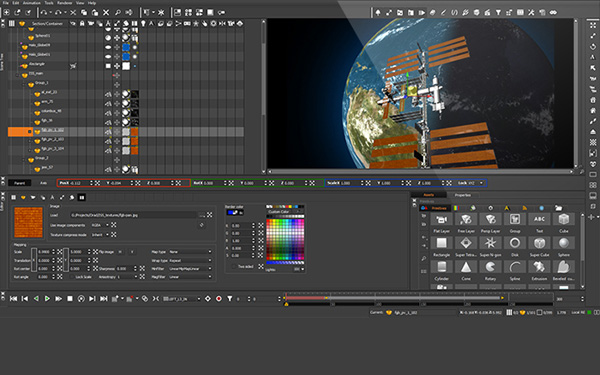 Functionality for importing material from external sources into 4Designer has been expanded. Previously, users have been able to import .psd files from Photoshop with separate layers intact, but not many options were available except manipulating those layers. Now, you can import text as well, as two separate layers – a text file can be imported from Photoshop both as a static, burnt-in image and as a separate, editable piece of text, and each one handled accordingly in 4Designer.
The same principle applies to shape-based objects in order to get the most out of assets imported from other software. Compatible formats include .vrml files, SVG files from Illustrator, dxf, fbx, obj, x3d, Lightwave files, plus geometry and material files. Once inside the broadcast context these files can be used to create virtual studios and augmented reality assets. Similar to the text files, an object can be imported either as a burnt-in image or as an adjustable outline with fine controls applied to the vertex handles to produce any shape from the original object.
More Updates – Renaming, Complex Assets, Cameras
The functionality of the renaming tool has been extended in specific ways to make it easier for editors to control scene setups. For example, you can clearly identify animation files, search for and rename common portions of file names and expose your exports.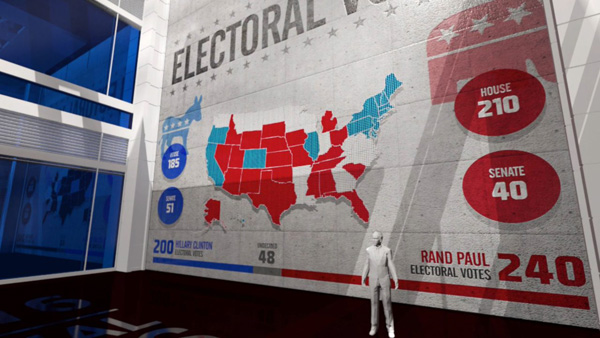 Two new complex assets have been added to 4Designer – clustered bar charts and line charts. These are built with automatically scaling grids, editable text styles, a big variety of pre-made elements and other formatting tools. Data values, and associated elements, can be updated at any time.
Cameras are now available in 4Designer with new render modes. An example is a flat isometric camera that motion artists can use when working with charts and other graphic representations of data. Placing 3D objects inside results in info-graphic style content displayed in a uniform isometric projection, free of a normal camera's perspective that often distorts the data at the edges by warping the image. This particular camera has six built-in variations and has the option to build your own.
As well as the cameras, 4Designer has a new dynamic texture. 4Designer has already had procedural textures that generate dynamically inside the render engine - for example, gradients with a customizable blending matte with start, middle and endpoints. Now, a heat map texture is available as well that visualizes the variations in data point values across the frame as gradations in colour, from low to high intensity. The data values themselves can be dynamic, reflecting change-over-time by changes in the heat map. Typical broadcast applications include sports, populations and weather.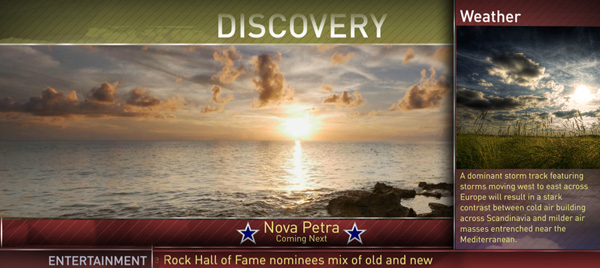 Modifiers and Pixel Lighting
Significant changes from 4Designer's previous 6-monthly update phase include a series of 3D object modifiers that bring modelling capabilities to 3D motion graphics artists, similar to those found in Maya and 3ds Max. These modifiers can be used to create deformations altering the behaviour of the basic 3D objects supplied in 4Designer. For example, you can increase the subdivisions across an object's surfaces, effectively increasing the detail, creating a complex shape from a basic one and allowing more flexibility to bend and deform the object.
You can turn a simple cube into a 'supercube' with chamfered edges and apply a skew, uniform or variable, to different dimensions. Multiple modifiers may be stacked onto one object, and all modifier parameters are animatable. Previous to this update, many manipulations to objects of this type had to be done in external software and the object imported.
Another update at that time was pixel lighting, introduced to improve lighting quality in the render engine by displaying lights per pixel instead of per vertex. This helps with objects that are not complex geometrically such as certain imports that can't be up-rez'd in 4Designer. With pixel lighting you can correct the surface lighting to give a visual impression of higher resolution.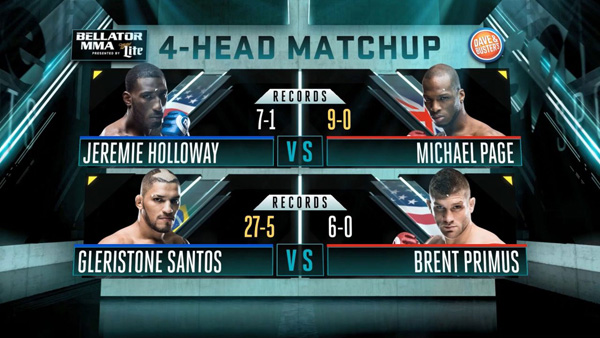 An upcoming update is planned that will expose HDR in both the render engine and the colour correction tools. UI improvements will include a schematic view that reveals the relationships between objects and assets. More speed and a pie chart to join the clustered bar and line charts.
Rendering and Databases
No special hardware is needed to render 4Designer graphics. Standard laptop PCs with NVIDIA cards - AMD has not been certified yet – will result in 3D looks without pre-rendering any objects in external applications. Files created in Avid's previous package 3Designer are compatible, although they can't output as 3Designer files as well. Scripting or programming to achieve the software's capabilities is not necessary. Animation triggers, for example, are placed via drag-and-drop onto the timeline. But scripting is available if you like working at that level.
4Designer was not made to manage data or databases directly. Its objects serve as containers to hold data while the logic applied to updating and querying data is handled from the user's own controller. In other words, the 4Designer artist builds the logic behind the display elements in a project, and the controller operator handles the data.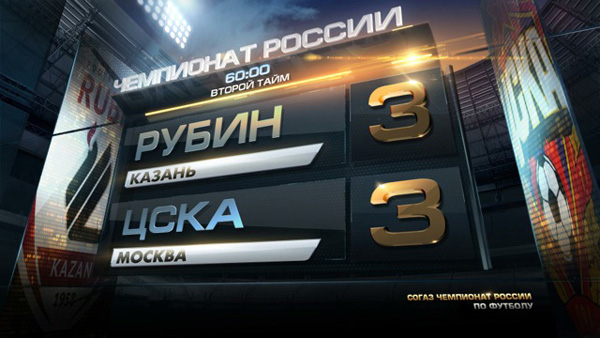 However 4Designer does create content used externally as templates during production. In this case, the external templates will maintain their connections to databases and social media, but that data will not be seen directly in 4Designer. The software can also be used to build content for video walls and output screens in precise, custom formats and non-standard aspect ratios.
The Future of Real-Time 3D Graphics

Motion Path is a creative services agency in Montreal, specializing in real-time 3D graphics for broadcast since 2011. They are an Avid studio and use the Studio Suite to translate their designs into the final graphics that appear on air. After working in this field for the past 20 years, the individual artists on the Motion Path team have seen the beginning of real-time 3D graphics and since then worked with most of the industry's major tools and systems. The team now has a thorough understanding of the work involved, ranging from virtual sets and camera tracking to data acquisition and management.
Their clients' requirements have continued to grow more sophisticated and now include virtual reality, virtual graphics and virtual sets. In 2015, Motion Path created a combination of augmented reality graphics and multiple virtual scenes to extend MLB Network's studio, creating the appearance of massive, elaborate indoor and outdoor sets. The company also produced augmented reality segments for the Euro 2016 soccer championship in France.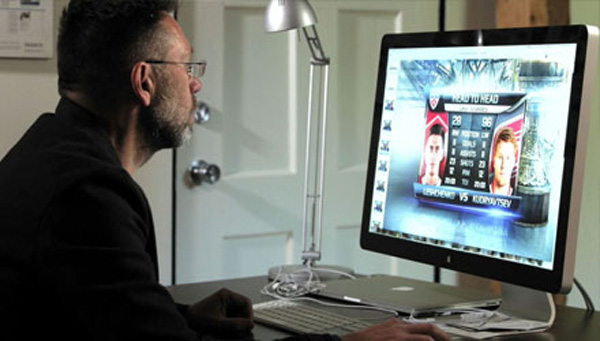 The recent interest in virtual and augmented reality has attracted attention to companies like Motion Path. Their president and CEO Anton Maximovsky said, "It's still clunky, as you need to use goggles. But although there are still challenges to be overcome, the potential is there."
Looking further into the future, he expects the increasing processing power of machines running 3D graphics systems to make sophisticated, compute-intensive tasks - like those in the VFX industry - possible for real-time graphics, including raytracing and the ability to render very complex photorealistic 3D scenes. He believes real-time 3D engines originally developed for gaming will drive innovation, as well as recent demos at IBC and NAB showing improvements in chroma key systems for real-time 3D graphics. www.avid.com