Palestine Today TV Modernises with Grass Valley Newsroom Integration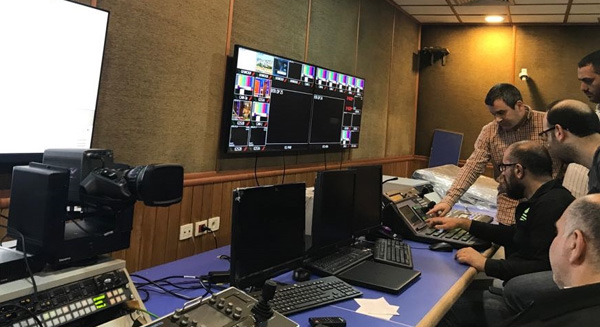 Palestine Today TV control room.
Palestine Today TV (PTTV), has undergone a complete newsroom upgrade to improve the delivery of its news production and increase the efficiency of its digital media workflows generally. After working with systems integrator Pharaon Broadcast, PTTV, a satellite TV channel, has subsequently gained the reliability and scalability needed to maintain a simple, integrated workflow, with the flexibility to grow as the business requires.
The upgrade involves mainly Grass Valley equipment, including GV STRATUS Video Production & Content Management with nine LDX 82 Flex cameras, and three RS-LDX Première Integrated Robotic Camera systems. PTTV also chose two GV Korona K-Frame V-series production switchers, a Kaleido-Modular-X Multiviewer and a 3 RU Densité 3 Frame to serve as the monitoring and master control system for ingest, live and file-based content across the facility. A NVISION 8140 Hybrid Series router was adopted for system integration, along with the related software and hardware.
To move its stories to air more rapidly, PTTV uses GV STRATUS Newsroom Bundles, which bring the resources of a newsroom to the field for smaller news operations, so that producers can still achieve effective reporting and edited, ready-to-air packages.
Based on tight integration between GV STRATUS and EDIUS NLE software in an optimized hybrid editing workflow, journalists can mix and move low- and high-resolution assets, including material of unknown types from citizen journalists, across multiple sites, and complete editing in the field with EDIUS Workgroup, included as standard in all GV STRATUS Newsroom configurations. Workgroup has interoperability with GV STRATUS and networking options. Because proxy files are used, complex SAN configurations aren't necessary until the user is prepared to scale up.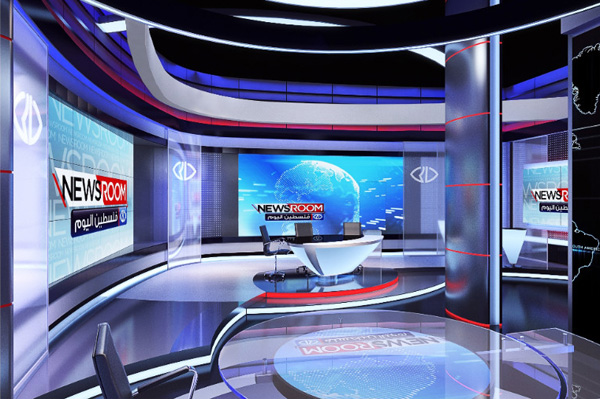 Palestine Today TV studio set.

Seifiddin El Dine Maweid, managing director of PTTV, said, "As we are one of the main providers of news and documentaries in Palestine, where events are happening continuously, it is pertinent to keep ahead of the competition. GV STRATUS aligned with the technical requirements of that goal, and gives the production capabilities to scale for future upgrades."
For PTTV's news productions, the three RS-LDX integrated robotic cameras combine robotics and various options from the LDX Compact Series, and allow a lot of customization. The LDX 82 cameras support BT.2020 wide colour gamut, plus optional native HDR support using SMPTE ST 2084 and HLG. These cameras maintain visual quality with distinctive sweeps and fast moves, giving PTTV's news stories, with their compelling content, a more sophisticated edge.
Once the images are captured, the two GV Korona K-Frame V-series switchers, paired together, are flexible enough for broadcasters and directors to work together efficiently on shows from the news studio. The 36x18 matrix supports SD, HD and 4K UHD in quad split and 2SI modes and can handle up to three licensed M/Es and two extra video processing engines (VPE) for further keying and mixing power. At 3RU, V-series fits in locations with limited space and can be used with any of Grass Valley's switcher panels.
Kaleido-Modular-X is a 4K- and IP-ready multiviewer for TV, chosen because it is optimised for the space, power and weight considerations found in studios, but is also scalable with a modular design allowing configuration to a desired I/O size. The Densité 3 Frame can simultaneously process 3G, HD, SD and analog video, with AES and analogue audio, and at 3RU has the same footprint as the switchers. www.grassvalley.com