Dejero's CellSat Network Blends Satellite and Cellular Connectivity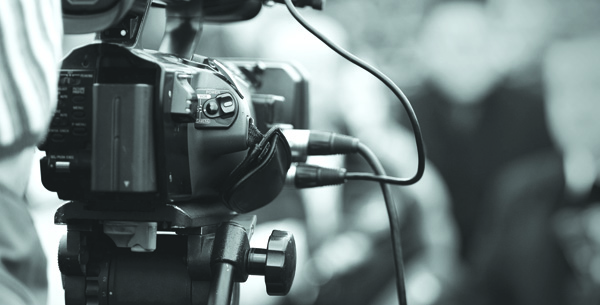 New Dejero CellSat software combines cellular connectivity from multiple mobile network providers with Ku-band IP satellite connectivity from Intelsat, using Dejero's network blending system. The system includes Dejero transmission and receiving equipment, software, connectivity services to the CellSat network, cloud management and support. Also supplied is a Newtec Dialog IP modem, configured specifically for the CellSat service and as a result, CellSat users do not need to book satellite time. Access is made available to boost bandwidth when needed by pushing a button.
This functionality saves crews time and removes the constraint of broadcasting within a certain time window. Most satellite vehicles with existing Ka-band or Ku-band satellite equipment can be upgraded for compatibility with the software, which dynamically allocates satellite bandwidth to optimise performance.
The software uses Dejero's network blending to combine cellular connectivity from multiple mobile network carriers with Ku-band IP connectivity from Intelsat. If the bandwidth available from cellular connections dips due to network congestion or other factors, CellSat automatically blends in Ku-band IP satellite connectivity to boost bandwidth to the requested level for the live shot. The system communicates with the satellite terminal auto-acquire system to automate satellite connection.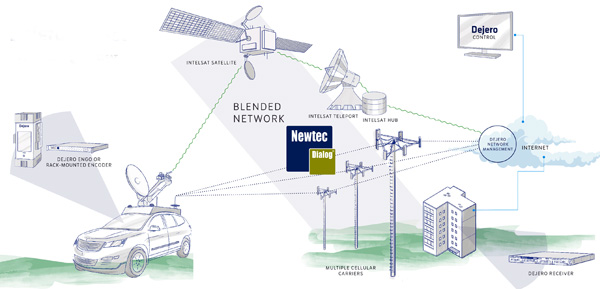 Dejero CellSat is tightly integrated with Newtec's Mx-DMA system as part of the Newtec Dialog platform, mentioned above. Mx-DMA combines the most favourable SCPC and TDMA standard networks to manage bandwidth on demand, and avoids fragmentation of space segment. The system also intelligently manages and blends the satellite connection with the available cellular connections, only in the amount required to make up for an inadequate connection.
Newtec Dialog makes it easier to combine cellular and satellite transmission paths for video transport, and to source transport resources from a single service provider. Users can increase reliability in the field further by using Dejero Pathway, a HEVC capable adaptive bitrate encoder/transmitter that was originally developed either for newsgathering and remote production vehicles, or for fixed locations. Built into a 1U rack-mounted device, it adds the option of blending cellular connectivity with an Ethernet or Wi-Fi connection to improve picture quality with low latency.
Ultimately, CellSat enables remote news crews to plan for live broadcast with more confidence from virtually anywhere, in situations where cellular network congestion or location may compromise delivery. It is managed through the cloud-based Dejero Control management system from a browser, allowing users to remotely control equipment, monitor live feeds, route content to the desired broadcast facility, and view usage and billing reports. The integration with Newtec enables Dejero to perform front line support duties for CellSat, managing the blended network of the cellular and satellite connections.
ll three companies companies showed CellSat in action at the IBC2017 exhibition in Amsterdam. The system is initially available in the United States and Canada, with rollout to other regions planned for 2018. www.dejero.com