Amimon Connex LR Extends Range and Quality of Low Latency HD Video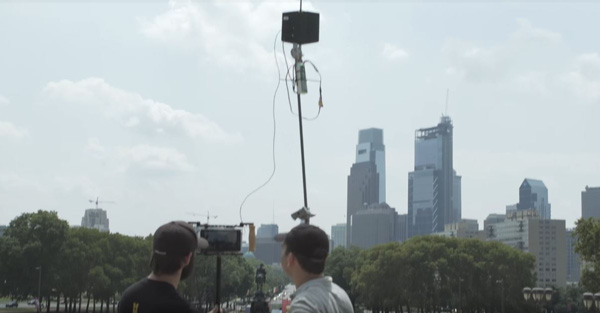 Amimon, a developer of wireless HD video systems with zero latency, is aware that many drone pilots and professional camera operators are now filming and navigating in larger spaces. The company launched the CONNEX Long Range wireless system in September this year with a workflow that results in a clear view, in real time, across greater distances, without making users wait for loading screens, pixelated images and sudden interruptions to resolve.
CONNEX LR makes HD video captured from cameras and drones accessible from further away, more rapidly, to more diverse applications, than Amimon has achieved in its earlier systems. LR is supplied with its own antennas – four of these are built into the receiver's body and do not require outside connection, and the fifth is an external antenna.
Reception Coverage
When positioning the CONNEX LR on a tripod, its antennas' best coverage extends out within 70° horizontally and 25° vertically, with a range of up to 3km of stable reception depending on line-of-sight conditions. In fact, the user might be able to reach further than 3km, with the right antenna positioning, clear line of sight and clear frequencies. Within the area to the sides and back, the CONNEX LR has a range up to 400m, which helps users land their aircraft safely and accurately when outside the main reception area.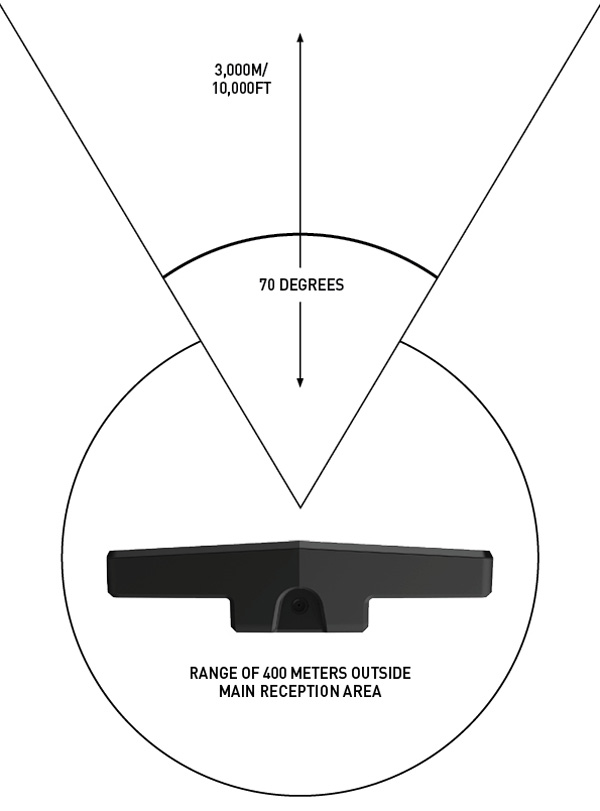 Drone pilots can use the clearer lag-free view to reach greater distances and navigate from above with fewer restrictions, and will also be able to use CONNEX LR to increase signal robustness and video quality at shorter ranges in challenging radio environments. The LR system can use both mobile cameras and fixed video sources – any camera with HDMI output - to supply HD content to remote display screens or distribution switches.
In a typical scenario, an operator in an aircraft or vehicle, or a drone, holds a camera capturing video. The camera is fitted with a transmitter that sends the images to an LR receiver, and the received video can then be displayed or recorded, or both. The video may also be streamed to the cloud as the receiver. The LR system integrates with existing CONNEX receivers and transmitters, supporting HD links for professional aerial platforms in order to improve the quality and robustness of UAV and UGV video applications.
Transmission Optimisation
CONNEX LR's wireless delivery and high video quality, with a resolution of 1080p60Hz, is based on the Amimon chipset. The company is an Integrated Circuit developer specialising in low latency, robust systems for devices and applications. Amimon's video modem system uses both MIMO (multiple inputs and multiple outputs) and OFDM (Orthogonal Frequency Division Multiplexing) signal handling, combined with Joint Source Channel Coding (JSCC) capable of transmitting full-HD 1080p60 video resolution over a bandwidth of 40MHz or 20MHz.
Amimon favours the JSCC approach because it can prioritise the video components. Consequently, the most significant components receive enough protection and the least significant use up fewer channel resources.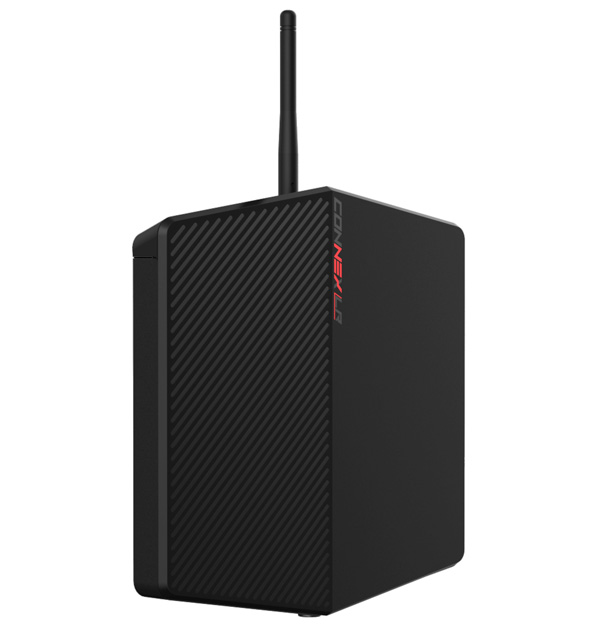 This optimisation helps JSCC manage channel capacity and channel interference more efficiently in other ways as well. For example, traditional systems transmit packetized information at a rate below the worst-case channel capacity to mitigate error rates. And, where methods using H.264 or H.265 compression are prone to errors, buffering is used to ensure re-transmission of data when the rates exceed a certain level.
However, the JSCC video-modem approach makes it possible to continue with errors in the wireless channel up to a certain level, because they will only be those errors affecting less important video components, resulting in the ability to send very high resolution, high quality, robust transmissions. Latency is not compromised as the receiver can handle the information without having to send acknowledges to the transmitter. www.amimon.com