ChyronHego PRIME Graphics 2.6 Tunes up 4K, 3D Branding and Playout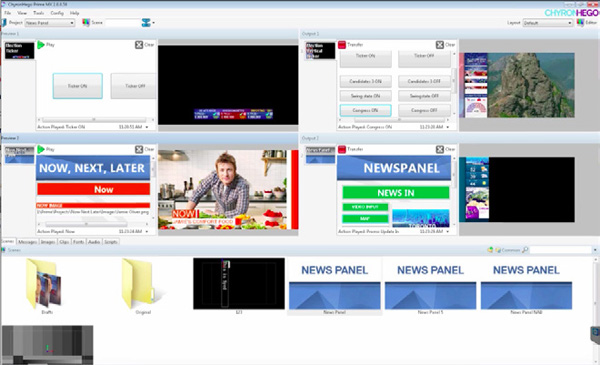 Version 2.6 of ChyronHego PRIME Graphics, the software video rendering engine that powers the high-performance PRIME Graphics platform, is now released with 16-bit colour and 10-bit I/O, a new Scene Camera effect, support for further codecs for recording inputs, and touch-screen functionality.
These updates bring the ChyronHego PRIME channel branding system up to date as a 4K-ready, 3D graphics authoring and playout system.
Video Engine
The PRIME Graphics video engine is the core of the PRIME ecosystem, a resolution-agnostic, 64-bit rendering engine based on GPU and CPU rendering power, which makes it independent of a frame buffer, and able to automatically take advantage of in GPU and CPU developments.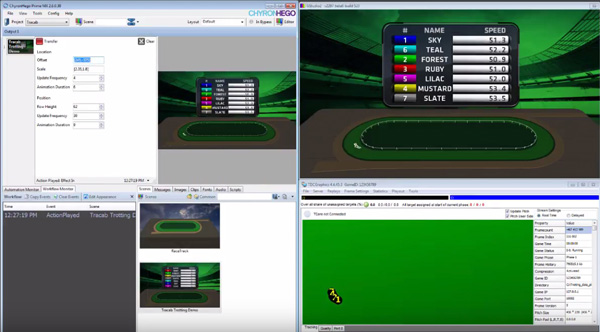 The principle authoring tool in PRIME Graphics is PRIME Designer, with drag-and-drop design functions for scene construction and an Advanced Data Object that generates filtered data-binding for scene elements. It integrates directly with ChyronHego's NewsTicker, accessing back-end data streams.
With PRIME Graphics 2.6, PRIME Designer now includes support for 16-bit colour on all channels and full, 10-bit I/O. Users have a new Scene Camera effect to add several cameras to a scene, and an Inline Text effect to apply scene objects to text objects such as crawls. They also have a wider choice of codecs for recording their inputs.
Dedicated to Branding
All together, PRIME Graphics 2.6 now comprise six sets of tools, all running on the PRIME Graphics video engine. As channel branding is PRIME's main function, PRIME Branding includes a scripting engine, control panels and integrated automation, and combines branding with a clips package, PRIME Clips, for playout.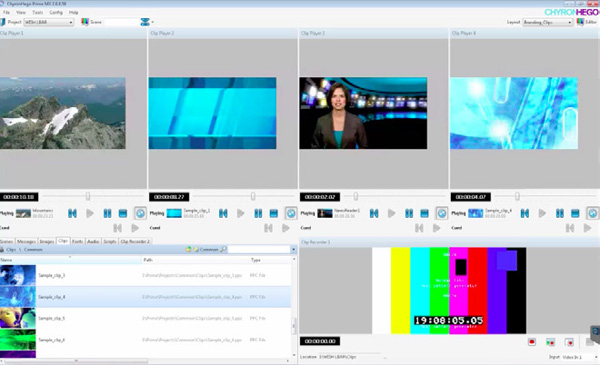 Completely software-based, the branding package can run on a system with an 8-channel I/O frame buffer for multichannel graphics and multiple independent clip payout integration into the video facility.
Alternatively, if used in a streaming environment, the I/O board is not actually needed because of PRIME's software-driven nature – encompassing advanced 3D graphics, audio, advanced video effects and clips in all resolutions and video formats. Streaming users can deliver the same essential channel branding elements such as headlines, sports scores, weather reports, financial data, snipe animations, social media commentary and automated promos.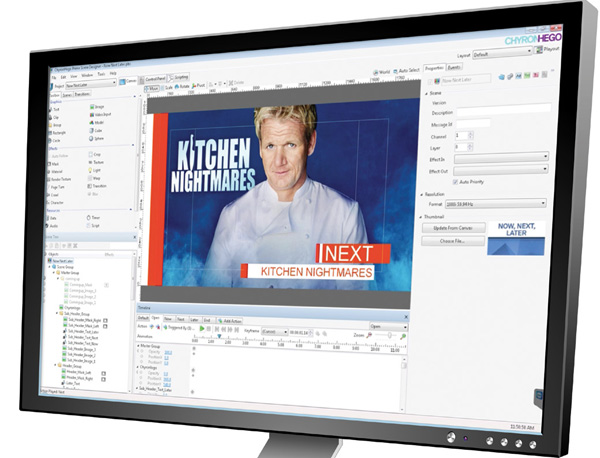 PRIME Clips, the clips package, maintains this open, flexible architecture of the PRIME ecosystem. It has a Broadcast Clip Player that can be used on the same system alongside PRIME branding, playing out up to six channels of video from one server with user-defined clip transitions. The material can be combinations of pre-rendered clips and dynamic assets, such as text and graphics treated as layered clips, resulting in more options during production and playout.
More Tools
PRIME News is unified newsroom graphics that are completely integrated with ChyronHego's graphics asset management application CAMIO, which is MOS-based and connected to the user's NCRS. PRIME Studio Monitors feeds graphics to touchscreens, integrated anchor desk monitor displays, and monitor walls with standard and non-standard aspect ratios. In version 2.6 it now includes subchannels for studio monitor solutions and stadium LED screens.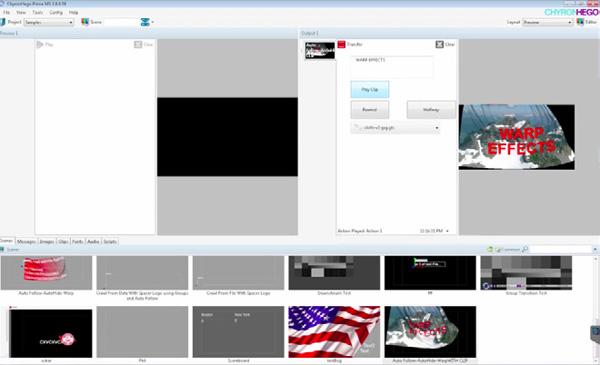 PRIME Interactive is a graphics-driven touch-screen for news and sports reporters who want to use interactive presentations to better engage audiences. PRIME Graphics 2.6 adds touch-screen functionality to PRIME Interactive, including a new tube object and embedded Lua and shader editors. Finally, PRIME Workflow integrates with and extends ChyronHego's content distribution and syncing tools for workflows. www.chyronhego.com