Avid Maestro Accelerates High-Res Graphics for Newsrooms and Designers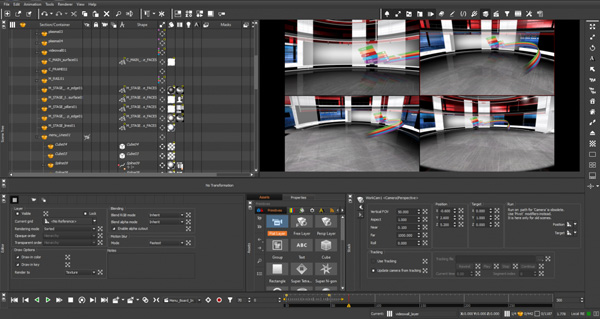 Avid Maestro | Designer and Maestro | News have been updated to new versions that help make working with high resolution graphics more efficient, partly by focussing on greater rendering power. The goal is higher quality graphics and the ability to create and view content in 4K resolution without having to sacrifice usability.
Also, Maestro | Designer's workflows are now more efficient, aiming to result in quicker turnaround of content, including the handling of fonts, editing animation and editing masks. In the Maestro | News on-air graphic suite as well, new workflow updates affect both news and production environments. For example, users can reuse content more quickly and mirror data between different production systems, if required. The workflow overall is simpler, making page creation faster and managing complex content more efficiently through new rundown filtering.
Some of the updates have been added for speed. Maestro | Designer users now have more precise control over playback and can set specific animation start and end points. The new Show Masks function makes it easier to work with and edit object masks, and a new Scissor mask may be applied to a whole layer to divide it for more creative flexibility. Designers can also increase their resolution independence with Scalable Vector Graphics, SVG.
Maestro | Designer supports high-resolution monitors now, and can scale its application display to the required resolution when preparing, creating, viewing and refining content at up to 4K resolution.
The performance of Avid's software RenderEngine is enhanced and, without changing any other components, allows users to keep their existing hardware while still improving graphics quality generated from Maestro | Designer.
Avid broadcast graphics run on the company's HDVG platform [High Definition Digital Video Graphics], whch comprises hardware, with its own HDVG video I/O card, combined with Avid RenderEngine software. The RenderEngine runs on top, tuned to extract the maximum performance from the hardware underneath, and scaling the platform scales from a simple CG environment up to supplying video walls with 8K content.
RenderEngine is used for all of Avid's real-time graphics packages, including graphics authoring in Avid 4Designer and Maestro | News. A third-party API for RenderEngine called RETalk is supplied with it as a development library to create control interfaces and data gateways for various types of production. It is in fact the same library Avid uses to build their own control applications like Maestro, and so new versions of RenderEngine are released every six months.
Maestro | News now supports the Array control and exposers functionality introduced earlier in Maestro | Designer and RenderEngine. Using Array control, the timing of exported elements can be set directly in the Maestro | Designer animation timeline while creating content, which will then trigger data values being sent to a Maestro | News property. Maestro | News pages can also now retrieve data values directly from a RenderEngine-loaded scene and send them to a completely different scene. This works as a quick way to reuse information or mirror data between different production systems, similar to Maestro | Designer.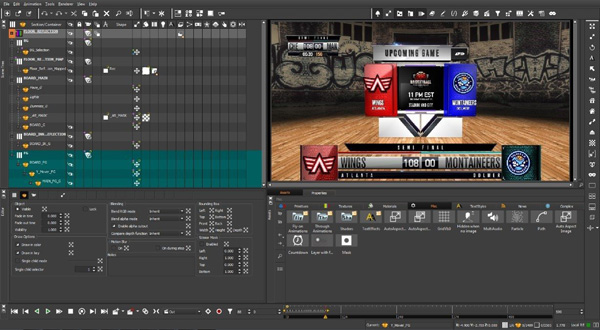 Regarding Maestro | News page creation, new timeline scripting capabilities accelerate the process and extend the usefulness of scripts, allowing them to send exports and control animation, for example, to reduce the number of tracks needed in the timeline.
With the new rundown filtering, users can manage the content of complex stories and large rundowns more easily by using different search keywords or phrases to apply a filter in the rundown to locate stories. The new filter applies to the content inside any item as well, to make searches more precise and specific.
Maestro | News now has a new settings option, Auto Still Cue, for the video playback module. It enables a clip to display relevant metadata in its first frame or at the point when the video item is cued, intended to improve sharing of information with production teams.
Video items can be added from the MediaCentral | Maestro News app directly to a MediaCentral | Newsroom Management rundown. This allows users to access to media storage, quickly create media in-and-out points, preview media and add it to the Maestro | News rundown, thus improving graphics and video workflows in news and production environments. www.avid.com