wTVision Pushes Broadcast Graphics into Real Time with DeckLink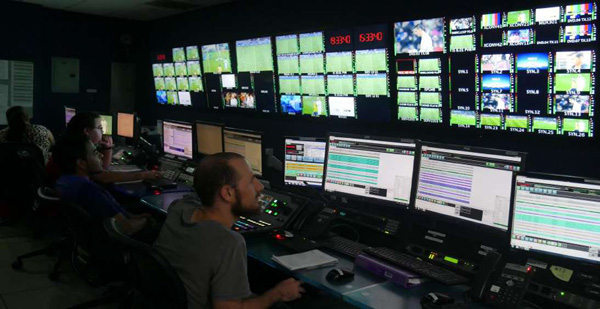 wTVision, part of global audiovisual services supplier and content producer Mediapro, develops software-based broadcast and graphics systems for customers around the world. Since launching in 2001, wTVision has become a major real-time playout automation developer that focusses on software development, graphics design and branding, live operations and human resources outsourcing. Virtual and augmented reality broadcast graphics for sports productions are a speciality.
wTVision's software takes advantage of third party hardware systems to support capture and playback, in particular Blackmagic Design's DeckLink equipment. For example, DeckLink is used as part of wTVision's sports, elections, production control room and master control room systems, which supply all tools needed for playout automation and live production, including real-time statisics and data scouting and graphics, video playout control, newsroom system integration, ingest and trim, media asset management and social media.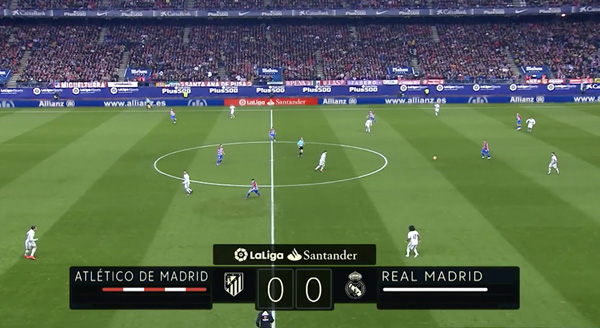 "DeckLink cards are extremely affordable, come in several different models and all can be coded under the same API. This gives us the advantage of flexibility and the ability to create software for almost any customer demand because we know that a DeckLink card is likely to be available to cater for it," said Mario Sousa, CEO, wTVision.
One of wTVision's most recent uses for DeckLink products is contributing to a huge new Bolivian broadcasting facility. Since 2014, in partnership with The Game football rights owner in Bolivia, wTVision and Mediapro have gained a stronger presence in Bolivia and are now in charge of broadcasting all the main football events that take place in the country - the Bolivian League, the World Cup Qualifiers, Copa America, the U-20 and U-17 South American Cups and daily sports shows.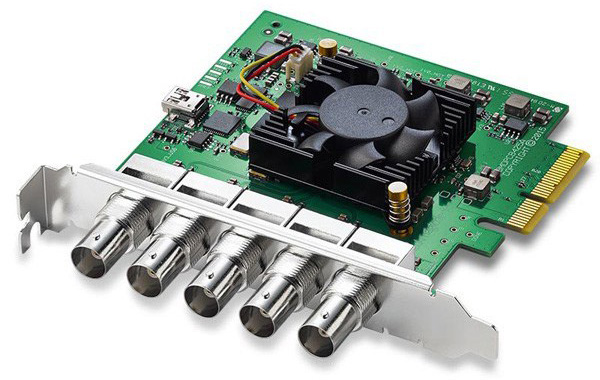 As part of the Bolivian broadcasting package, wTVision has also designed, built and now runs two sports news shows, 'Sports Noticias' and 'Sports Flash'. Their production involved building up a virtual set, multi-camera recording and live augmented reality broadcasts that incorporate real-time compositing. All of these systems combined allow newscasters to pass behind, in front of or stay to the side of virtual objects.
This virtual/AR integration was created using wTVision's graphics render engine R3 Space Engine, controlled by its Studio CG on-air graphics and video playout controller, and DeckLink Duo 2 PCIe capture and playback cards. The DeckLink Duo 2 cards make it possible to use the same render engine for both augmented and virtual sets because each one has four independent 3G-SDI connections that can support SDI formats in SD and HD up to 1080p60. Having the effect of four separate, customisable cards in one unit makes it more useful for media play-out systems. The single engine can also be used in conjunction with Blackmagic Design's Ultimatte keyer to place talent and other live objects in the shots in real time.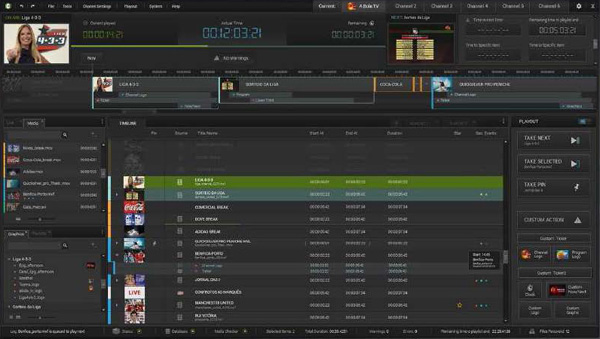 "We added the Bolivian football league to our portfolio of sports projects in 2014 and began by handling real-time graphics playout and data collection during the broadcasts. Together with The Game and Mediapro, our operations in Bolivia have expanded very rapidly. As well as creating these new, eye-catching virtual and augmented reality shows, we have built out and manned three new broadcast production control rooms, a multi-channel master control room and two OB vans. In all cases, Blackmagic Design products have formed the hardware backbone for our software," said Mario.

Beyond the virtual set and augmented reality shows in Bolivia, wTVision has been using DeckLink hardware with several of its other systems. Its FootballStats CG scouting system mentioned above which, like the R3 Space Engine for real-time graphics rendering, is also controlled by the Studio CG on-air graphics controller, was used in more than 300 football matches per year, and for video and graphics playout in all sports and news shows.
DeckLink has supported ChannelMaker playout automation software to control the schedule and content of two 24/7 channels, wTVision Media Playout Server for video playout and the wTVision Media Manager for media asset management. Media Tools software for video ingest and trimming, also uses the cards to handle its simultaneous multi-input recording functions. www.blackmagicdesign.com
Panasonic - Australian National Theatre