AFP to Transmit Real-Time Photos from 2018 Tour de France with AVIWEST
Starting with the 2018 Tour de France, Agence France-Presse (AFP) will deliver real-time images of the event using a customised version of AVIWEST's PRO180 video transmitter. "For the past two years, AFP and AVIWEST have been working together to adapt the PRO180 video system to instant professional photo transmission," said Yves Tassel and Karim Menasria, IT managers at AFP.
"The first large-scale test was successfully conducted during the Tour de France in 2017, when thousands of photos were sent in real time. With this innovation, AFP photographers can now use 3G/4G mobile networks in the field to send real-time pictures of the race while riding on a motorcycle, increasing the value of the live coverage we can supply."
AVIWEST's system has a compact design that fits into a backpack or motorcycle saddlebag and accesses up to eight internal 3G/4G modems simultaneously to support automated 'push' transmission of images. All photos captured by remote journalists, in this case using Nikon cameras, are automatically sent to the AVIWEST PRO uplink system, which straightaway transfers files over bonded 3G/4G cellular connections directly to the AFP servers without any actions from journalists. The material is then integrated into their own production workflows. This process is made possible through PRO180's interface and the FTP 'push' that is directly implemented into the AVIWEST PRO unit.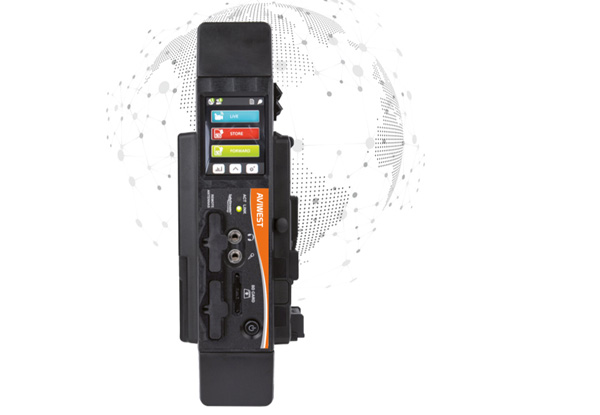 As well as the 3G/4G modems, the PRO180 has a built-in Wi-Fi modem to stream live video or forward files over bonded wireless networks. In crowded environments or moving vehicles, which the Tour de France scenario features, two AVIWEST QUAD wideband external cellular antenna arrays can be plugged into connectors on the unit's front panel to speed up the signal transmission and improve resilience in the field.
The system also has up to two USB ports and Dual Gigabit Ethernet for streaming over LAN/WAN, BGAN or Ka-band satellite networks. In live situations, the PRO180+ can stream over KA band and use cellular links as a back-up or complementary connection. Streaming can start live over cellular connections while driving to a location, for instance, before switching to KA band once the satellite dish is set. This bonding mode also ensures transmission reliability should the performance of the KA band decrease, due to weather or a drop in bandwidth due to a congested network. www.aviwest.com