AJA FS-HDR v2.0 Software Fine-tunes HDR Transforms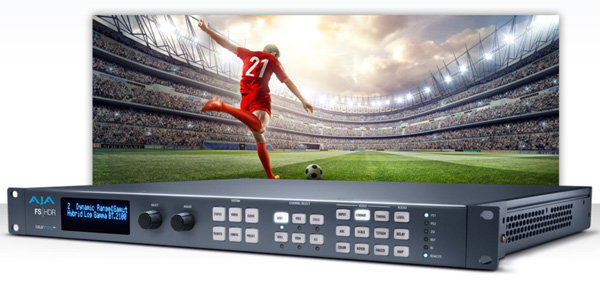 AJA v2.0 software for the FS-HDR converter/frame synchronizer, which carries out real-time HDR transforms and 4K/HD up, down, cross-conversion, introduces new parametric controls that allow users to fine tune the look of final transforms, varying looks along a pre-defined curve inside the FS-HDR. Because many broadcast, production, post and ProAV organisations are continuing to focus on HDR and WCG, FS-HDR was updated to make it easier to achieve the desired look for individual transforms. The update also increases compatibility with the tools users prefer to work with, by supporting camera formats Sony S-Log3 S-Gamut3 Cine and S-Log3 BT.2020.
The v2.0 software has 17 new controls, including 12 for colour correction encompassing red, green, blue and master controls for lift, gamma and gain, one for colour saturation and two for input formats - Log look and SDR softness. Log look controls the overall look of camera log inputs between cinematic and television, and SDR softness manages how SDR highlights and speculars are expanded into HDR. Two other controls adjust the volume of HDR in the output signal and the level of ambient light compensation according to the mastering or viewing environment.

All controls are accessible via FS-HDR's front panel, the web GUI on any browser, or a REST interface. Your settings can be stored to a preset for recall later or copied to other FS-HDR units.
FS-HDR is a 1RU, rack-mount converter/synchronizer that combines AJA's FS frame synchronization and conversion with video and colour space processing algorithms from the Colorfront Engine. FS-HDR is intended to meet real-time, low-latency processing and colour fidelity demands for broadcast, OTT, post production and ProAV environments. FS-HDR has two modes - 1-channel and 4-channel - for comprehensive signal conversion, and converts a range of camera Log formats to HDR broadcast standards, as well as WCG conversions between BT.2020 and BT.709. www.aja.com