Scripps Automates and Syncs Channel Playout with Pebble Beach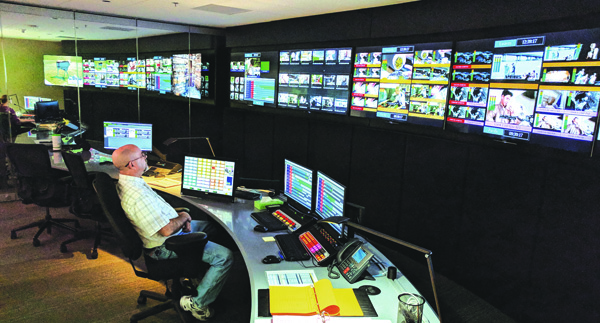 Scripps Networks Interactive control room.
Scripps Networks Interactive (SNI) develops and broadcasts content for television, digital, mobile and print media platforms for its global networks and websites reaching millions of viewers in North and South America, Asia, Europe, Australia, the Middle East and Africa. Its channel brands include HGTV, DIY Network, Food Network, Cooking Channel, Travel Channel and Great American Country.
The company broadcasts 33 channels from its main broadcast operations centre in Knoxville, Tennessee, through an automated, integrated channel system. SNI retired and replaced its earlier automation and playout system about one year ago with Pebble Beach System's Marina automation and Dolphin integrated channel systems. The team at Pebble Beach designed a system that would sufficiently isolate and protect each playout chain, but continue to support synchronised operation, customising an architecture for a multi-domain system with high levels of resilience and isolation between each functional area.
Integration, Isolation and Automation
One domain exclusively handles Ingest and Content Management, with a second and third dedicated to Primary and Backup Transmission. The fourth domain holds a fully redundant Disaster Recovery system located interstate.
To make this possible, the Dolphin channel device automates integrated audio, video and graphics functions, operating under Pebble Beach automation control, for ingest, channel branding and frame-accurate multi-channel playout. Its pipeline design allows customisation of the virtual output chain for each channel, specifying the order in which functions, including graphics and effects, are handled within the system.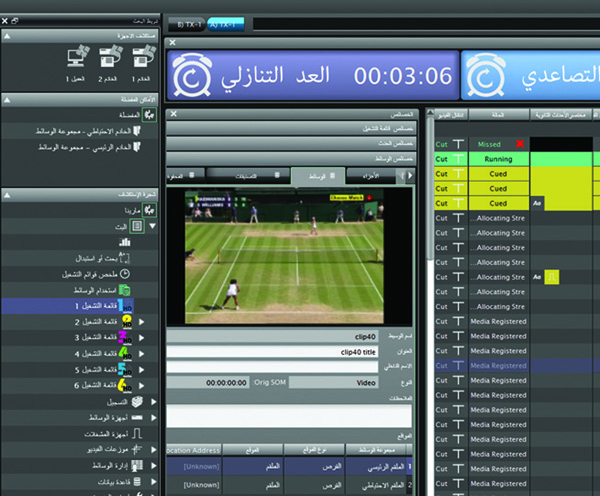 Marina operates in multiple languages down to the metadata and database level. Multiple languages can be handled concurrently.
The Ingest and Content Management domain incorporates a Harmonic ingest server to which files are delivered from a file-based acquisition workflow upstream. Despite the high level of isolation, domains are able to synchronise metadata, and playlists are mirrored automatically between the Primary and Backup transmission domains.
Efficiency and Resilience
Each operator can control a high density of channels, and configure desktop layouts that are efficient and minimise errors. The system is designed to control numerous channel types in various combinations, including simulcast or clip-based channels, live unplanned content or regional opt-outs. Marina's functionality takes over a number of tasks from operators - a concise status view, continuous media validation, context-based playout rules and high-res media viewing – that safeguard playout. Media-aware, database-driven media management includes automatic caching and conditional file movement.
A demonstration of the resiliency coming from their more autonomous system emerged after an issue that caused loss of network connectivity. The system continued to run regardless, without affecting the staff or any operations. Its autonomy also results in fewer points of failure in an integrated channel design.
Operational efficiency is critical for any automation system used at SNI. The ability to integrate directly with the Grass Valley Intuition XG graphics system saved considerable time and money, for example. "The increase in efficiency plus the reduction in hardware has meant we can take on additional work and grow the department. This new infrastructure also makes it possible to set up any content stream the business requires much faster than before," said John Ajamie, SVP, US Operations, SNI.
Eliminating Points of Failure
"Our goal was to eliminate as many points of failure as possible," said Scott Wilkerson, Engineering Manager at SNI. "We wanted a more user-friendly UI, column-based editing and synchronised databases. The system had to be easy to maintain and achieve complete redundancy if necessary." The Channel-in-a-box (CiaB) approach – which refers to running automation on the same device where the video playback and other graphics, audio and VANC processing reside – helps SNI improve the simplicity and reliability of the system.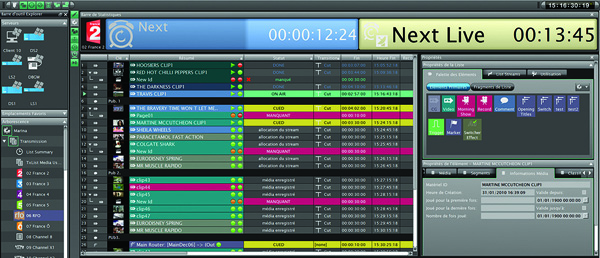 "Even if we pull the network connection out of the back of the box, the Dolphin system will continue to execute as long as it has a playlist and media. We could lose every core, every switch, every piece of our network infrastructure, and we would continue to playout over the air," said Scott. Marina's automation achieves near to 100% availability for playout, without relying on specific hardware, through its software techniques and its modularity, optimising their installation to suit their resources at any given time.
Toward Virtualisation
SNI has also been also investigating Pebble Beach Systems' Lighthouse, which adds remote control, monitoring and content management via web-based dashboards to simplify their operations further, including configuration and deployment functionality for Dolphin channels. As well as remote access, they can allow access to specific teams to set up, for example, automated approvals processes.
SNI is now looking at options for expanding with virtualised playout systems, such as Pebble Beach's software-only tool Orca, for dynamic deployments including pop-up and experimental channels. The challenge is to bring any chosen processing tools into a software ecosystem, so that either Dolphin or Orca can run everything required in the cloud. Lighthouse can also be used to customise the virtual output chain for each channel in the system.
"It's great to see these additional software plugins coming onboard for Dolphin - we think the product is well positioned to support us as we make efforts to virtualise playout," said Scott. www.pebble.tv