Sky TG24's News Presenters Take Control with Custom Vizrt Workflow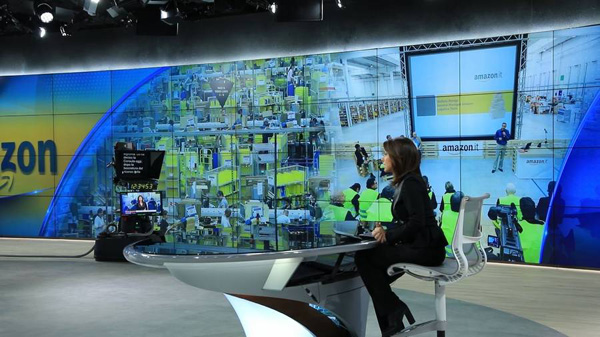 Sky TG24 is one of Italy's top 24/7 all-news channels, delivering continuous rolling news, weather forecasts and sports stories with half-hourly updates. Sky TG24's broadcast team has made significant changes to their workflow by giving journalists and presenters full control of on-air content. Their goal is to draw in and retain viewers by making their news more accessible and informative, moving away from traditional news broadcast coverage and presenting a story for every headline.
Their new approach has involved designing a new studio featuring a massive video wall on each side with a total length of 120m, which journalists can use to tell their stories in an engaging way. Sky TG24 looked for a system that gave them flexibility to control their output across the 270° of video wall within a stable but flexible workflow. They chose Vizrt software because it could be adapted to a fluid, dynamic studio environment with minimal customisation.
All the news assets and elements are brought together and the presenter uses a customised version of Vizrt Viz Multiplay software on a tablet to display the content as needed on the studio's video walls. In this way, the presenter has control over any of the content supplied to the video walls by the broadcast director from the control room.
Viz Multiplay controls a playlist across a variable number of screens from a single interface. Screens can be of different resolutions and aspect ratios. Working in a studio at their own pace, users can control individual screens or trigger content to multiple screens with a single touch or click.
As the presenter works, Viz Multiplay sends content to Viz Engine, Vizrt's real-time compositing engine, which displays the content in real-time as a SDI, DVI or IP stream. Viz Engine can control live video inputs, clips, graphics and still images. Viz Multiplay may be configured to control a single or multiple Viz Engines, depending on how many graphic channels are required.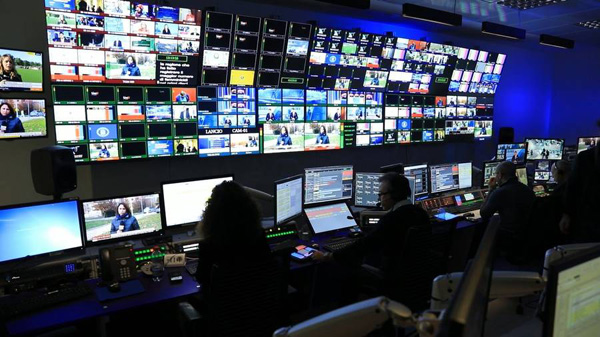 Meanwhile in the control room, the broadcast director uses the studio automation system Viz Mosart to deliver content into the video walls and control the overall production of the show in a flexible manner. Viz Mosart takes input from the newsroom computer system (NCRS) and translates it into commands for all connected systems and devices, giving the broadcaster quicker response times and more cost-efficiency from news, weather and sports broadcast systems.
The director uses Viz Mosart to control operations by creating reusable, adjustable automation templates and allowing one newsroom script to be aired anywhere, from any studio at any time. In breaking news situations, Viz Mosart operators can make live changes on the fly using the system's shortcuts and rundown modification tools.
The Viz Mosart interface is highly configurable and can store and instantly recall interface configuration settings. For example, story elements such as cameras, clips and graphics may be assigned to buttons. Story scripts from the NCRS are shown directly in the Viz Mosart GUI, and operators can store clips and graphical elements in a pool ready for execution on request.
The Viz Mosart system works with nearly all studio infrastructures and is not limited to particular switchers, mixers or other equipment. New upgrade components can be integrated from many different manufacturers.
"The combination of tools gives Sky TG24 full control over every single image and video that is shown on the video wall. In Sky TG24's case, Viz Multiplay controls 16 channels, and each of these is split in two parts. The lower part is triggered by tablet and the upper part is triggered by Viz Mosart automation," said Marco Fecchio, Sky's Vizrt architect.
The project was completed over a six-month period while Vizrt's service team and Sky TG24 work together to deliver the final on-air system. Riccardo Botta, Sky's Production Broadcast & Creative Director, said, "For us, storytelling is a powerful instrument. We have to convey to our viewers the message of what is happening in the news and give them the means to understand it." www.vizrt.com