Panasonic Integrates with TVU for IP and Camera Management and Delivery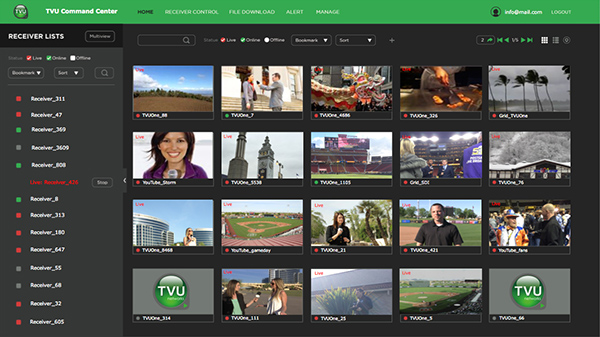 With a new integration of Panasonic cameras, TVU Networks and Panasonic have made it possible for users in nearly any location to acquire and transmit live, low-latency, HD video over IP, and distribute the video with TVU Grid to multiple outlets. The integration also serves as an entry into the TVU Grid system and is part of a large global video distribution network with over 2,500 broadcast stations.
The Panasonic AJ-PX270 is a handheld HD camcorder that records low bit rate AVC-ULTRA and has 3G/4G/LTE wireless networking for mobility. The integration between Panasonic AJ-PX270 P2 cameras and TVU Transceivers supports streaming from a P2 camera directly to a TVU Transceiver via cellular, WiFi or ethernet connection.
The new integration makes it possible to centralise AVC-ULTRA P2 cameras alongside AW Series PTZ (pan, tilt, zoom) cameras for a self-sufficient, scalable network video production system, configurable from anywhere in the world with an internet connection. Each Panasonic camera has a unique network ID that communicates to the TVU Transceiver or TVU Command Centre, which is a cloud-based management and control system.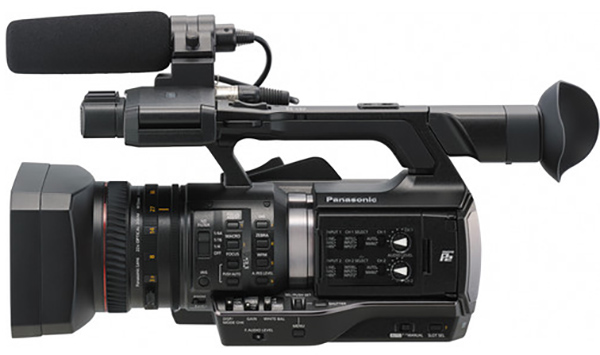 The integration also makes several different TVU services available to Panasonic users. TVU Command Centre centralises remote management and control of all TVU products and services. As a cloud-based system, it can be accessed remotely from any connected place. It controls TVU transmitter functions, including latency and bit-rate, and receivers, including Geo-locate, a GPS-based map view of all powered TVU transmitters. It also controls the addition or removal of supported devices.
The camera produces an IP video stream, thumbnail and status to the Transceiver or Command Centre. A live stream from the Panasonic P2 camera can be triggered, monitored and managed on the TVU Transceiver or TVU Command Centre interface. Received P2 streams can then be distributed to other locations via TVU Grid. Grid is a scalable IP-based video switching, routing and distribution system that broadcasters use to acquire live video from different sources for distribution to other Grid-enabled locations.
It is also possible to use P2 camera sources with the functions available on the TVU Transceiver or the TVU Cloud service, including IP streaming output direct to social media and to various TVU services such as TVU Producer allowing you to switch between streams, TVU Booking Service and others.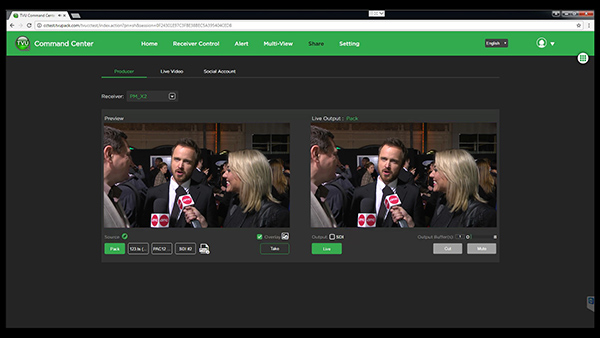 In a separate integration between the two companies, Panasonic's PTZ cameras such as the AW-HE130 can also be paired with TVU Vista, a routing device supporting the streaming, management and control of IP-based PTZ cameras from remote locations. Vista was built to suit fixed camera applications such as traffic cameras and beauty shot cameras, and aggregates multiple IP connections – cellular, WiFi, Ethernet, satellite and other IP connections - simultaneously for higher bandwidth.
It also uses TVU's Inverse Statmux + transmission algorithm for stable transmission over public Internet. It uses Forward Error Correction and can transmit HD quality video with half-second latency at 3Mbps by simultaneously accessing multiple transmission mediums, maximising the bandwidth available in each network connection to transmit the most stable picture possible in the given environment.
TVU Vista allows the Panasonic PTZ camera to stream directly from the field back to the studio for decoding and processing using a TVU Transceiver. Once received at the TVU Transceiver, the PTZ camera stream can be distributed via TVU Grid to other locations or streamed to the web using the camera's IP streaming output or used as a source for cloud production or social media using TVU Producer Pro. Remote camera control for actual pan, tilt and zoom motion can be done in the studio using the camera's own control interface. www.tvunetworks.com