Cinegy Moves to Software-Defined TV with Cloud, UHD, HDR Support

Cinegy Desktop 12 ingest software, showing at NAB 2018, receives an upgrade with UHD support up to 60p. It is supplied with integrated editions of Cinegy Capture for local ingest and Cinegy Convert for import, export and task automation. Real-time GPU accelerated effects with keyframing are also new, plus a hardware-accelerated video engine supporting real-time UHD editing. It has been redesigned with a high-DPI-aware UI for working with retina style displays.
Cinegy Desktop 12 is a front end that gives access to live ingested video feeds in real-time or to media stored in the Cinegy Archive MAM. Inputs can vary from tape or live ingest to scheduled recording of hundreds of channels of SDI or IP feeds. It also has tools for logging and editing, post-production, news production and very wide import and export compatibility for transferring media to and from third-party non-linear editing and automation systems. In version 12, its connection to Avid is extended to round-trip integration.
Other changes to version 12 are more IP video formats supported by the addition of SMPTE 2022-6 and Newtek NDI standards, support for HDR HLG, better performance with XAVC and AVC-Ultra codecs, support for Cinegy's own high-speed Daniel2 GPU codec, and NVIDIA GPU accelerated H.264 and HEVC encoding.
As a piece of real-time software, waiting for rendering before playing back is minimal. Cinegy Desktop runs on standard IT infrastructure and can be installed on PC desktops within a network environment. It allows users to collaborate from normal Windows PC desktops without occupying edit bays – to make workflows more flexible, all the functionality is available from any work station, edit bay or machine room.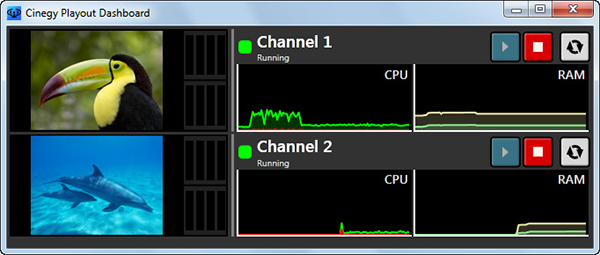 Cinegy Desktop 12 has been developed mainly for users working through a MAM system - in particular but not only Cinegy's Archive MAM. It suits teams that work with a large number of media assets that need a customisable metadata model, user rights management and advanced search. The software can also handle real-time UHD editing and post with MAM interaction, and work within an IT-based video production or news workflow.
Cinegy Air PRO 12 GPU and Cloud Optimisation
More Cinegy software upgraded to version 12 is Air PRO broadcast automation and real-time, multi-channel video playout software, also showing at NAB 2018. Capable of SD, HD and/or UHD 4K playout through a single package, Air PRO 12 supports Cinegy's move toward software defined television by including a new cloud and VM software licensing and deployment system. It also gains support for IP video standards with SMPTE 2022-6 and NewTek NDI, for Cinegy's Daniel2 GPU codec and for HDR functionality.
The demand for NDI support and HDR especially have driven a number of the changes, with GPU and cloud optimisation for speed. Air PRO increases the use of GPU offloading for video pipeline operations, which lightens the load on the CPU and makes use of GPUs that are optimized for such video operations.
Air PRO 12 is available in the cloud with Cinegy Multiviewer 14 as a Channel-in-the-Cloud software bundle on both AWS and Azure, making it possible for broadcasters, corporations and other organisations to launch a multi-channel TV station in a few minutes. The multiviewer is used to locally and remotely measure and monitor SDI and IP video streams, satellite feeds, live camera feeds, playout channels and many other sources. Beyond straight broadcast, cable companies and telcos, its flexibility makes it especially useful to OTT providers and production companies.
Cinegy Multiviewer 14 handles diverse tasks for monitoring video characteristics. Recent updates improve its Dolby decoding for more accurate checking, stream metadata functions, loudness measurement including live audio, and reactive and planned maintenance. The multiviewer's telemetry is extended to support deep analysis and alerts, and it now supports all major captioning formats including teletext decoding.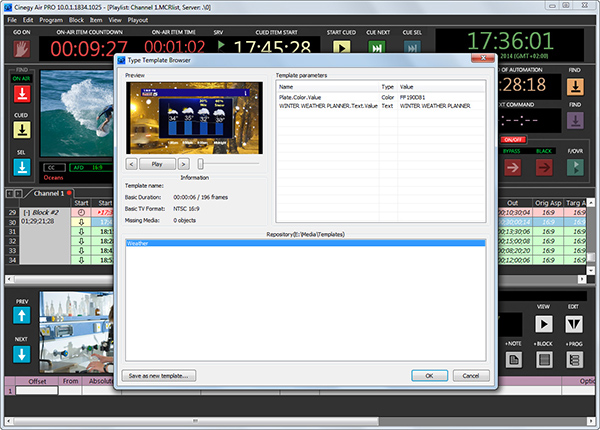 Cinegy Air PRO 12 includes a clean video and audio output option, which users can choose to generate clean video and audio outputs direct from the same Cinegy Air engine, and keep broadcast chains simpler whenever master and origination output feeds are required.
Cinegy Titler – CG Functionality
The character generator Cinegy Titler, included in Air PRO 12 has new audio, dynamic 3D DVE and multiple-PiP capabilities that extend traditional uses of video mixers in interesting ways. Cinegy Titler has improvements to the UI for its CG template editor. Titler can now handle audio embedded inside video assets used within a scene. Alternatively, discreet audio files can be attached as audio objects. Applications range from simple animated logos with audio jingles to complex scenes containing conditional loops with dynamic audio playback.
In version 12, Cinegy Titler can insert multiple live inputs, received via the Cinegy Air PRO engine, into a CG scene. With a single Cinegy Air PRO 12 playout engine, multiple camera or other live video sources can be used, positioned in 3D space and composited as a dynamic CG template in an Air PRO 12 playlist or triggered via separate CG control panels.
Cinegy SOLO, DUO and QUAD – Scaled Back Ingest and Playout
Cinegy is also debuting the new SOLO, DUO and QUAD entry-level broadcast playout and capture software applications that function as complete UHD broadcast playout and automation packages and include UHD recording. The name of each one indicates the number of supported playout or capture channels – one, two, or four respectively.
Although they share code with the higher priced Cinegy Air Pro and Capture Pro products, they actually omit several of their enterprise functions. Therefore they can be priced to attract smaller stations, freelance producers, field-production, corporate customers and others that do not need MAM integration, MOS support, or remote or web client connection, for example. Advanced CG/branding, Dolby, loudness control, and other tools are available as add-on options.
All three run on a single machine – a PC, server or laptop – and record, playout or handle both tasks. Users purchase the number of channels needed and configure the software to match current needs. SD, HD, or UHD are all the same price - each package supports numerous file formats, SDI and IP I/O options and efficient use of CPU and GPU hardware. home.cinegy.com