Grass Valley iTX Flex Pushes Content Delivery to the Cloud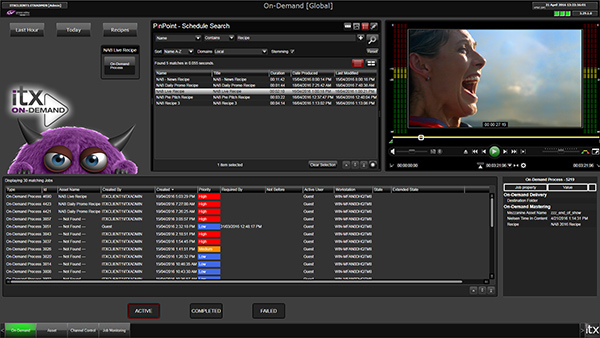 At NAB 2018, Grass Valley is showing automated cloud and virtualised channel playout and control, based on their new iTX Flex platform that uses microservices supplied as SaaS. iTX Flex utilizes a software playout engine with control and monitoring via an HTML5 browser-based UI. available in the cloud, on-premise or in a hybrid configuration.
To avoid losing audiences and make sure content reaches the right people in the right place at the right time, the platform's rapid, scalable deployment allows users to create and shut down channels quickly and cost-effectively.
The iTX Integrated Playout Platform uses CPU-efficient playout engines supporting IP (SMPTE 2110, 2022-6 & 2022-2) and SDI or a hybrid of both and deliver in SD, HD or UHD with wide HDR support. iTX On-Demand addresses the preparation of video on demand (VOD) and catch-up TV assets in a way that reduces operational costs and the time required to move pre-recorded and live content onto VOD platforms. iTX On-Demand includes new workflows that embed VOD asset creation into the production from the beginning, making it easier to manage instead of adding it as a separate or downstream process.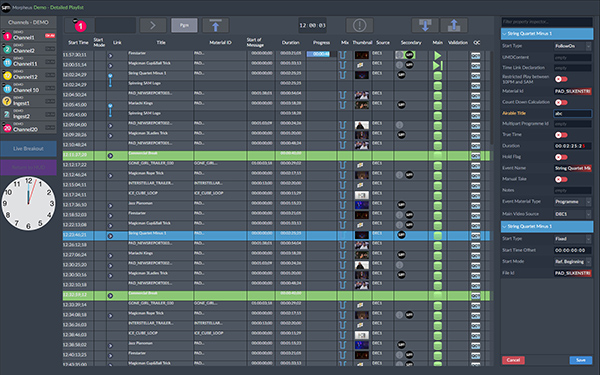 Morpheus multi-channel, multi-screen playout automation is used to control a large number of hardware devices, including OTT devices whether the workflow is on-premise, virtualised or housed at multiple facilities. Morpheus can also control ICE integrated IT-based channel-in-a-box systems, which comprise multiple channel outputs from a single playlist and supports 2D or 3D graphics templates with dynamic, real-time data.
A completely reconfigurable user interface is available for Morpheus playout automation and ICE channel playout. By allowing operators to build precisely the type of user interface they need, they can focus on important events - such as live events, or those with errors – instead of using up screen space with 'green' events that are guaranteed to go to air. The Morpheus UX has tools to build user-defined panels catering to different styles of playout operation and building screens made up of as many of these panels as needed.
Grass Valley is demonstrating this and other content delivery systems at NAB 2018, 9-12 April in Las Vegas. www.grassvalley.com