EVS, ChyronHego and Trans-Lux Unify Game Day In-Stadium Fan Experience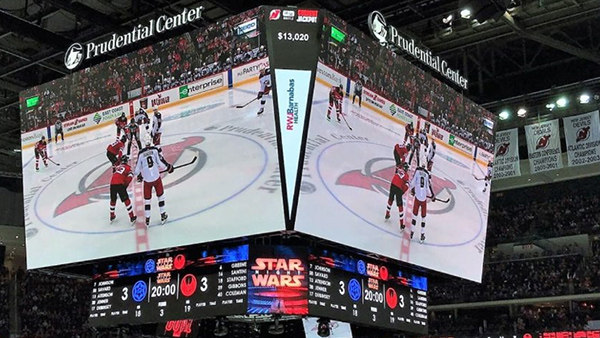 EVS and Trans-Lux developed a joint LED screen control system at Prudential Centre.
EVS has partnered with ChyronHego and Trans-Lux to launch a new system called Unified Stadium that pulls together the products and workflow necessary to produce more engaging video content and control its delivery to multiple screens on match day. Unified Stadium was demonstrated at the 2018 NAB Show.
EVS said that delivering an entertaining experience inside sports venues has become a top priority for teams and leagues that want to continue attracting a live attendance at a time when at-home broadcast programming quality is so high. With a straightforward, up-to-date workflow, venues can create experiences for fans that stand out from television through the use of video content that enhances the atmosphere of live sports or cultural events.
Unified Stadium is comprised of a series of integrations between EVS' live production tools and supporting vendors including ChyronHego and Trans-Lux. Based on EVS XT servers, LSM remote controls and IPDirector production asset management system, Unified Stadium's central hardware is the DYVI switcher, which major US sports venues have adopted. Examples are AT&T Park for the San Francisco Giants MLB team and Prudential Centre for the NHL's New Jersey Devils.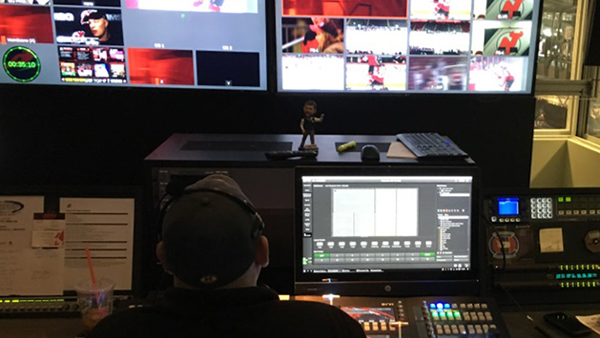 The live DYVI switcher is used at Prudential Centre as the hub of the Unified Stadium operation.

Both facilities regard the switcher's flexibility as one of its main advantages. DYVI is built on IP systems and has a software-defined architecture, increasing its scope for customisation including in-venue operation. Unified Stadium combines it with ChyronHego's Click Effects PRIME engine, an integration achieved for the first time at Prudential Centre. Here, operators can create graphics and virtual signage content using Click Effects and recall them with the switcher. Prudential Centre then uses DYVI to trigger the delivery of graphics to a massive scoreboard and various other screens in the arena.
Click Effects PRIME is real-time graphics authoring software for live arena- and stadium-based A/V presentations that uses ChyronHego's 64-bit, all-software PRIME 3D rendering engine and authoring environment. Users can access real-time rendering of dynamic and data-bound 3D objects with shaders, lights, materials and video texturing. Functionality includes lights and reflections, video mosaics, four-point loop playback control for clips.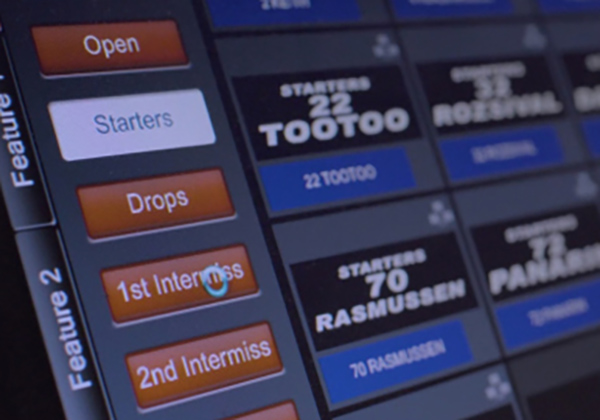 ChyronHego Click Effects PRIME is controlled by DYVI.
Click Effects PRIME also integrates directly to ChyronHego's real-time player and ball tracking TRACAB system, which helps create the same play-by-play video analysis that viewers typically see on broadcast TV sports.
The DYVI/Click Effects' integration reduces the need to juggle multiple tools and applications for different functions. Instead, users have a single-step means of creating, managing and delivering creative programming to any number of screens.
EVS' Unified Stadium partnership with Trans-Lux, LED display and lighting manufacturer, has resulted in direct control of Trans-Lux products using DYVI. At Prudential Centre, the production team uses the switcher to cut together its live program, controlling the show as it is played out on the venue's scoreboard, which ranks as the biggest in-arena, centre-hung scoreboard in the world, measuring 890.sqm.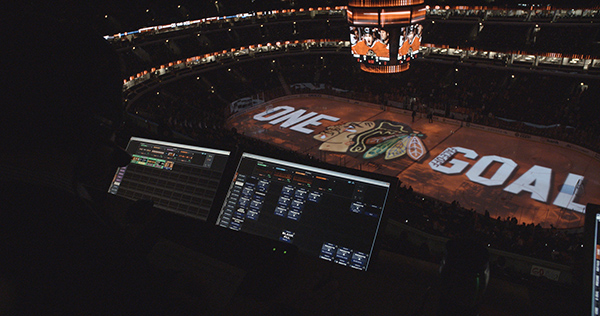 ChyronHego Click Effects Prime

Teams deploying the Unified Stadium system have a straightforward production workflow that brings together pre-produced and live assets and uses replays, graphics and statistics to create an engaging show that matches the speed and energy of live sports.
"Prudential Centre's roll out of EVS systems and the Unified Stadium integrations show how ambitious venue operators are in today's live sports," said Nicolas Bourdon, SVP Marketing at EVS. "Putting new equipment in place is one challenge, but putting together an entire creative and time-efficient workflow is critical for a facility like this one, to make sure they engage with their fans from the moment they step into the venue. To remain competitive, sports teams need a way to deliver video content that creates a live experience unlike the programming they watch at home." www.evs.com