RTS Senegal Modernises TV News Production with Avid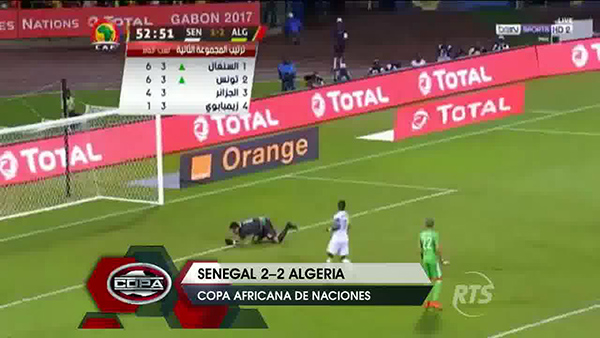 RTS public news broadcaster in Senegal, headquartered in Dakar, broadcasts across four national television networks. Held back by an outdated architecture that was cumbersome and resource-heavy, RTS chose to overhaul its two news studios, and give its infrastructure a complete upgrade. They have now standardised the components of their news production workflow on Avid MediaCentral, an integrated environment that avoids the company's earlier siloed approach and is better prepared to meet the demands of modern news production.
Workflow Options
Under the resulting system, RTS can work with HD and SD formats in an adaptable, fast-turnaround environment. RTS' four TV channels are supported by more efficient, more timely news story creation and delivery and can engage viewers with graphics with an up to date look and feel. "We wanted a system like this to reduce time-to-air, of course, but also especially because we need to give our staff the chance to focus on creative work and help the four networks grow without a lot of additional expenditure," said Boubou Sall, Director of New Technologies, RTS Senegal. For systems integration, they worked with Avid's distribution partner, Studiotech.
To get media production moving as soon as content is acquired, RTS chose MediaCentral | Production Management, which manages content creation, automates workflows and takes advantage of teamwork, Avid FastServe | Ingest file-based workflow orchestration, and Avid AirSpeed | 5500 broadcast video server.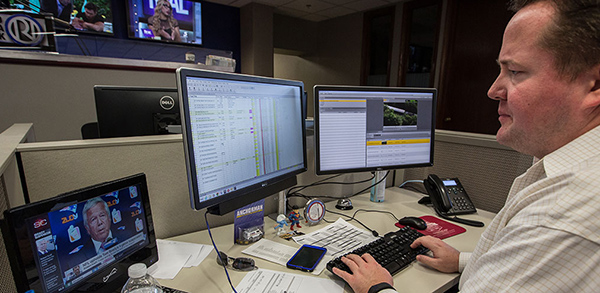 For its staff, RTS invested in newsroom and graphics tools that would support a collaborative news broadcast workflow for the creation, distribution and optimization of its news content. RTS uses Media Composer with the NewsCutter option, a newsroom computer system that integrates directly with MediaCentral | Newsroom Management and has the familiar tools for editors to view stories and rundowns, and edit video directly to scripts. It is a tool specialised for editing breaking news.
Dynamic Asset Management
MediaCentral | Newsroom Management works as RTS Senegal's dynamic hub for news content creation and distribution to multiple platforms. When teams travel to news locations, Newsroom Management can be used to gather information from various sources and produce the content either in the studio or out in the field. The team can consolidate the ingest of newswires and sources - including serial feeds, telnet, email or by monitoring directories - directly in Newsroom Management. It supports the standard wire formats as well as forward searches across multiple systems.
Up to 50 MediaCentral | Newsroom Management systems may be placed within a station group or network so that team members can share information and collaborate on stories from anywhere through searching for, viewing and editing content. For example if a team wants to present different angles or localized versions of a story, they don't need to copy assets – they can share and repurpose text, video, still images and news stories for delivery to social media channels, websites and mobile devices.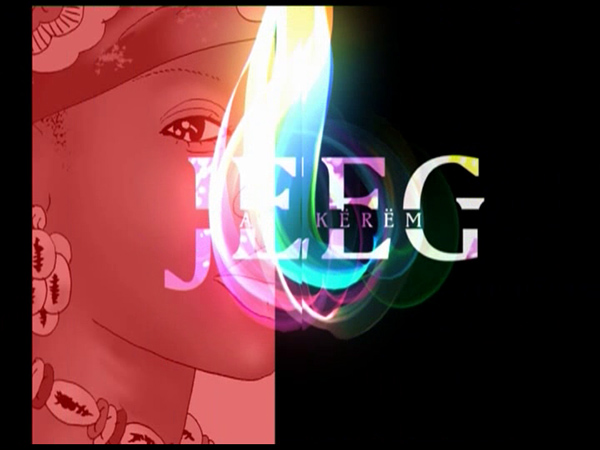 Newsroom Management is robust enough to keep systems at RTS Senegal's channels in operation 24 hours a day. If a server becomes unavailable, operation continues uninterrupted because all system data is mirrored between multiple servers. Any interaction can be performed through a single graphical web interface, which simplifies systems administration at the server level, supporting a thin client architecture.
File-based Workflow Orchestration
Newsroom Management also made it possible to add Avid FastServe Ingest file-based orchestration to the workflow to make media instantly available and accessible to production teams at all locations. It coordinates ingest and playout across the MediaCentral production environment.
In live situations, the FastServe software helps news, sports, entertainment and multi-camera productions overcome the challenges of baseband ingest. It can encode up to four UHD streams or up to eight HD streams simultaneously from in-studio cameras, satellite feeds and other input sources. It includes hundreds of hours of internal storage and a redundant 10GbE interface transferring media in real-time to Avid NEXIS, which RTS is using for its shared storage systm.
Controlled by MediaCentral, FastServe | Ingest automatically checks in files so they are instantly availability for logging and for Edit While Capture, a workflow that allows editors to access clips while they are still being checked into the system for faster turnaround. Now, FastServe can also generate eight proxy streams while ingesting the eight channels of HD material as a transition from high-res to proxy and vice-versa. Any sports highlight or news segment created by the operator is automatically and instantly shared with journalists, craft editors and the entire production environment.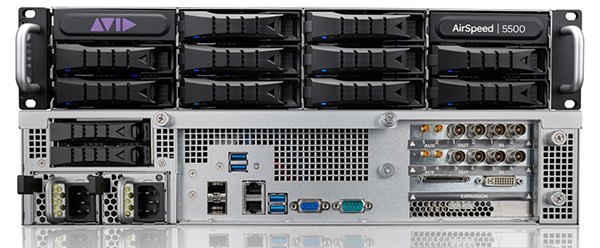 For flexibility, RTS can use FastServe to start small and grow as necessary. Its modular architecture makes it possible to customize a configuration to support small regional studios up to larger facilities. The servers also ease the transition from HD to UHD, or from SDI to video over IP with interchangeable interfaces.
FastServe's redundant 10GbE architecture integrates directly with Avid NEXIS without adding extra hardware - FastServe | Ingest can extract ancillary data and write it into NEXIS, making the information available across MediaCentral production as a further data track essence on top of the video and audio. This is a good way to extract closed captioning, timecode and other metadata to support various workflows. Ancillary information is kept tied to the recorded feed, so it can be exported again for other uses.
Shared, Centralised Data
Collaboration has become a key aspect of RTS' storage, as the Avid NEXIS software-defined storage platform allows the team to specialise, expand and accelerate workflows if necessary in real time. On-demand access to a shared pool of centralized storage can be quickly provisioned and repurposed for different projects, tuning the capacity, performance and drive protection of each workspace according the work and client.
Running on the common Avid NEXIS | FS file system, NEXIS scales to accommodate small teams up to large media enterprises, holding 6.4 PB of total storage and more than 25 GB/s of bandwidth in a single system. The scale-out architecture accommodates mixing and matching engines in a single system, upgrading capacity and bandwidth as needed and adding redundancy when high availability is required, also with security and fail-safe disk protection.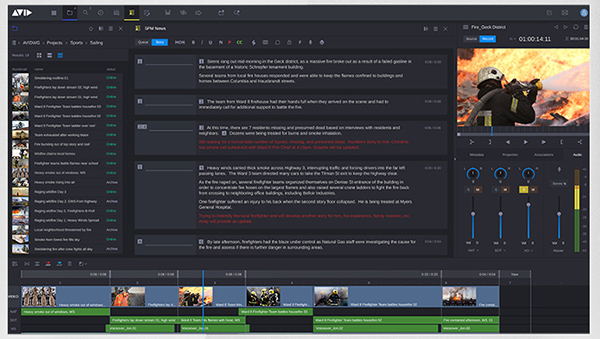 Because media production is unpredictable, Avid NEXIS users can make changes dynamically without disruption or downtime, and give critical projects and high-priority teams greater performance by limiting less important workflows. Other commonly used variations on the basic system include remote and collaborative workflows with Media Composer | Cloud Remote and MediaCentral, and expansion of workflows to new platform applications and services.
Processing and Playbout Automation
As RTS' broadcast video server, AirSpeed | 5500 is used automate a very quick ingest-to-playback turnaround in order to move content to air as soon as media is acquired. It runs on the MediaCentral platform like all of RTS' production components for news, post and sports production workflow integration, collaboration and versatility.
It also avoids time-consuming transcoding from XDCAM HD due to native support for a variety of media formats and codecs. For instance, using the built-in IsoSync for one-step, frame-synchronized capture to Avid NEXIS, they can capture events of any length, on any channel, with continuous recording, without duration restrictions and ingest scheduling.
AirSpeed | 5500 has converters built into all of its channels, enabling a team to record and locally play back both HD and SD baseband media in their preferred common format, such as XAVC Intra HD, XAVC-L, AVC-Intra HD, and AVC-LongG. Once editing is finished, you can send content directly to AirSpeed | 5500 for playout in only one step, and start playing clips to air before the transfer has completed.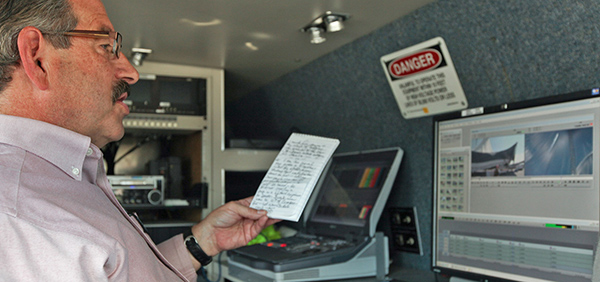 If RTS is interested in playout automation, locally or remotely, they have a few options through MediaCentral. With MediaCentral | UX, video can be edited in one location to an AirSpeed | 5500 video server group for playback in another, displaying status feedback the same as transferring the content locally.
New Looks
To modernize its studio and on-air look, RTS adopted Avid Maestro | Designer to generate on-air graphics and display large scale, high resolution content on its studio video walls. Maestro has options for making the most of limited resources. For example, users can create a custom graphic for a given, topical subject and use it as a template that can be updated dynamically multiple times throughout a production.
Graphics that update automatically as information changes are also possible, when covering election results, sports scores, stock prices and weather reports. Dedicated rendering hardware only for authoring is unnecessary. Maestro | Designer works on Windows in conjunction with RenderEngine7, a real-time 3D graphics rendering engine application that Avid's graphics systems are based on. It has the tools needed to create dynamic graphics quickly, while using existing graphics tools and workflows to save time and costs. www.avid.com