Telestream Wirecast Adds Control Surface, PTZ and Facebook Support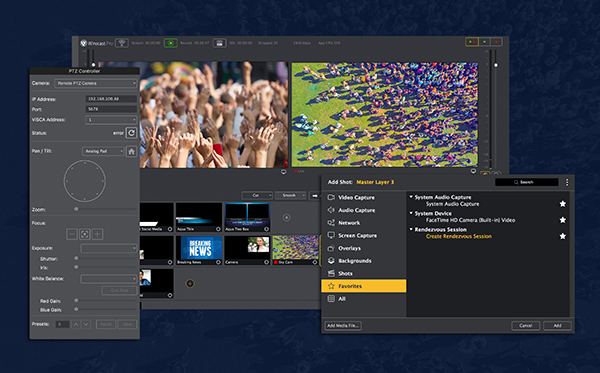 Telestream Wirecast live streaming and production software for Mac and Windows now has built-in PTZ control for robotic cameras. It also has added support for the X-Keys Wirecast Control Surface, plus paired encoding contribution with Facebook Live. This new functionality is part of the software's most recent release, and has been integrated into the Wirecast Pro version.
To carry out complex multiple-camera productions without adding extra staff and cost, Wirecast Pro can now be used to control PTZ cameras. Optimised for the PTZOptics camera line, which use the VISCA-over-IP protocol, this adds flexibility and increases speed when recording alternative camera angles and framing from PTZ cameras - without leaving the Wirecast interface.

P.I. Engineering has developed one of their X-keys control surfaces for Wirecast. so that users can operate the system more rapidly and with better responsiveness in fast-paced live production environments. The new control surface gives access to 12 sources on each of the five layers in Wirecast. The status of each layer and source is indicated on the controller via a light behind the corresponding key. Frequently-used saved scenes, outputs and transitions can be assigned to dedicated buttons, which trigger the effects with one push.
Videographers and photojournalists can use the paired encoding to Facebook Live to target and stream content to Facebook pages for clients, customers and brands without requiring adminstration passwords or credentials for the main Facebook account. This may be useful for pages with multiple contributors and cross-promotional streaming.
This facility means the Wirecast encoder has been registered to allow the Live API to automatically configure it to the optimal settings for a Facebook Live broadcast. Users do not need to manually adjust the encoder settings to tune the Live video quality. The Live API includes the ability to set the encoder's preview, start and stop modes from the Facebook interface.
The X-keys for Wirecast Controller is supplied free of charge with new Wirecast Gear 230 systems purchased through the end of June 2018.
This is the first Wirecast upgrade since the release of version 8, which changed how Wirecast software is sold and upgraded for existing customers. As of version 8, users regularly receive free software updates as part of a yearly support subscription. This differs from the previous 'paid upgrade' model that was in place prior to version 8. www.telestream.net