AJA Adds Unreal Engine and New I/O Format Support for Video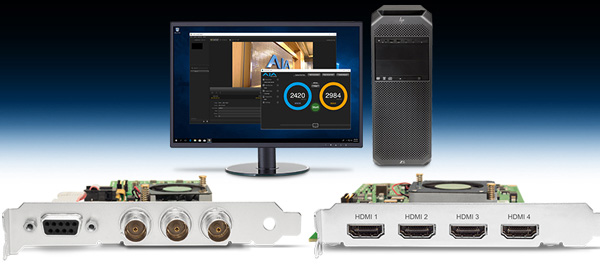 The AJA KONA 4 eight-lane PCIe 2.0 video and audio desktop I/O card and Corvid 44 4-stream multi-format PCIe card now have built-in support for Epic Games' Unreal Engine, answering to recent interest in using the Unreal Engine in broadcast across virtual sets.
Also, AJA's two new KONA capture and playback cards, the KONA HDMI and KONA 1, and Thunderbolt 3 I/O device Io IP support a huge range of video signal formats currently in demand for broadcast, streaming, production and post applications.
In support of the new hardware, AJA Desktop Software has also been updated to v14.2 to add 10GigE support for 2K/HD video and audio over IP with Io IP, a Deep Buffer capture setting in AJA Control Panel, plus other changes to improve working with KONA cards and Io and T-TAP devices.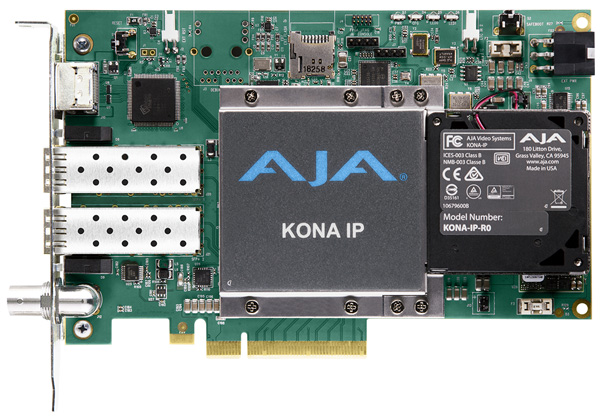 AJA's KONA 4 and Corvid 44 are the first video I/O cards with built-in support for Epic Games' Unreal Engine. The recent release of Unreal Engine v4.20 includes a plug-in based on the AJA SDK supporting HD/SDI video and audio input and output to Corvid 44 and KONA 4 cards. This includes support for linear timecode (LTC), vertical interval time code (VITC) and gen-lockable video enabling integration of AR and graphics in live broadcast transmissions.
A typical use is delivering virtual sets for live broadcast, virtual production and eSports. Unreal Engine combined with KONA 4 or Corvid 44 cards make a low cost, low-latency set-up for augmented reality applications.
KONA 4 is an eight-lane PCIe 2.0 video and audio desktop I/O card with very wide format comaptibility with 10-bit 4:2:2 and 4:4:4 sampling for image clarity and 12-bit support. Corvid 44 multi-format PCIe card enables up to four simultaneous, mixed streams of input and output, suitable for many different medium-density video applications.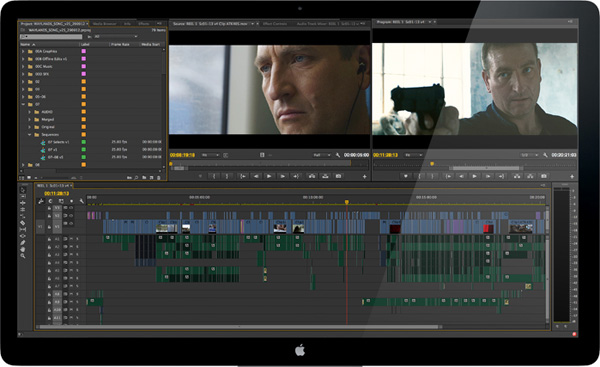 KONA HDMI is a multi-channel HD/single-channel UltraHD HDMI video capture card, flexible enough to support live streaming, broadcast production and post. It is suitable for vlogging and video game capture and streaming, and can handle VR, projection mapping, HDR capture/pass-through between and video source and display device, and other applications. It enables four simultaneous channels of 2K/HD capture for use with streaming and switching applications including Telestream Wirecast and vMix, or one channel of 4K/UltraHD up to 60p over HDMI 2.0 using AJA Control Room software for file compatibility with most NLE and effects packages, and other third-party applications. Due to AJA SDK and Video for Linux support, developers can also use KONA HDMI to build multi-channel HDMI ingest, switching, monitoring and communication systems.
The new KONA 1 card handles direct capture/playback over 3G-SDI for applications in broadcast, post and professional audiovisual systems integration. It is a robust single-channel 3G-SDI 2K/HD 60p I/O PCIe card with standard application plug-ins, supporting capture, monitoring and/or playback with familiar applications from AJA, Adobe, Apple, Avid, Telestream and so on, as well as the AJA SDK for developers. KONA 1 supports simultaneous monitoring during capture – that is, pass-through, RS422 control, dedicated Ref/LTC and many other functions.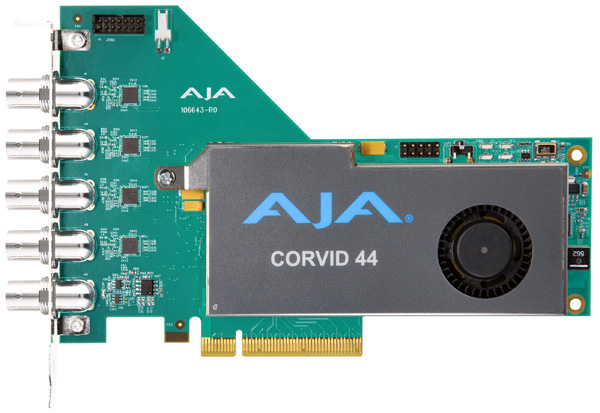 The Io IP, equipped with Thunderbolt 3, is is a rugged device built to set up reliable ingest/output between IP networks for 2K and HD/SD video-audio workflows. Local monitoring is supported by 3G-SDI, HDMI 2.0 including HDR, and analogue audio. Compatible with macOS and Windows, Io IP works with production, post, mastering and streaming tools from Apple, Adobe, Avid, Autodesk, Telestream and others. Dual Thunderbolt 3 ports allow daisy chaining of devices, and two SFP+ connection cages allow video and audio routing over 10 GigE IP networks. It supports SMPTE 2022-6 uncompressed video, audio and VANC data over IP, as well as SMPTE 2022-7 for redundancy protection.
As well as the support for KONA HDMI and KONA 1, Desktop Software v14.2 includes 10GigE support for 2K/HD video and audio over IP - uncompressed SMPTE 2022-6/7 - with the new Thunderbolt 3-equipped Io IP. A new Deep Buffer setting in AJA Control Panel improves handling of storage interruptions during ingest. Other updates are made for KONA, Io and T-TAP hardware. A change made for the Io 4K Plus, DNxIV and Io IP now allows all eight analogue audio channels to be configured for either input, output for full 7.1 ingest/monitoring, or a 4-In/4-Out mode or I/O for stereo plus VO and discrete tracks.
KONA HDMI, KONA 1 and Io IP are available now through AJA resellers. Desktop Software v14.2 can now be downloaded for free from AJA's support page. www.aja.com