Avid Media Central Moves Online for Collaboration and Workflows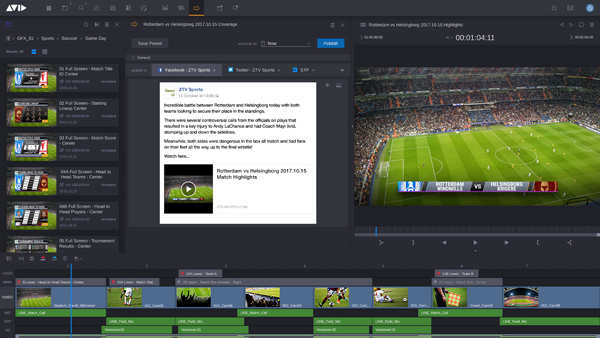 The new web-based version of Avid MediaCentral media production and management platform is divided into modules and supplied with a simple user interface for users who need to search, access, collaborate on, edit and publish content from the various workstations, laptops or mobile devices they are working on.
MediaCentral's modular design encompasses apps, services and connectors that make the system scalable, extensible and fast for media production. Applications range from television programs, news and sports broadcasts to films and live TV and events. Every production team member is connected within an integrated workflow that gives a unified view into all media assets, which may be held on premises or in a private data centre, the public cloud or a hybrid environment.
The engine that the MediaCentral platform runs on carries out core functions such as automated content indexing, workflow orchestration, centralised administration and software deployment. Production teams use modules based on this foundation to find and access media assets from dispersed locations, automate workflows, produce content and deliver to diverse channels and devices.
Workflow Modules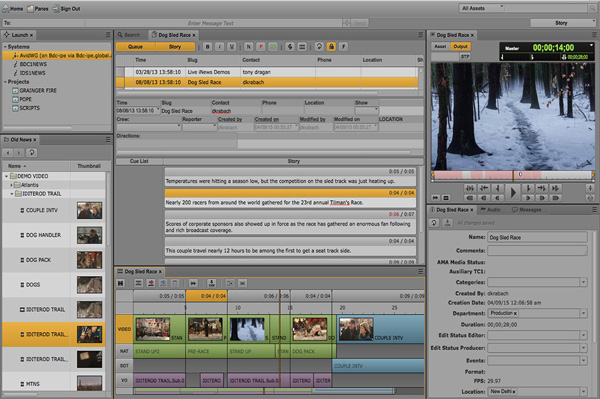 MediaCentral l Cloud UX
MediaCentral workflow modules include Production, Newsroom, Asset and Editorial Management. Graphics Management is planned for a future release. MediaCentral | Editorial Management is the most recent, a collaboration platform that works as an asset management tool through a simple user interface, so that entire teams can participate in media creation workflows. As well as collaboration, its design focusses on integration and speed.
For example, post production and broadcast teams can collaborate through media workflows from either an integrated panel inside Media Composer, or a Web browser on mobile clients. Due to Avid's new HyperBin architecture, assistants and producers using Editorial Management can create and modify a new type of Media Composer bin for media called a HyperBin, developed to speed up teamwork. To the HyperBins, assistants and producers can add locators and metadata, create subclips and perform other asset management tasks from the MediaCentral | Cloud UX Web interface.
The overall intention is to allow the editor to spend more time creating and less time finding and managing media – up until now, editors browsing for content have not had so much access to media. They can now search across projects and create filtered views inside the Web browser. Putting HyperBin functionality within the Web browser also makes sharing available across the network. If an assistant creates a bin and adds media to it, the editor can see it immediately in their project – they can save each other time.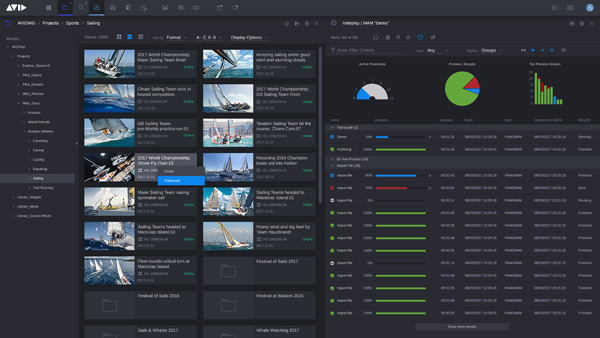 MediaCentral | Asset Management
Scott Roy is SVP of Post at Trailblazer Studios, where the staff have been beta testing MediaCentral | Editorial Management. He said, "Our teams are using MediaCentral | Editorial to stay in sync - the show runners, story producers and assistant editors can work within the same environment as our editorial team, giving them the tools they need to contribute to the story without having to leave their creative applications."
MediaCentral's other modules include Newsroom Management for news production teams delivering across multiple channels, with tools for efficient story-centric workflows and breaking news. For large broadcasters and media enterprises, MediaCentral | Production Management focusses on accelerating the entire media production workflow, and supports collaboration in large scale environments.
The MediaCentral | Asset Management module, tuned for broadcast, news, sports and post production environments, aggregates and automatically analyses content from any source to create a index of searchable metadata accessible from Media Composer or Adobe Premiere Pro CC, and MediaCentral l Cloud UX.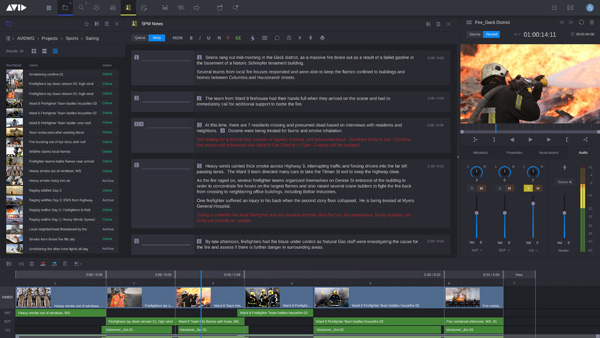 MediaCentral | Graphics Management (image above) is now in development to give news and sports journalists control over graphics assets, and access to templates they can use to add graphics to stories from any device.
Apps, Services, Connectors
MediaCentral l Cloud UX is a redesigned UI, built as the front-end to the complete MediaCentral system, with access to every module, app, service and connector from most devices, anywhere. Access includes viewing detailed information about any video, audio, graphics or document file including its size, format, resolution and metadata Through this interface, users can carry out search, editing, publishing, graphics and distribution tasks. It can be licensed as a viewer, browser, editor or all of these.
MediaCentral's role-based apps, which are essentially tools, extend the platform's capabilities. Each app is optimised for a specific task in the media workflow, including searching and browsing media, researching the web and social media feeds, logging, editing, review and approval, publishing and so on. All of them are accessed from within the MediaCentral | Cloud UX interface.
MediaCentral services support several standard media workflows including content transformation, distribution and social media publishing. Worklows for content indexing and searching can take advantage of machine learning to gain deep insights into media libraries.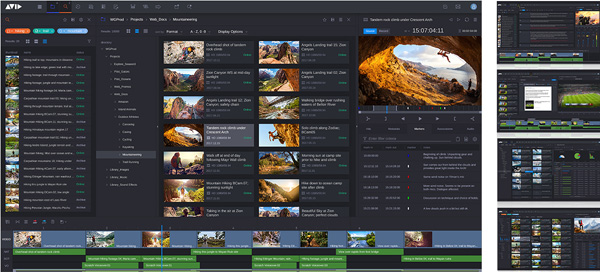 MediaCentral l Cloud UX
MediaCentral connectors are used to extend MediaCentral workflows to third-party applications, systems and services from among the Alliance partners in Avid's certified partner ecosystem. Connectors are now available for products developed for archive, quality control, transcoding, WAN acceleration, CMS integration and publishing to Facebook, Twitter and YouTube. www.avid.com