Dejero EnGo Transmits Fast-Motion Video with HEVC and Power Boost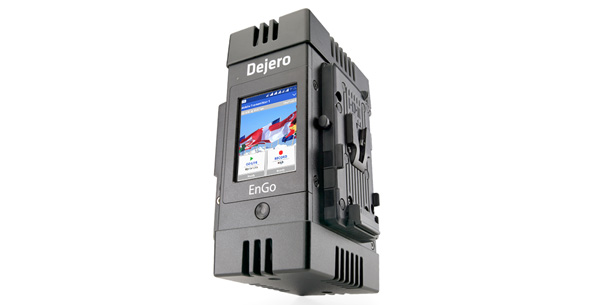 At the IBC2018 exhibition, Dejero is showing a new version of the EnGo mobile transmitter, upgraded to encode and transmit video with higher image quality, especially when capturing high-motion news and sports content. Dejero says this improvement is due to greater processing power and a better implementation of the HEVC compression standard. Combined with the company's auto-transport and adaptive bitrate encoding system, these updates result in higher picture quality across a wider range of bitrates.
The compact EnGo mobile transmitter is designed for mobile video contribution in situations that require agility and versatility. It encodes video, preserving its original quality, and transmits over multiple IP networks to reliably deliver material with extremely low latency, and overcome challenging network conditions. It can be mounted on a camera or in a vehicle and worn in a backpack.
Anticipating that the broadcast industry will shift towards the HEVC video compression standard to efficiently and accurately transport video from the field, Dejero put extra processing power behind their new dynamic content adaptation functionality that detects different levels of motion within content as it is captured. The software then responds by adjusting the encoding process accordingly.
Broadcasters can use this ability to automatically and directly transition from, for instance, a talking-head shot with limited motion to fast-moving content - without softening the picture or introducing compression artifacts, and without manually changing the settings. EnGo can now encode up to 20 Mb/s and supports 1080p 50/60 for shots requiring the highest image quality when covering sports, wildlife and other high-motion events.
Dejero EnGo's updates will be demonstrated at IBC in Amsterdam, 14-18 September. www.dejero.com