InSync and Hiscale Develop Video Standards Conversion On-Demand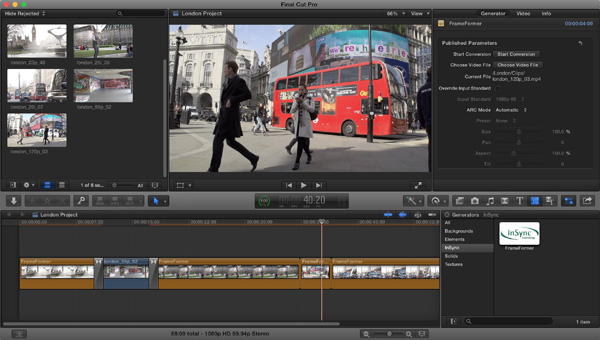 FrameFormer plug-in for FCP X.
InSync Technology has partnered with Hiscale to develop a scalable and customisable on-demand conversion system for broadcasters and content owners of different sizes with varying requirements. InSync specialises in software-based motion-compensated standards conversion, and Hiscale develops high-performance, scalable software for video preparation, conversion and distribution.
The integrated services are expected to suit broadcasters and content owners who need to convert frame rate and formats from time to time, such as when footage that was expected to be 1080 50i turns out to be 720 30p, and a reshoot is not possible, or when a client requests a clip for integration into a UHD 59p program but the only version on the server is HD 50i.
Keeping a standards converter in-house for such situations is not cost-effective, which makes pay-per-use standards conversion a practical option. InSync and Hiscale have joined forces to create FrameFormer for FLICS, which users access by paying for time-limited use on their preferred cloud platform. The system involves no large upfront cost to start using a new converter, and customers avoid locking themselves into contracts with a single vendor.

InSync Technology's FrameFormer is motion-compensated standards conversion software that performs frame rate and format conversion, including deinterlacing, up/down/cross conversion, aspect ratio conversion and cadence management, and has SDR/HDR/WCG tools. It supports most types of content from sub-QCIF, such as video from CCTV systems, up to 8K and higher.
The software is available as a plug-in for editing packages such as Adobe Premiere Pro and Final Cut Pro X, as a component in Imagine Communications' SelenioFlex File, and as a stand-alone application for integration into custom workflows. It runs under Linux, Windows and Mac operating systems and targets CPU-only deployment for flexibility. FrameFormer has been developed and tuned over several years to carry out stable conversions with automated settings, and deployment is fast with straightforward parameter set-up.
FLICS is scalable video transcoding software that can be accessed through a preferred cloud environment. The services are then scaled to deliver the necessary performance, when and where required. Accessing FrameFormer via FLICS means customers can use their in-house processing resources as far as they can stretch, then offload peak demand into the cloud as needed. FLICS incorporates transcoding, open APIs for integration into existing or new workflows, autoscaling to handle incoming peak demand, and load distribution to optimise available resources.
FrameFormer is an integrated component in Imagine Communications' SelenioFlex File.
InSync FrameFormer – More Integrations for Standards Conversion
Given that frame rate and format conversions are often essential elements in a content workflow, InSync has partnered with other broadcast workflow systems providers as well as Hiscale to give users more choice in how and where they use FrameFormer by making it available within various products.
At IBC2018, InSync will not only demonstrate FrameFormer for FLICS, but will also show deployment within Dalet AmberFin and other media asset management systems, and in Marquise Technologies MIST mastering system.
Content owners with assets that aren't in the display format or frame rate needed for their viewers' devices must carry out standards conversion, and accurate standards conversion is essential to preserve the quality, and therefore the value, of the material. Repurposing material for international distribution, reformatting movies for TV broadcast, or converting assets for web and mobile delivery all require high quality standards conversion within the media chain. www.insync.tv