Canada's Global News Visualises Content with Avid's Virtual Graphics Workflow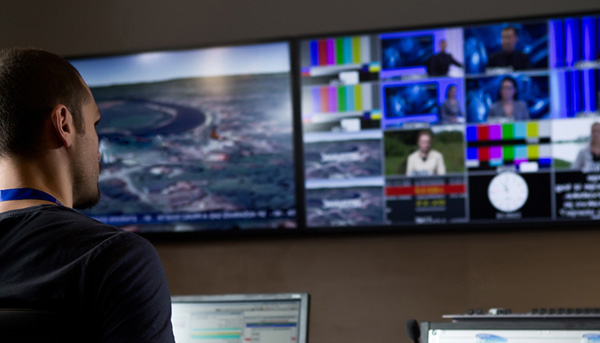 Global News is the news and current affairs division of Global Television Network, one of Canada's largest private broadcasters. Director of operations and technology Gerry Belec and his team have updated the division's coverage, making it more dynamic and immersive through the use of modern broadcast graphics and virtual sets. At the same time they have put a more distributed, agile production system in place.
To set up a virtualised studio production workflow and design the new visual content, they used Avid integrated graphics tools - including Maestro | News graphics suite, Maestro | Designer 2D/3D authoring software and Maestro | Virtual Set studio. The team planned to transform the look and feel of all news delivered through the organisation's 15 stations located across Canada, and adapt the staff to the new workflow in the process.
This workflow was designed of simple-to-use tools that could function in a virtualised studio environment – that is, with the hardware infrastructure centralised in one city and presenters in another. Such a complete update of Global News' coverage, and meeting all of its objectives, meant that its existing news workflow underwent substantial change. For example, virtual sets would figure prominently in the new workflow and become central to producing dynamic and immersive coverage. The team started trying to integrate other types of advanced graphics as well, to see the effect the change might have on their news storytelling and viewer experience.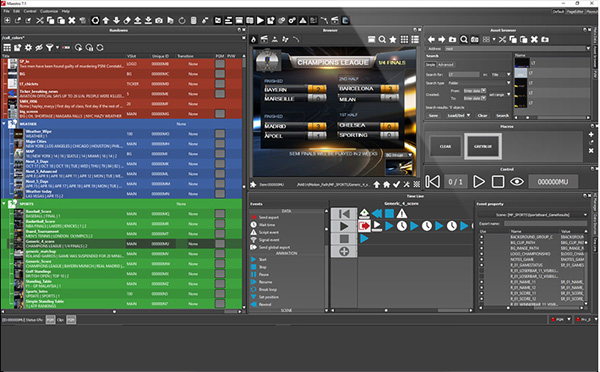 Maestro | News
Visualising News
Global News adopted Avid graphics creation systems for its four main studio production centres, plus nine remote broadcast locations. Based on the MediaCentral Platform, the new workflow includes Avid's Maestro graphics suite, 4Designer 2D/3D authoring software and ProSet virtual studio. Used together, the software supports real-time graphics and video production, needed to produce visual storytelling that engages viewers with virtual sets, 3D graphics, animation and high-resolution imagery.
Maestro | News has workflow-specific tools for designers, journalists and editors to collaborate, optimising operations by establishing logical relations between different devices in a control room, and working across news, branding, studio productions, OB vans, editing and post. In order to move edited video to air faster, users can play back sequences without outputting a single file and transcoding the media to a single codec. Media can also be played back directly from Avid NEXIS, without rendering, instead of transferring it to a playout device.
Maestro | News controls Avid VideoEngine devices to manage and play video and graphics. The VideoEngine is underlying code that Avid systems use to support HD video recording, playback and editing. Maestro | News may be used to retrieve and add video elements to a news rundown as well, allowing a single operator to control all video and graphics content for an entire show if necessary.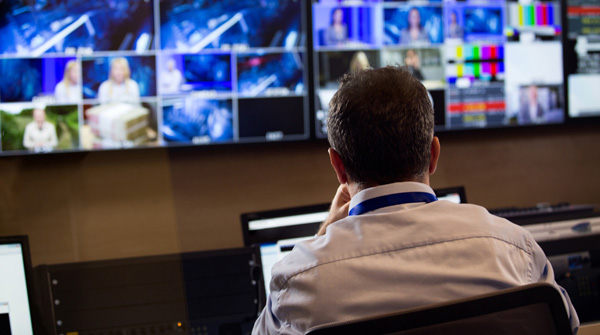 Maestro | Designer is the 2D/3D motion graphics creation package. Users work in real time without pre-rendering content, scripting from scratch or programming – it has trigger scripts that can be run inside scenes without issuing commands from the controllers, and the scripting language only involves dragging and dropping scene properties into the script.
When graphics are prepared for particular topics, they can be used as a template and updated dynamically and automatically throughout a production. Dedicated rendering hardware, just for authoring, is not required. Maestro | Designer works on Windows in conjunction with RenderEngine7, a real-time 3D graphics render engine application that supports dynamic graphics created with a team's existing graphics tools and workflows. Through the control interface for handling exports, you can create and test arrays of data from a single editor.
Going Places
Maestro | Virtual Set's tools are specialised for virtual studio production. It integrates directly with Maestro | Designer to generate the graphical elements, and with Epic's Unreal Editor to generate the virtual environment. It can make small spaces appear larger - a virtual set may be as small as 3m x 3m, and also interfaces with the typical 3D modelling software, including 3ds Max, Maya and Cinema 4D. Alternatively, VRML, COLLADA or FBX formats may be used to import 3D models with associated animations, textures and materials.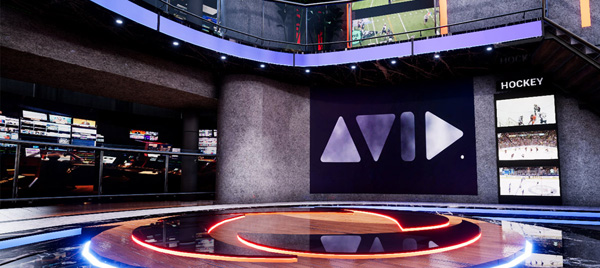 Maestro | Virtual Set also comes with the RenderEngine7 software, plus the Avid HDVG4 real-time graphics rendering platform for greater performance to support a 3D build. In line with Maestro | News, only one operator is required to operate the virtual background and the on-air graphics - including the simple studio camera tracking system, which uses infrared surveillance cameras fixed to the studio ceiling.
As anticipated, the virtual sets have not only improved the looks of their broadcasts, but have also given them more options regarding the content the organisation can bring to viewers. "Virtual sets have allowed us to locate the sets in places we couldn't have gone to before, such as outer space, or to places we couldn't get to immediately like an earthquake in India," Gerry said. "It also means that we can tell these stories in ways that are highly visual, which is critical for good television, but wasn't feasible previously. You just didn't have tools to create the kind of vibrant, realistic graphics now being produced."
Speed and Flexibility
Global News' broadcast centres have also gained speed. Sets or set elements can be built within a day or even a few hours. Teams develop an idea for a topical national newscast piece in the morning and have virtual environments ready for air that afternoon. The workflow allows artists and production to devise extremely creative sets and graphics.
"When you're always pushing to keep your brand fresh and distinctive to compete with other agencies, it's considerably easier to redesign a set and publish it than construct it," said Gerry. "Pieces can be a minute long or only 30 seconds and can be tragic, mysterious or funny. We'll deconstruct these stories and tell them through virtual sets, continually stretching the way we use the tool."
Maestro | News workflow.
Distributed Workflow
Avid systems were installed in Global News' four main studio production centres. Camera feeds come in via a high-speed network, and are integrated with the sets and produced at the centres. The complete stream is then sent back to the regions within a few milliseconds. The workflow had to be both simple to operate and to change, while meeting the demand for more localised production.
"We had to be able to actually use the tools in a virtual sense, too, with hardware in one city, and the performers and news anchors in another," Gerry said. "Because we use the system every day in every market, for hundreds of hours of news a week, we have been able to not only virtualise the studio but, from the stations' point of view, also our production workflow. Most of our regional stations don't even have control rooms now. We use the workflow as a virtual set, as well as a virtual environment. The hardware that controls our virtual set can be located thousands of kilometres away."
In other words, backed by this fast-turnaround workflow, the new system functions as a large distributed model, virtualising almost all of the news the organisation produces. The efficiency and agility that comes from this kind of centralisation makes a difference both from a cost standpoint, and for making production more consistent and manageable. Global News can create and control the quality of content across its geographically dispersed studio production centres, immersing and informing audiences through visual storytelling, regardless of location. www.avid.com