Bluefish444 Develops RESTful API Support for IngeSTore Software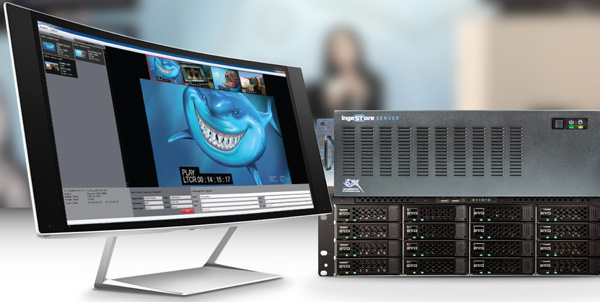 Bluefish444 has been developing RESTful API support for its multi-channel capture software IngeSTore, and will demonstrate how it works in workflows comprised of 3rd party systems at IBC2018.
Sepcialising in uncompressed 4K SDI, ASI, Video Over IP and HDMI I/O cards and mini converters, Bluefish444 has been working with other manufacturers on remote control functionality for its IngeSTore software. The demonstration at IBC2018 will show how the IngeSTore Server 3G can be controlled from another system via a RESTful API, allowing customers and 3rd parties to customise IngeSTore and its user interface to integrate within their existing infrastructure. IngeSTore Server 3G is a dedicated 3RU Server that captures up to four independent streams of video from separate 3G/HD/SD-SDI sources simultaneously.
IngeSTore from Bluefish444 is complimentary multiple-channel ingest software, capable of capturing files into a range of formats, including uncompressed SDI and free DVCPRO codecs. It is useful for multi-camera studio setups, ISO recording, archiving from HD/SD video tape, post-production, electronic news gathering, uncompressed capture for later encoding, and edit-while-record functionality. Multiple codec options give flexibility for integrating IngeSTore within an existing workflow, for both uncompressed and compressed formats. Purchasing the BlueCodecPack licence makes 10-bit DNxHD, ProRes, H.264, Sony XDCAM, AVC-Intra and an optional JPEG 2000 codec available as well.
The new API support means that users and 3rd parties can control their capture machine remotely, and also create an interface to their own specifications, customising the existing functionality of IngeSTore, including control of multiple IngeStore capture devices from within a single application. For example, users can set up simultaneous IngeSTore recording and NLE operation with Adobe Premiere CC, Avid Media Composer or others, when one or more SDI connections are available, allowing editing on growing files. Using IngeSTore with Avid Shared Storage allows systems to access the media directly from the Avid media database. bluefish444.com