Ekstraklasa Premiere League Gears Up for HDR Live Production with AJA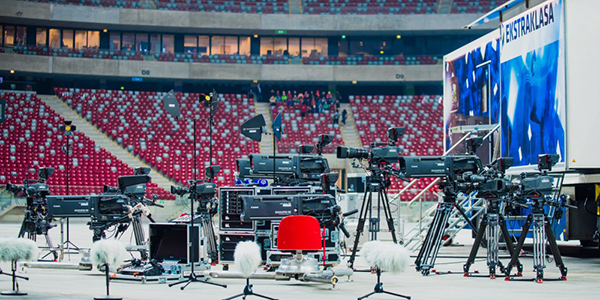 Polish broadcast provider Ekstraklasa Live Park plans to produce live broadcasts of the Ekstraklasa Polish Football Premier League in UltraHD for the 2019 season. The company produces the television content of all of the League's matches, and has hired German integrator Broadcast Solutions to build out a new OB van to accommodate both HDR and SDR workflows.
"When we started work on the new OB van, our initial goal was to introduce 4K production to the Polish market. But when we saw HDR images for the first time a couple of years ago, I felt that higher dynamic range and a wider colour gamut would have a bigger impact on viewers than seeing more pixels on their screens alone would have," said Ekstraklasa Live Park CTO, Szymon Wramba.
The OB van Broadcast Solutions built for the project needs to handle HDR conversions and frame synchronise up to ten simultaneous channels of UltraHD HDR video, and meanwhile carry out signal recording and playback. The team will also be using the truck to process multiple camera feeds and monitor HDR and SDR signals simultaneously.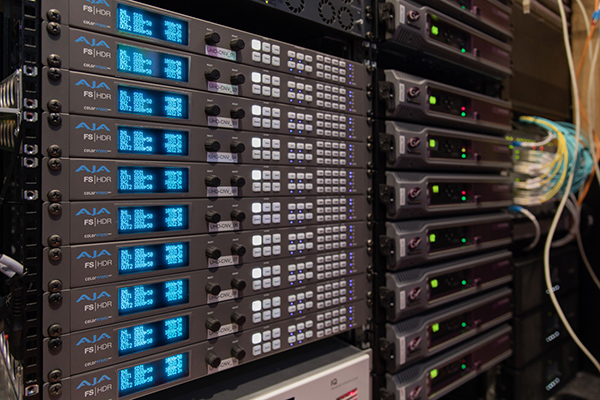 Ten AJA FS-HDR converters, rack-mounted in the Ekstraklase OB van.
AJA Ki Pro Ultra Plus, which is rackmountable with half rack wide 2RU high dimensions, will be set up to record and playback video from the cameras. Ten AJA FS-HDR Frame Sync and HDR/WCG Converters installed throughout the truck will be used for the HDR conversions and frame synchronisation, and AJA Hi5-4K-Plus and 12GM Mini-Converters will handle camera feed processing and monitoring.
"Even though we're producing in HDR, there's still a demand for SDR production workflows. We need to be able to simultaneously produce 4K HDR and SDR signals, which means we have to be ready to convert the signals in various places across the signal chain. We tested several different systems and, in the end, AJA FS-HDR seemed the best choice available," Szymon said. Developed in partnership with Colorfront, the FS-HDR's HDR/WCG functionality is powered by Colorfront Engine proprietary video processing algorithms.
"Its Colorfront Engine can produce almost perfect conversion from HDR to SDR without special configuration. It has an interface that can be easily understood, low latency and built-in functionality like frame synchronisation. The low cost of each FS-HDR means we can design full HDR 4K support for each step along the production path where conversion is required. Furthermore, if we ever need to deliver an HD signal, we can use the FS-HDRs for four-channel conversion out of each of the ten units."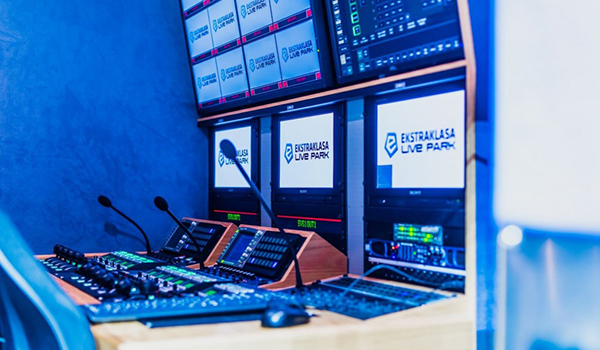 In support of this processing, the Hi5-4K-Plus can generate HDR 10 metadata in accordance with HDMI v2.0a/CTA-861.3 - which supports HLG over HDMI. The 12GM SDI transport converter carries out 12G-SDI to Quad 3G-SDI, and the reverse. Its muxer/ demuxer supports workflows up to 4K, and conversions from multi-link SDI signals to single link SDI signals, and vice versa, at bit rates up to 12G.
Rainer Kampe, CTO at Broadcast Solutions, said, "In May 2018 we organised a workshop on HDR in Live Production Environments to demonstrate to customers the HDR systems currently available on the market. One task was to give them an overview and to show them how the systems perform in a live environment. The plug-and-play approach of the AJA devices seemed the likeliest to achieve fast, straightforward HDR productions." www.aja.com