Guangdong Radio and Television to Broadcast 4K HDR 50p with AJA FS-HDR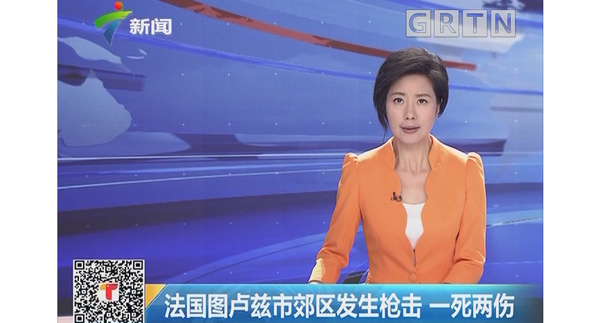 Guangdong Radio and Television (GRT) is one of the largest Cantonese television networks in the world and one of China's oldest media organisations. Owned by the Guangdong provincial government and headquartered in Guangzhou, the network broadcasts content that ranges across news, sports, public affairs, children's programming and other types.
This year, GRT began a network-wide upgrade to deliver broadcasts in 4K HDR 50p, adopting two AJA FS-HDR frame sync and HDR/WCG converters to carry out the transition.
FS-HDR is a 1RU, rack-mount universal converter/frame synchronizer for real time HDR transforms and 4K/HD up, down and cross conversions. These processes can become part of a number of different workflows at GRT, for example, live production in the studio or OB van, or post-production. GRT must work with a range of inputs from recorders and switchers, files and multiple camera signals, and has found that FS-HDR can handle diverse workflow requirements.
Using FS-HDR's single-channel mode enables up, down and cross-conversion, including real time down conversion of 4K/UltraHD HDR to HD HDR or SDR. It also has a four-channel mode that will simultaneously apply up to four HDR and SDR transforms to an incoming 2K/HD signal for output, or apply transforms to four separate 2K/HD incoming signals for simultaneous output.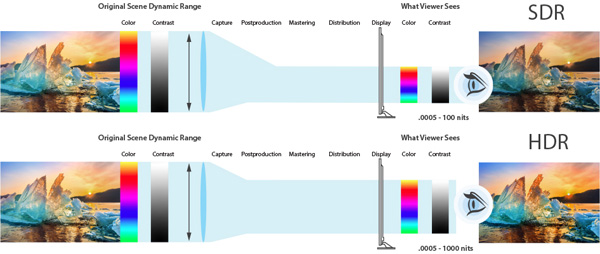 "The FS-HDR is not difficult to configure, and the set-up and software updates are simple," said Zhai, Production Department Technical Maintenance Division Manager, Guangdong Radio and Television. "The front control panel is also user friendly and comprehensive enough so that we don't need to connect to an additional laptop for set-up or to adjust the menu, which is an advantage when we're on the go.
"AJA has a high level of customer support as well. They give us a lot of feedback, try to understand our requirements and respond accordingly rather than supply a blanket approach."
FS-HDR Announcements at IBC2018
AJA Video Systems announced v2.6 firmware and software for the FS-HDR real time HDR/WCG Converter, with Colorfront Engine video processing. The free update includes new colour transform enhancements, suitable for broadcast, production, post and ProAV applications that need more flexibility to establish new workflows and achieve a consistent, final look when working across 4K, UHD, 2K/HD, standard and high dynamic range formats.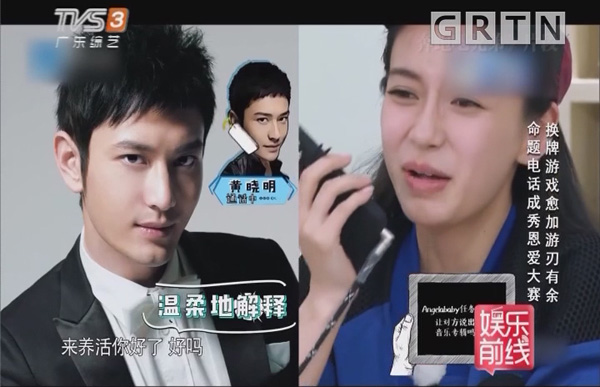 Colorfront Engine support means new HDR output transforms are available for video. These include S-Log3/BT.2020 output dynamic range and gamut, referring to the S-Log3 gamma curve with a wide dynamic range optimised for grading and Rec. 2020 colour space, and ARRI Log C output dynamic range and gamut. Processing ARRIRAW data to images using Log C encoding in the ALEXA's wide gamut color space encompasses the camera's full latitude in an unconfined colour space.
BBC v1.2 LUTs have been updated for HLG transforms, including LUTs for scene- and display-referred SDR video to HLG, for S-Log3 and PQ 1000 nit video from HLG, and others. New BBC v1.2 HLG LUTs have been added as well, including a PQ 4000 nit transform to HLG.
Users can now upload and store several different custom 3D CUBE LUTs to FS-HDR using the web GUI, and use presets to recall them. Using custom LUTs with the FS-HDR tools can help maintain consistent looks in real time workflows. The free FS-HDR Control Link application may be used to gang a series of FS-HDRs on the same network, including four FS-HDRs for 8K workflows. You can adjust Colorfront Engine settings by making parameter changes to one unit that simultaneously apply to all ganged units using FS-HDR's applications GUI or a Tangent Element kB 12-knob panel.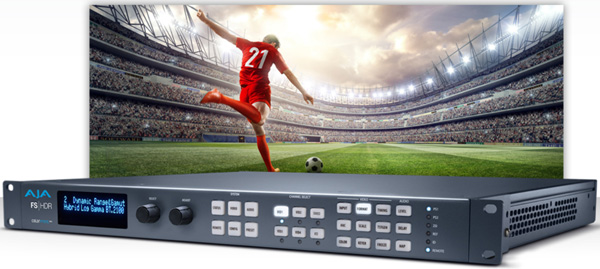 As well as the camera LOG conversions, BBC HLG LUT and 3D upload functionlity mentioned above, FS-HDR has a lot of other tools including parametric controls for HDR transforms and colour correction, an SDR preview mode and HDR workflows for UltraHD and HD - all of which perform in real time. See more documentation about it here.
FS-HDR v2.6 firmware will be available before the end of 2018 as a free download from the AJA support page. www.aja.com