Discovery Norway and Vizrt 3D Graphics Bring Live Sports to the Studio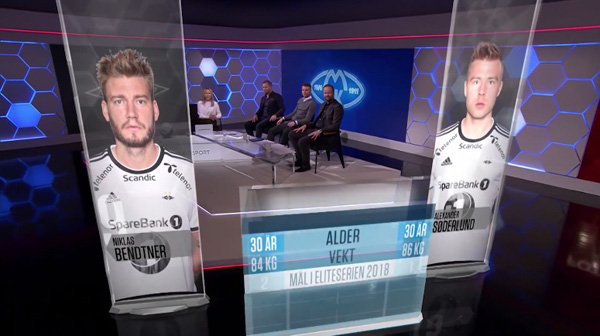 In preparation for 2018, a major sports year for broadcast including the Winter Games in Korea and FIFA World Cup, television channel Discovery Norway wanted to bring a new visual experience to fans of global events as well as of the local Norwegian Football League. Discovery Norway not only moved into a new studio, but also upgraded their production systems to result in a unified workflow driven from one platform with more options for visual storytelling and building their own brand.
More specifically, they wanted to introduce augmented reality into their programming, feature graphics and content on the numerous screens in the new studio and update the look of their on-air graphics and branding for viewers. The goal was to use tools from one platform that would work together and could be integrated into a single workflow.
Live Sports in the Studio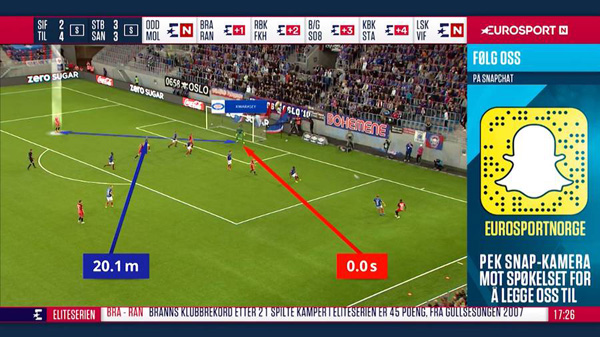 Vizrt met this requirement with software that supports 3D storytelling, which attracted Discovery Norway because it brings the live game into the studio. The matches and teams are visualised in the studio on the set floor as AR graphics and branding, as well as displayed in the background on videowalls with the same branded live graphics. All of the graphics are rendered in real time using Vizrt's real-time 3D graphics compositing engine and video server, Viz Engine.
"It gives us very nice possibilities for our intention to use 3D storytelling as much as possible. We can produce AR graphics at the front of the set, then you have the studio itself, and then you have the big screens behind - all are used for storytelling," said Espen Tvedt, Chief Editorial Manager at Discovery Networks Norway.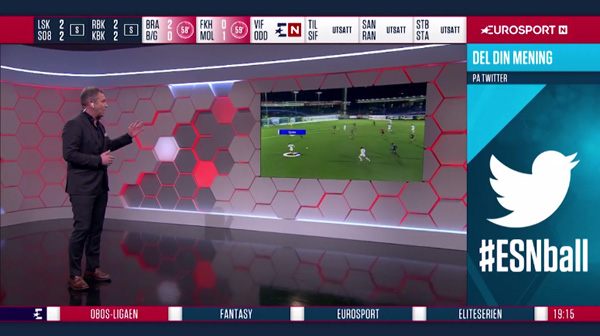 Controlling the different types of graphics at each level of the studio production is the main consideration. The video walls are controlled using Viz Multiplay, which can control several screens of different resolutions and aspect ratios from one interface. The operator sees a preview of all content, including live video and clips, and then controls screens individually or designs a one-click trigger that sends content to multiple screens.
When going live, the operator uses Viz Trio character generator to control the on-screen and AR graphics and video output from a single interface, making fast last-minute changes to content as needed through integration with the newsroom system. Though it controls multiple output channels in multiple resolutions, it outputs consistent graphics branding. Viz Engine delivers Viz Trio's content, presented as a playlist, in real time in HD SDI video or as an IP stream so that both Viz Multiplay and Trio can coordinate graphics in the videowall and AR.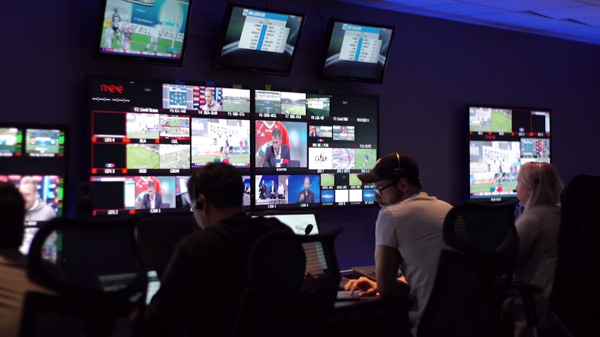 Discovery's team of Vizrt artists also use Viz Libero to add a level of expert analysis to the games as 3D virtual enhancements. Using the existing video images captured for the programme, Viz Libero generates an ideal perspective for analysing interesting or controversial scenes and then combines realistic 3D replays and virtual graphics, owing to its integration with Viz Artist's 3D modelling and animation tools and Viz Engine.
AR Graphics
A key part of Discovery Norway's 3D storytelling is the use of augmented reality graphics, which viewers now almost expect to see from modern studios as a means of visualising stories more clearly for audiences. AR graphics are used in all Discovery Norway sports programming. The channel has an unusually large studio space that they use as a canvas to illustrate the main topics for each match.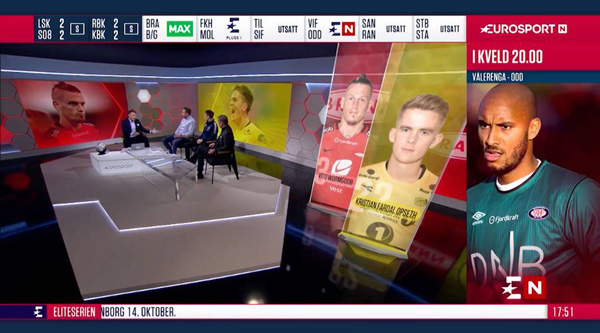 A number of practical factors were at play for Discovery Norway to be truly prepared for AR. One is accurate camera tracking on set, allowing the 3D camera to be built to match it in every dimension when revealing the virtual graphics. The 3D artists need to know precisely where the real camera is within the set at any moment so that they can design and build correctly, and the same information tells Viz Engine how to render the graphics in order to match the camera's capture angle in real time. The camera is what makes virtual sets different from static chroma keyed effects, and also different from film techniques that rely on extending sets in post.
Dynamic Visualisation
The 3D artist and 3D modelling software are critical factors for successful backgrounds and AR graphics appearing in the foreground. Artists need to remember that AR graphics will keep their position as the camera moves around them, just like real objects – all angles must be rendered. This, plus the quality of the live compositing, is what makes combined virtual and real sets compelling.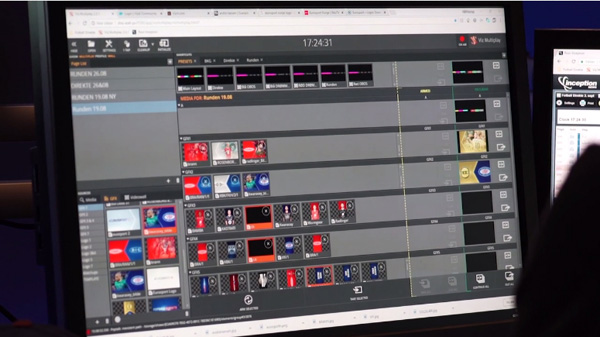 Virtual sets don't only extend or vary sets from show to show. They add elements to stories while presenters are still on air, bringing in more, relevant content. Users also have options for camera framing as part of their set design. Vizrt has tools for speeding up this process. Inside Viz Artist, using an NVIDIA GPU, photorealism in terms of textures and materials has improved enough to make virtual set pieces close to indistinguishable from real ones. New high resolution cameras and consequent production values make this necessary today.
"I like to play with AR graphics, exploring the possibilities. They help us deliver a better show," said Espen Tvedt. When all these elements are put together - AR graphics, live on screen graphics, controllable content on videowalls and match analyses - on one platform, the storyteller has a large toolkit to use creatively and push the potential of sports coverage. www.vizrt.com