MTV Comes 'Unplugged' with Sony F55 Live, AJA and Ross Graphite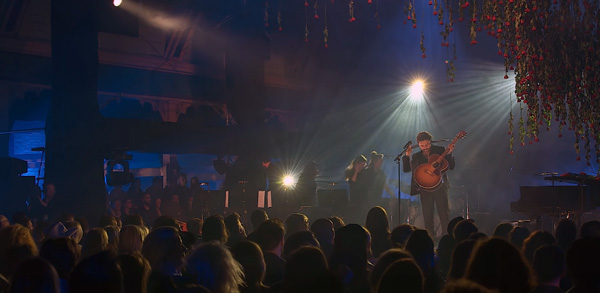 Production house Five Peas from Sydney recently produced an entire series of the music show 'MTV Unplugged' in Melbourne, featuring popular artists performing acoustic versions of their hit songs. Their team was responsible for the shoot and post production for broadcast, including scouting a suitable venue, and developing distinctive creative concepts, production and set design for each featured artist.
Five Peas director Craig Borg said, "Because the production was going to need quite a quick turnaround in post, a multi-camera approach was essential. We chose to shoot with Sony PMW-F55s built up as studio cameras, which we hired from Videocraft, and recorded the show in
ProRes HQ."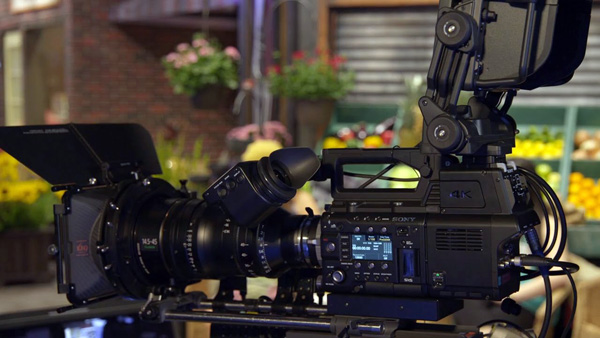 Sony F55 Live system
Standard F55s are not often used for live studio applications like 'Unplugged', but Five Peas wanted the look the camera captures, and fine control over depth of field and other camera settings. Videocraft supplied a complete multi-cam configuration with fibre adaptors and studio backs, their own switcher/production system flypack, a Ross Furio dolly system and AJA KI Pro Ultra Plus recorders.
Sony F55 Live
James Taylor, managing director at Videocraft, said, "For this project, we used Sony F55 Live, a complete 4K live production system from Sony consisting of the CA4000 4K Fibre camera adapter, BPU 4000 baseband processor and HDCU2500 camera control unit. There are other ways of connecting these cameras for multi-camera live production, but none of the alternatives would have given us nearly as much camera control, allowed the same video output options and been as easy to use as the Sony set-up."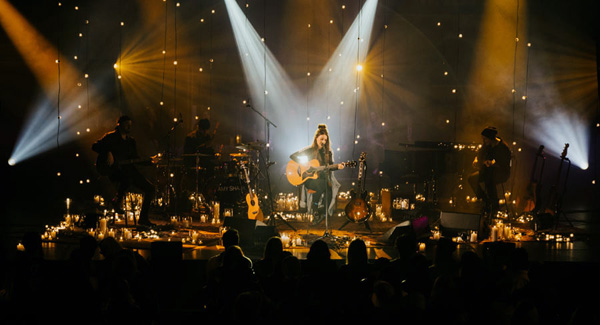 The CA4000 4K Fibre adapter is a studio camera back that mounts on the rear of a video camera and is designed with connections that the crew uses to extend its functionality for studio and live production. James said, "This kind of adapter typically connects to the camera and brings the vision feed back to the vision mixer, along with the crew's intercom, camera control and tally interfaces. Many different adapters are on the market now, but Sony's CA4000 was specifically built to turn the F55 in to a production system ready for working live.
"In multi camera production, communication is critical for the director to get the best out of the crew. Where the F55 Live set-up that Five Peas used on the Unplugged project sets itself apart from other options is the smooth integration of intercom, camera tallies and camera control interfaces. This means that the director can talk to their camera operators as needed, either individually or as a group, and the camera operators know when they are on air because, again the tally lamps are following the vision mixer.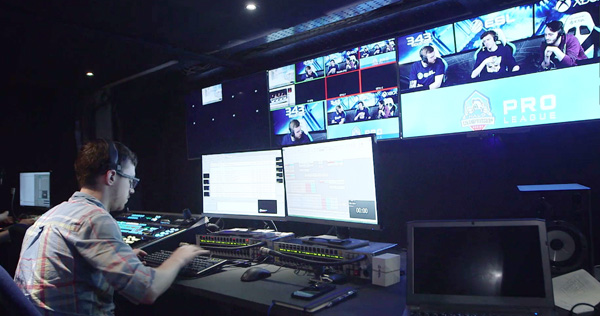 Ross Graphite production
"In other words, the same functions that operators are used to using on 2/3" type broadcast cameras are all present in the F55 live system. That way, the crew just concentrates on their job and doesn't worry too much about the equipment. Of course, the F55's much greater control over depth of field, and the look of the cameras, puts this combination ahead in terms of cinematic production in a live environment."
Going On Stage
This project was handled a little differently to a regular OB type of job in that Videocraft had an engineer dedicated to the digital cinema side of the project in addition to their usual technical crew. Videocraft's new Ross Graphite flypack was supplied for the job – a very compact, flexible 4RU production system used to handle the live switch, technical monitoring and audio processing. Graphite combines switcher functions with 3D graphics, clip servers and audio.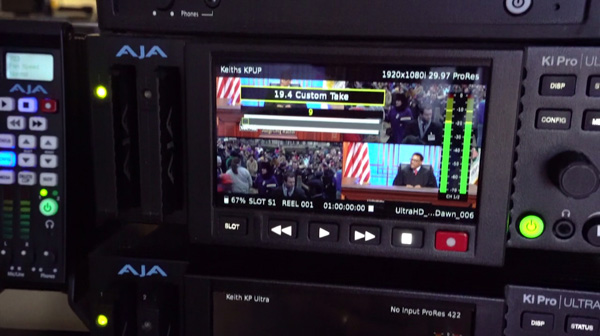 AJA Ki Pro Ultra Plus
The AJA Ki Pro Ultra Plus worked well in the studio setting. Although very compact, it serves as a four channel HD recorder or 4K single channel recorder. It supports various UHD and 4K frame rates up to 4K 60p, with HDR playout and recording. Connectivity includes 3G-SDI, fibre and HDMI 2.0, plus several different analogue and digital audio options. Also, playback can be controlled from the crew's virtual systems management control systems, making the production easier to manage inside the studio.
Craig said, "The Furio dolly and track was a good choice as well because we could capture the shots we were after without putting a camera operator and traditional track in front of the stage. Because 'Unplugged' stands out as one of the few broadcast content series that still feature a single artist, Videocraft and our team spent a lot of time going back and forth between the label, management and the artist to make sure that everything from the instrumentation, to set design, to camera placement would achieve the best result." www.videocraft.com.au