Chameleon Engine Serves Up Data and Graphics at 2018 US Open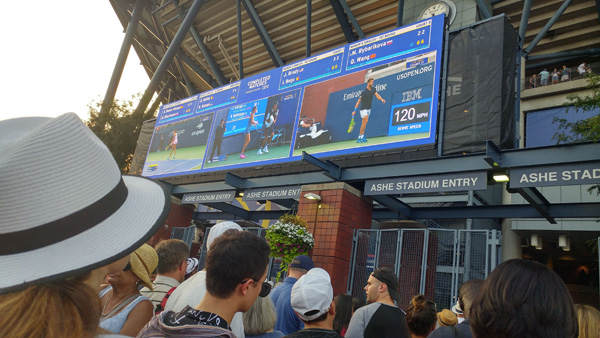 Bannister Lake took a graphic role at this year's US Open at the USTA Billie Jean King National Tennis Centre (NTC) in Flushing Meadows, New York. Bannister Lake's data engine, Chameleon, served as the real-time data management system for a series of data feeds from a diverse set of sources. Chameleon was used to reformat, filter, moderate and distribute data and graphics to dozens of digital signs of various shapes positioned throughout the NTC.
The Bannister Lake team devised many of the workflows and processes used to handle over 250,000 XML files corresponding to the participation of more than 1,000 players playing hundreds of matches. The complexity of the project increased because Chameleon also took responsibility for managing other data sources including weather, event news, social media, schedules, headshots, scores, set winners, standings and related tournament data. Players' personal biographical data such as place of birth, physical characteristics and similar information fans look for was also included.
"We were confident Chameleon could manage the complexity of the US Open project because it was originally developed as a data aggregation engine for any data type," said Georg Hentsch, president of Bannister Lake. "As a result the team was able to manage this event under extreme time constraints."
Event-Based Productions
"Our work in the broadcast sports market and more recently in eSports prepared us for the production challenges of the US Open," said Alain Savoie, creative and technical director at Bannister Lake. "For example, Chameleon delivered editorial and graphic content for the Gran Turismo Championships 2018 Series, which has become one of the most followed eSports events currently running.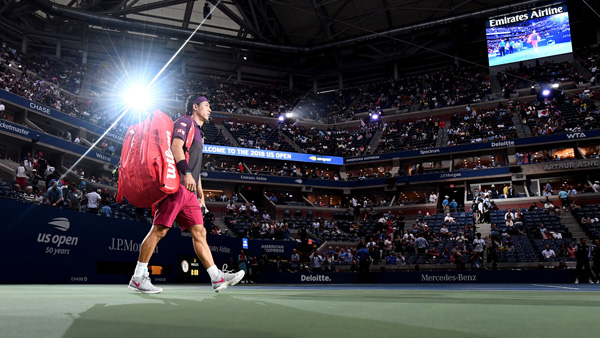 "Chameleon has powered a variety of event-based productions that typically include hundreds of matches played over a short amount of time with a large number of players. Instead of relying on cloning streams, Chameleon has the option to output an unlimited amount of custom streams using a single server. So, we were more than ready."
Bannister Lake's US Open workflow relied on the use of a single match ID identifier that was used to drive all the data associated with a particular match. Chameleon was then able to automate the task of populating the various graphics templates and tickers that were, in turn, distributed to graphics engines and to the screens throughout the facility.
In total, 15 output channels, displaying 15 different screen layout styles simultaneously, were used, plus 11 tickers running different content on different layouts. Chameleon is, in fact, a very flexible graphics playout system for broadcast, events and signage. By aggregating data through its web interface, Chameleon uses rundowns, playlists and scheduling to generate customisable content.
Data Control
It supports data feeds, automation and traffic systems through a series of plug-ins and works with platforms including NDI, SDI, HTML5 and SMPTE IP. Chameleon handles many different types of data by presenting a different interface optimised for each type, controlling automated collection, manual entry and moderation in any combination. Chameleon works with the user's preferred data providers for stories, scores, events, weather, financials, social media, traffic or elections.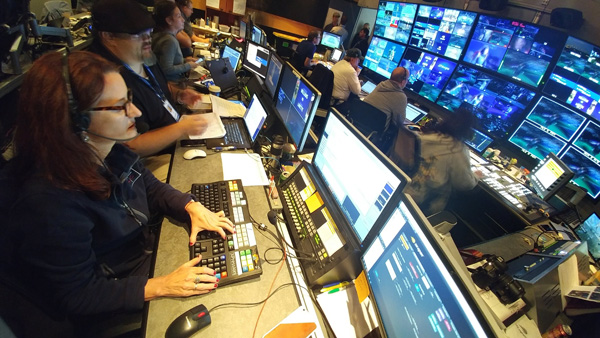 All content control and moderation is through Web browser connections - users connect from any location and allow any mix of common data and isolated local and regional data. New content can be added to support breaking news or fast changing situations.
Chameleon supports multiple channels, data sources, editorial staff, designers and looks based on templates. The centralised workflow proceeds from graphics creation to automated population to playout, based on the 'design once and repurpose often' model.
Cloud Backup and Community
As well as Chameleon, Bannister Lake set up a cloud backup system to take care of replication for the operation. The company's Backup server is designed to protect against data loss and on-air downtime in the event of drive or other hardware failure on the primary server. The primary server is set up to synchronize data changes with the Backup server, so that the Backup data will never be more than a couple seconds behind the Primary server.
Bannister Lake's Community data service, also cloud-based, was put to use as well. Community allowed editorial and production teams at the US Open to contribute news and highly localised information to the hundreds of thousands of tennis fans that attended the event. Community is a publicly-accessible portal gives people in the area local to an event a chance to supply content that matters to them such as special events, local sports scores and PSAs. www.bannisterlake.com