Zodiac Studios Streams Austin Music Live with ATEM Studio Pro 4K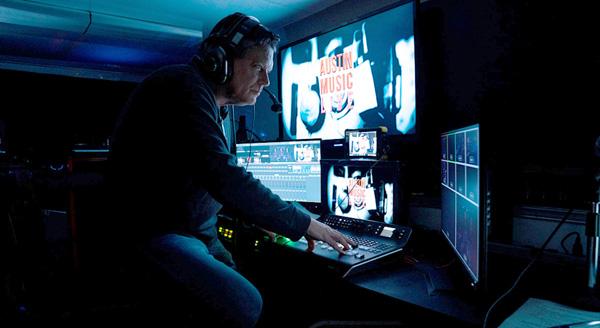 Austin, Texas is home to a $2 billion music tourism industry. A significant player within the music scene is Zodiac Studios, which produces a live streamed series featuring the diverse local talent that attracts music fans to Austin. Called 'Austin Music Live', the show presents a different local music act and a different venue in each episode, and is now in its third season. It was co-founded by Robert Calder, owner and executive producer at Zodiac Studios, with Producer and Creator David Christopher.
Each performance is captured live and broadcast on digital platforms such as XUMO, an OTT VOD provider that reaches consumers directly through smart TVs, as well as YouTube, Facebook Live, Twitter and the Austin Music Live official website. Each live broadcast receives 1,500 to 3,000 views, while VOD content for the series receives 1.5 million views annually on XUMO.
Mobile Production
To capture each show, the team brings a mobile production trailer to the selected venue and runs cables to five cameras, positioned inside. Each camera is equipped with a Blackmagic Design Video Assist 4K, which give the camera operators a clear view of what they are shooting while also allowing them to ISO record on each camera. All of the camera feeds are relayed back to the production trailer where a Blackmagic ATEM Television Studio Pro 4K is stationed. From the production trailer, Robert Calder creates an entertaining viewing experience using the ATEM switcher.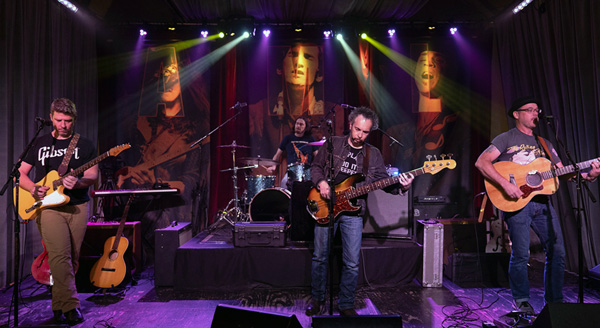 "The ATEM Television Studio Pro 4K produces no delay in the stream when switching cameras, which is really critical for audiences when we want to pull off a polished live streaming event. Furthermore, its input accepts muliple formats with re sync and low latency conversion on each input, which is especially convenient because it allows me to integrate any type of camera into the production quite easily. Also, its media pool can hold up to 20 stored videos for mixed effects and overlays. Earlier on, producers would have needed a separate computer for that. The fact that the ATEM helps to cut down on the amount of equipment we need to bring out with us is a real advantage," said Robert.

Since Austin Music Live is a mobile production, the team needs a system that is both low cost and portable. "We're working with limited staff and a limited budget, so I'm juggling five different jobs that we'd ordinarily have five different people for," Robert commented. "We need a switcher that has enough power to control all of our cameras, but will still be small enough to fit into our mobile production trailer.
Remote Viewing Experience
"The ATEM Television Studio Pro 4K allows me and our camera operators to communicate via built-in talkback, and switch quickly between the five different cameras to get the angles we want. This is important because it means we can control how remote viewers experience the performances – above all, we want them to feel like they're right there, alongside the live audience."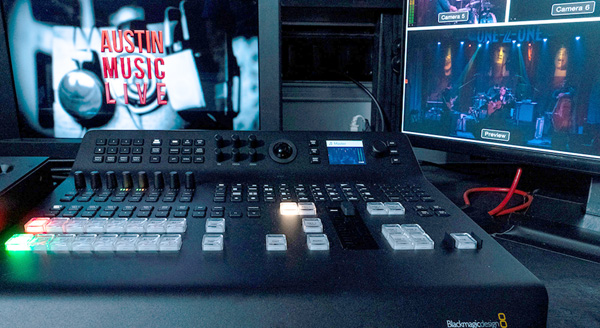 They currently broadcast live and record in 720/1080p, due to latency requirements, but the ATEM Television Studio Pro 4K's 12G-SDI and 4K capabilities mean they have the option to make the switch when the time is right in the future. Knowing that they won't have to invest in further equipment to do this is an advantage for forward planning their budget.

"Austin Music Live is our way of helping to preserve the local music scene here in Austin. We want everyone, regardless of geographic location, to be able to experience its thriving, robust music scene. With the implementation of the ATEM Television Studio Pro 4K, we've achieved a production workflow that is competitive and easy to use, and that we can afford," Robert said.

Coming up next for Zodiac Studios are plans to use the ATEM Television Studio Pro 4K, along with two Blackmagic Design URSA Broadcast cameras, on live productions for the NBA basketball team Austin Spurs' 2018/2019 season as their official broadcast partner. The URSA Broadcast was selected for its image quality, B4 broadcast mount and small physical footprint. www.blackmagicdesign.com