John Brown University Live Streams Cultural and Sports Events with Matrox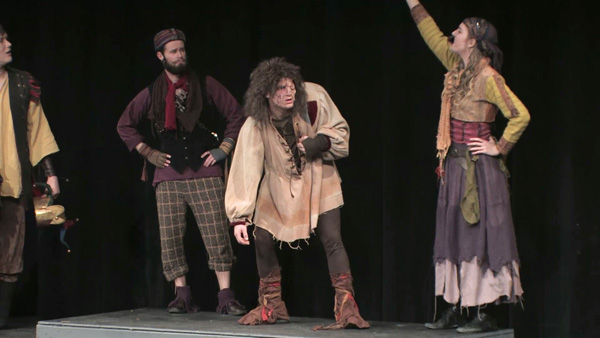 Theatre performances are webcast from the Berry Performing Arts Centre.
To help celebrate its 100th anniversary in 2019, John Brown University (JBU) in Arkansas, USA,will launch a season of special live on-campus events. JBU is a Christian college where students receive academic, spiritual and professional training in over 40 fields of study and participate in varied athletic, cultural and spiritual activities and events.
JBU has an audio, visual and lighting (AVL) support team as a division within the university's Information Technology Services. The team usually produces and live streams about 650 live events on campus annually, but this year's centenary events are expected to increase the total number by a large margin. The AVL division mentors 30 work-study students in professional technical support, who run full-scale events from soccer, basketball and volleyball games, to worship services, special events and ceremonies, to musical performances, plays, seminars and guest speaker engagements.
Streaming Challenges
Darren Gould, AVL specialist at JBU, handles the system design, purchasing and installation of most of the video infrastructure used on campus. He had been trying to use ordinary desktop computers as the basis for his streaming system, which was exposing his team to various computer-based glitches when streaming that were difficult to control. These included Windows updates that would restart the computer during events, PCs logging users out, and going to sleep while in use.
"At the time, we were using encoding software installed on desktop PCs with third-party I/O cards," he said. "Inconsistent and unpredictable, it was not an elegant solution. Finally, when a dead computer CMOS battery caused our graduation ceremony stream to fail, we decided to look for equipment with more specialised functionality."
The ultimate goal was a set-up that would allow JBU to stream campus events for family, friends and alumni when they could not attend in person. "We needed a more robust, purpose-built system. Relying on a single streaming device based entirely on a PC operating system was a situation we were determined to avoid."
Hardware Encoding
Interested in a hardware approach to encoding, Darren researched his options by comparing several different devices with the Monarch HDX dual-channel encoder from Matrox, a brand he was already familiar with. The comparisons showed that the Monarch HDX was built with more of the functions they needed, with the performance he was looking for, at the most reasonable price.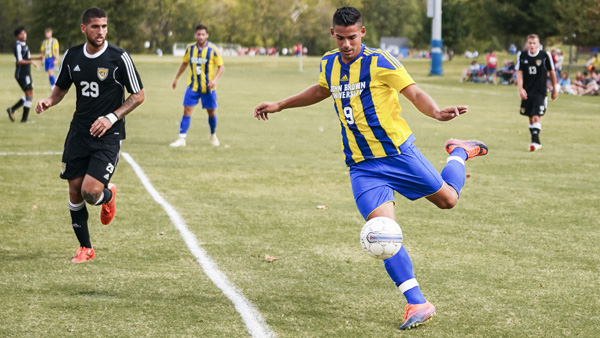 A Matrox Monarch HDX encoder is installed in a field flypack case that travels to soccer fields and other areas on campus.
JBU purchased three Monarch HDX encoders. One unit is part of a flypack used to stream various events located across campus. The flypack is equipped with all of the gear the AVL team needs to produce and stream high-quality video, in a portable configuration.
The other two Monarch HDX appliances are mounted in a fixed rack in a server room, along with a video router connected via fibre-optic cable to the three main venues on campus and to JBU's TV Studio. At each of the venues - Bill George Arena, Cathedral of the Ozarks and Berry Performing Arts Centre – is a production installation comprising multiple HD-SDI cameras, video switchers and audio consoles. The exact set-up and equipment differ slightly depending on the venue.
Flexible Delivery
For live-streaming events, JBU uses Monarch HDX's two encoding channels to simultaneously stream in RTMP to different destinations, which gives viewers different viewing options. For example, a basketball game would be sent to two main destinations, one of which is the National Association of Intercollegiate Athletics' (NAIA) CDN called Stretch Internet, and the other to a Wowza Media Server that is locally installed on the network. For the latter, once the stream is delivered to Wowza, its streaming engine can then distribute the games with a live graphic overlay to a series of campus-wide digital signage displays and to other destinations such as Facebook Live.
Athletic games are streamed off-campus most frequently, while chapel services are streamed on-campus three times a week. Other events, such as educational conferences, musical performances and plays occur regularly, but not on a fixed schedule. Because the university has three Monarch HDX encoders, they can still meet the demand if two of the connected venues have simultaneous events.
The AVL team uses Monarch HDX's profile and presets to configure all encoding parameters, including resolution and bitrate for each destination. These settings are saved on all the Monarch HDX devices for redundancy, should one of the units ever need to be used as a backup. Depending on the venue, streaming parameters vary between 1280x720p, 59.94 fps or 1920x1080i, 29.97 fps to best suit the requirements of the event.
Control and Reliability

Two of the Monarch HDX units are rack-mounted.
Since streams are sent to specific destinations with a singular purpose in mind, the ability to change and save settings quickly is very important. The recorder can accept signals from HDMI or SDI sources. The input from all of the venue installations is selected using the Monarch HDX Matrox Command Centre, which is a web based UI, whereas for their flypack setup, the buttons on the device are used to start and stop video streams.
As an H.264 video recorder, the Monarch HDX captures content as either MOV or MP4 files, which makes sure that recordings can be played by the viewer's choice of application. Each recording channel can be stored independently to a local SD card or USB drive, or remotely on a network-mapped drive so that files are immediately available to anyone on the network. Recordings can also be encoded at different bitrates.

Since building up this infrastructure and putting it to work, online traffic for all events has increased across the platforms, and one event in particular received upwards of 70,000 views on Facebook Live.
"We're no longer so wary of live streaming, which is good because our campus is ramping up for the coming year of extra events," Darren said. "As hardware encoders go, we could have spent a lot more for far less capability than we have with Monarch HDX. We bought a single device first, to see how well it would work for our application. Judging by that experience, we organised to purchase two more so that we could really stream video the way we envisioned.
"The current system gives us reliable, dedicated streaming that results in a consistent, high quality viewing experience for users. Now, we have the capability to send multiple video streams from anywhere on or off campus. I can manage them remotely, send different video formats and instantly recall different setups and send to multiple destinations at the same time. They are also small enough to be installed in a portable video system."
Video Quality
They occasionally hear from other coaches in the NAIA about the quality of their video coverage of the college's events. "True, we put a lot of effort into training our students to produce a great streaming experience, but no one would be congratulating us if we were outputting poor quality video streams. Matrox shares a role in the program's success as well," Darren remarked.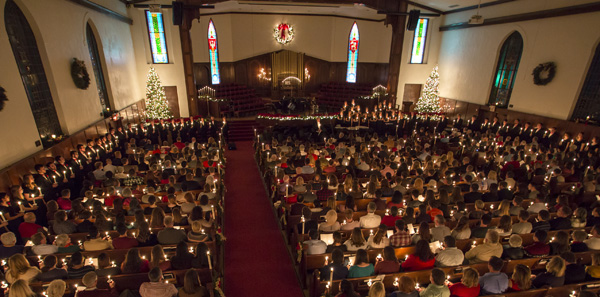 Cathedral of the Ozarks held candlelight services for Christmas.
The AVL team would like to purchase another Monarch HDX unit to add a fourth fixed venue to their fibre-optic network that allows them to stream up to four separate events simultaneously, or use the units to record events to a network-attached storage device. Monarch HDX can also save files locally to an SD card or a USB drive.
Recently, the AVL team has been experimenting with NewTek's NDI standard. Appliances with an NDI output are still relatively hard to come by and so, although not tested by Matrox, it was satisfying to find that the team was able to configure Monarch HDX to send a non-NDI stream to NewTek Connect Pro, which is NDI-enabled four-channel software allowing a PC to serve video formats across a network to and from compatible devices. www.matrox.com