Equidia Hits the Track with Dynamic EVS Production and Workflow

Equidia is a French TV channel dedicated to horse racing with a monthly average broadcast viewership of 1.6 million. It delivers ten hours of live race coverage every day as well as daily pre-race and magazine shows. The channel has a strong digital presence with an active social media following and website on which a live stream attracts above 200,000 visitors a month. Equidia's app, which viewers use to watch the channel and replay races on the move, has also been well-received.
The application and website also act as viewing points for subscribers to the channels' Equidia Racing service. This lets users experience more content than is available elsewhere, with the ability to view up to eight races at a time and see camera angles exclusive to the service.
Reaching Fans
Alongside a graphic channel rebrand, Equidia set out to adapt how it creates its programming. It wanted to reach fans with more engaging content through better access to supporting information like statistics. It also needed to better serve its digital platforms and improve the editorial programming that its team of 70 journalists were producing. To do this, it planned to update and upgrade its production infrastructure, centralise operations and use its resources more efficiently through automation. It also needed to make its workflow more flexible in order to scale up resources for the most important races.
With roughly 1,330 meetings a year or more, the governing bodies concerned with racing often use parts of the production infrastructure. For example, they may need access to the camera feeds to support video officiating. This requirement in particular meant that Equidia's new workflow needed to make it as easy as possible for those bodies to access material they needed.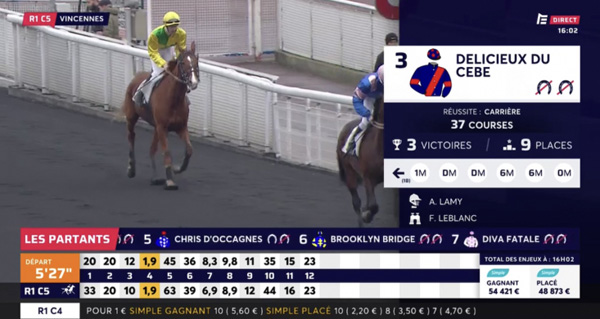 Equidia engaged systems integrator Videlio to help them design a completely new production infrastructure and choose new equipment, with special interest in giving operators the ability to work more efficiently and quickly through the various stages of production.
Production Workflow - Ingest
At the very start of the production workflow, XS series servers from EVS were selected to ingest up to 16 feeds at once from several different sources. These come direct from cameras, satellite feeds and from video recorders. To make sure the workflow is as flexible as possible for whatever content Equidia is ingesting, the EVS servers can record in both DNxHD or XDCAM, and Ingest Funnel was also put in place to manage the ingest of content recorded by ENG teams.
Ingest Funnel is a portal and single UI that addresses the mix of file wrappers, formats, codecs, metadata and processors that must be considered when moving files to the teams. Ingest Funnel is a unique that solves file ingest challenges. The portal transforms, legalises and masters all ingest formats and content into the content production with a HTML interface for viewing the media file. It then analyses the material and automatically selects the relevant tool for processing, either another EVS product or a third-party component.
To manage the overall media ingest process, Equidia uses EVS' IPDirector content management system to control the servers, schedule media ingest, log content and transfer content to storage through EVS' XTAccess transfer engines - faster-than-real-time transfer and transcoding hardware. It comes with power and onboard support for multi-network design and high bandwidth file exchange networking that needs 10Gbps and teamed port installations In cases where a direct, connected storage is needed, XTAccess hardware has built-in USB3.0 and eSATA connections.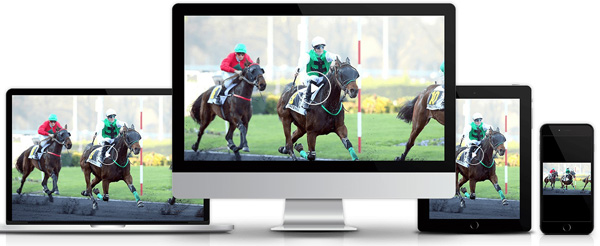 Equidia's digital platforms.
Content Browsing and Editing
The IPDirector system creates log sheets for content, which are integrated with statistic-driven data feeds. Once ingest is complete, Equidia's users are able to search and find content on the nearline storage using EVS' IPBrowse application for browsing low-res content available in the IPDirector database, including bins and logs. Nearline storage is accessible as well.
Based on proxy files, users can find the right media from the list of clips and logs very quickly and select a file. A Player pane displays the selected media, and users browse it and create a clip from it if needed. Logs added to media help retrieve important moments of the recorded sequences.
Xedio CleanEdit stations are then used by journalists to quickly create news bulletins that incorporate voice overs and graphics, powered by an integration with Vizrt. CleanEdit is a customisable NLE software designed for fast production of news stories or highlights that connects to production environments. It supports all SD and HD broadcast file formats natively and has a multi track timeline editor with real time effects, voiceover, integrated CG and stills without relying on background rendering.
To avoid generating new frames in the system, various effects can be applied in the timeline. When connected to EVS asset management, users have access to metadata and can integrate to external newsroom and other environments
In the Control Room
Equidia's main production facility in Colombes just outside Paris contains two control rooms. Videlio fitted each one with an XT series server, LSM remote control, IPDirector and DYVI live production switcher.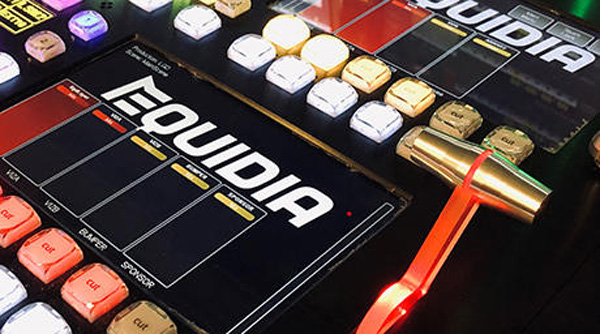 The EVS server and LSM are used to create clips and slow-motion replays from the races as well as for the playback of content for transmission or distribution. Talking about how the servers operate, Equidia director Vincent Le Dévéhat said, "The most significant benefit of the server and LSM remote is their responsiveness and speed. It's this operation that has made EVS' replay systems stand out and why we wanted to bring it into the control room here."
Clips and other recorded content are managed, and playlists created using the IPDirector content management, which is also used by the operators to publish clips and replays on Equidia's digital channels.
Dyvi Software-Defined Switching
At the hub of the control rooms are EVS' Dyvi switcher, based on a software-defined architecture for efficient creation of live programming. Its use of macros allows users to create their own processes for insertion of complex graphics. Equidia's operators use the EVS switcher to cut together the channel's programming and manage the shows' effects, creating graphic templates that can be recalled and used, as needed.
"At first, engineers were a little reluctant to use Dyvi because it operates so differently from switchers we've used previously. However, they quickly learned to take advantage of the system's reliability and to create complex scenes, effects and transitions," said Vincent.
Both the Dyvi switcher and Equidia's XT servers are integrated with Ross Video's OverDrive automated production control system. Due to Dyvi's software-driven architecture, it can be controlled by Overdrive while overcoming some of the constraints of traditional automation processes – in other words, the system maximises the resources that are deployed during live production.
Furthermore, the IPDirector has been integrated using a MOS protocol with Ross Video's Inception newsroom control system. This allows content and its associated metadata to be accessed and added to a program rundown that is used throughout production.
With this new workflow in place Equidia has been able to increase its output, with 21% more coverage than it could achieve before. This has in turn expanded the channel's viewership with a 38% increase in the average number of viewers on the previous year.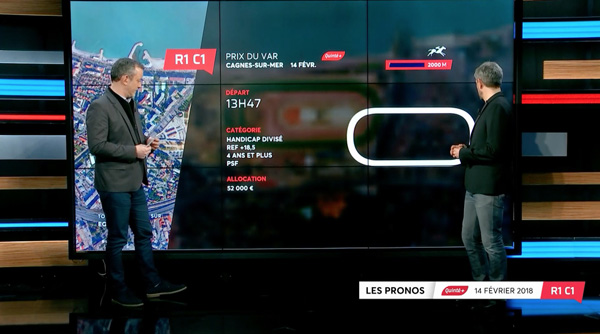 Equidia Digital on the Rise
Equidia notes that non-broadcast distribution of channels is becoming as important as traditionally-delivered programming. One of the main outcomes of its new workflow is the ease with which Equidia's production team can create and distribute programming to the digital platforms.
Dyvi in particular has brought a number of changes as an efficient way to improve the quality of their programming. Speaking on this, Vincent Le Dévéhat said, "All switchers nowadays have macro-driven functions, but Dyvi takes advantage of them by helping our team save so much time and concentrate on producing creative concepts and more editorially-focused programming."
For example, the channel has been able to supplement its programming with further statistics and better analysis. Track reports from the live events have also been improved, which of course creates more immersive, exciting race day programming. The channel can make the most of coverage from more prestigious races, allowing it to continue building the Equidia brand and engage new audiences. evs.com