AJA HA5-12G Mini-Converters Ship for Broadcast, Production, ProAV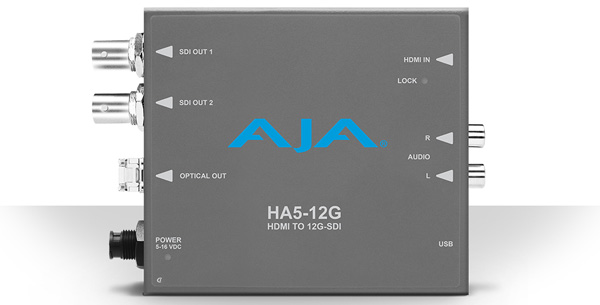 As a progression from AJA's HA5-4K Mini-Converter, the new HA5-12G converts an HDMI 2.0 input to two 12G-SDI single link outputs. The two 12G-SDI outputs are useful when transporting 4K/UltraHD over SDI by reducing cable runs. HA5-12G supports up to eight channels of audio from the HDMI source or via two-channel analogue audio (RCA) inputs, with eight or two channels of digital embedded audio output on 12G-SDI.
HA5-12G supports Extended Display Identification Data (EDID) emulation, which makes sure that the connected source continuously outputs the desired video formats. Mainly useful for DVI and HDMI video sources, a monitor sends EDID metadata to the video source, describing the monitor's capabilities and some of its specifications. The source will then be able to send out a video signal that the monitor supports.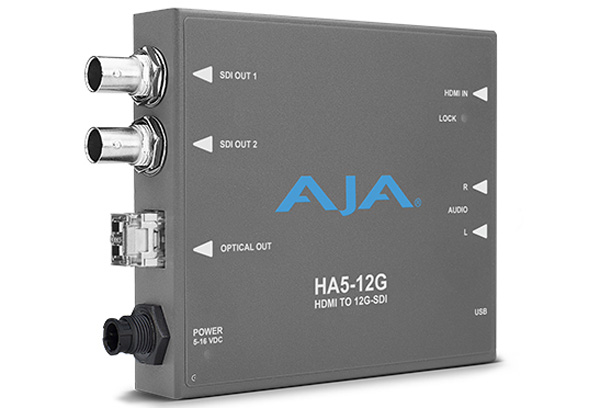 The HA5-12G-T Fibre-equipped model is a single-channel transmitter capable of extending 4K HDMI signals over long distances, up to 10km over a single Fibre link. HA5-12G-T ships with a 12G fibre SFP installed and includes all the functionality of the HA5-12G.
Both models convert HDMI 2.0 up to 4K/UHD 60p to 12G-SDI, with a second mirrored output, and support up to 4K/UHD 60p input at 4:4:4, 4:2:2 and 4:2:0. The devices can be configured via USB port and the supplied Mini-Config software. They perform Two Sample Interleave (2SI) 4K/UHD source mapping, and analyse and decode HDR Infoframe data.
For ease of use the Lock LED adjacent to the HDMI input connector indicates by colour the detected signal type. Off is no signal, Green is SD-SDI, Red is HD-SDI, Amber is 3G-SDI, Purple is 6G-SDI and Blue is 12G-SDI. www.aja.com