Viz Arena's Down & Distance Keeps Baltimore Ravens Fans in Line

The Baltimore Ravens have qualified for the NFL playoffs 11 times since 2000, earning two Super Bowl championships, four conference title berths and five AFC North division titles. They are also now nearing completion of a three-year, $120 million renovation of their home venue M&T Stadium, aiming to make it one of the best-equipped places in the country to experience football.
The renovation includes a high-density WiFi network, larger, higher resolution video screens placed in the stadium, plus an overhauled control room refitted with up to date video production equipment, from new cameras and replay equipment to routers, production switchers and graphics tools.
In-Stadium Experience
Vizrt's Viz Arena virtual 3D graphics software, used to enhance fan engagement and monetisation at live sports events, is part of the upgrade. Viz Arena users can create augmented reality (AR) graphics, including virtual ads, and integrate them over their live coverage using image-based tracking.

Players appear on the pitch with virtual, integrated graphics plus Vizrt Down & Distance that inserts a yellow first-down marker (left-hand corner) giving viewers a live guide to the action.
The Ravens have started producing immersive in-stadium experiences with creative programming for fans. For Vice President of Broadcasting and Gameday Productions Jay O'Brien and his production staff, this means enhancing in-stadium entertainment to include first-down line capabilities, which they didn't have previously.
The Ravens chose Down & Distance, a software application within Viz Arena, that inserts a yellow first-down marker on the pitch, making the line appear to be painted on the field rather than digitally imposed. This line is now ubiquitous in television broadcasts, giving viewers a live, easily interpreted guide to the game's action. "It's become the standard for watching football and has completely changed the viewing experience," Jay said. "Fans aren't looking at sticks and the chain down on the pitch anymore. They look at the video boards, which have to be accurate and reliable."
Camera Tracking
Traditional first-down line systems actually have to process a large amount of information, involving hardware and a team of technicians. The system has to know the orientation of the field with respect to the camera, where the yard lines are, sense camera movement, understand and recalculate perspective change and selectively allow people, the ball and anything but grass to obscure it.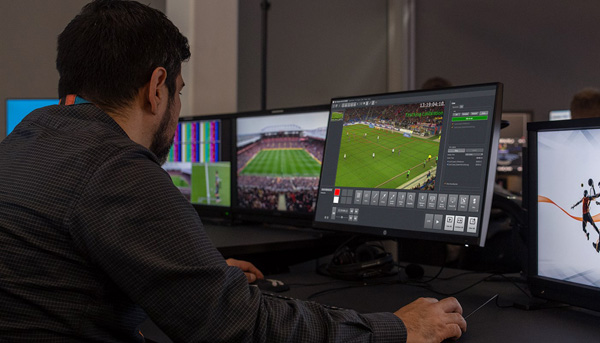 Viz Arena, on the other hand, works based on a video feed only and uses an image-based camera-tracking engine that can track the camera of each clip in real time. This makes it possible to apply graphics to the field remotely or downstream at the studio, even using video from satellite feeds if necessary, without installing mechanical tracking heads.
Down & Distance is also the first line application available in 1080p or 4K without upscaling or other image processing. Viz Arena automatically updates the position of the lines for Down & Distance according to the video board data - such as Daktronics, OES or Panasonic – so that the operators will only need to manually trigger the graphic elements and update the keying if light conditions change.
Virtual Ads and Sponsorship
While the software helps them bring game action to life and adds to the experience for fans, the Ravens can also place virtual ads into different areas around or on the playing field. Because of the accurate camera tracking, graphics including team branding or sponsor logos can be fully integrated into the enironment at a specific location, or tied to the lines so it moves with the action. Having different options means the Ravens can cycle through multiple sponsors and graphics as the game progresses.
Brands want to be associated with the storytelling more often now, sponsoring plays of the week, for example. At Ravens' home games, the team is able to brand the field each time the Ravens enter the Red Zone just ahead of the goal. Integrating directly into the game, these graphics work well for sponsors and partners and become a source of revenue for teams.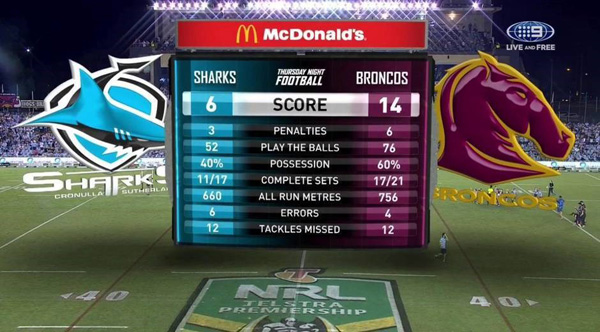 Jay said, "What has surprised us is how much Down & Distance has changed the way we produce our content. In the control room, it gives us information in real time, which is of course essential to an in-stadium fan experience and pulling more value from programming."
Simpler Set-up
Working with about 60 staff members, he originally approached Viz Arena with caution due to a disappointing experience with another virtual graphics product. He said, "We were concerned about its reliability and precision, and the operation. Our stadium also produces harsh shadows, which are a challenge, so I had to be convinced of how effective the final image would be."
However, seeing the software in action assured them. As well as image clarity, the team was impressed with its ease of use, which requires little training, and value. Down & Distance outputs a similar result to first-down lines made for broadcast but has a simpler set up and operation. Because it works from live or archived footage instead of modifying the cameras, its deployment costs and operator numbers are relatively low.
"Camera-based systems generally need a day to set up and a significant crew, as opposed to Down & Distance, which only requires 20 or 30 minutes to calibrate to get it ready to go," Jay said. "From there, I can have the finer points perfected within a day." www.vizrt.com