SVT Scales Up EVS Resources for Remote Production of Two World Comps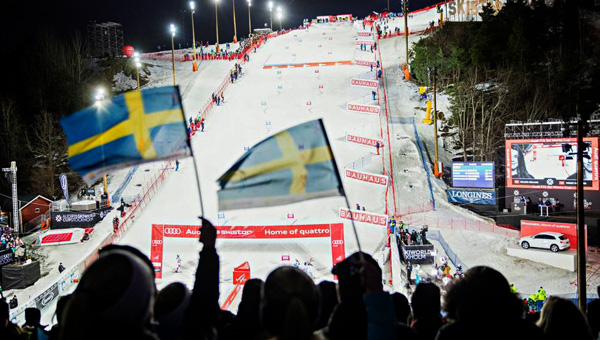 Åre 2019 FIS Alpine World Ski Championships
Swedish national public broadcaster SVT has delivered complex remote productions for two high-profile winter sports events - the Åre 2019 FIS Alpine World Ski Championships and the Östersund 2019 IBU World Championships Biathlon. The competitions took place in February and March in the neighbouring Swedish resort towns, Åre and Östersund. Among the first sports broadcasters to specialise in remote productions, SVT took the opportunity to remotely produce both events from its broadcast centre in Stockholm, about 600km away.
About 75 uncompressed HD camera feeds were transported via IP signals through two 100 Gbps Telia fibre circuits from the events, located in central Sweden, to SVT's three control rooms back in Stockholm. The main director and vision mixer operator for both events were directing from galleries in Åre and Östersund that were connected to SVT's central control rooms.
Stockholm Control Rooms
There, SVT scaled up its existing workflow, based on EVS equipment, for the specific demands of ingesting and producing the large volume of incoming feeds from both Championships. Inputs included standard cameras, triple-speed and 6 times super slow-motion cameras. Extra EVS XT3 ChannelMAX servers were supplied from HDR Sweden to expand SVT's existing EVS XT3/XS3 production servers and IPDirector PAM software suite. Eventually, the system consisted of over 100 HD channels for both host and national-unilateral broadcast operation.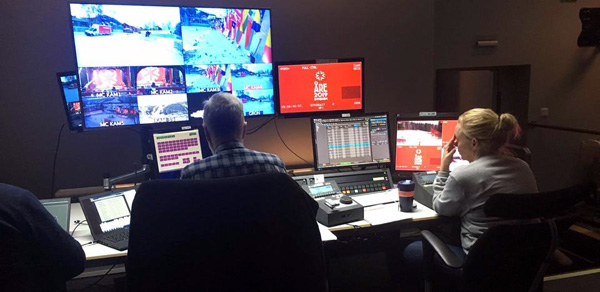 All EVS LSM (Live Slow Motion) replay panel operators were located in SVT's Stockholm control rooms to produce instant replays, slomos, highlights and closers for the World Feed for both events. The EVS operators in the control rooms were able to remotely create replays and highlights packages for the World Feed, World Feed Plus and also SVT's national production.
One of the benefits of the centralised remote operation was that, because all camera feeds were transported directly back to the broadcast centre in Stockholm, SVT's in-house editorial team working on their annual winter sports program 'Vinterstudion' (Winter Studio) had access to the same exclusive material to make their shows more exciting than usual.
World Feed Plus
The World Feed Plus, which was an further feed produced and supplied by Infront Sports & Media and SVT to all rights holders for the Åre 2019 FIS Alpine World Ski Championships, was also produced on the EVS system. All EVS operators in the gallery were tagging the best Super Motion footage from each skier with metadata or keywords.
Then, using IPDirector's filtering and search functions, the World Feed Plus EVS operator could quickly prepare a package of every skier as soon as he or she had completed their run. EVS' proprietary XNet live media sharing network made it possible to share Super Motion clips instantly across the XNet network without transfer delays.
Östersund 2019 IBU World Championships Biathlon
"We've been exploring the possibilities that remote productions bring since our first test at London 2012, because they can be both more efficient and more environmentally friendly. These two recent winter sports events were landmarks in terms of the sheer scale of what we attempted," said Adde Granberg, SVT's CTO and Head of Production.
EVS also regards SVT's broadcasts of these events as valuable demonstrations of what the new XT-VIA and XNet-VIA servers are capable of, and believes they can bring other possibilities as well because they support IP SMPTE2110 standards for varied production environments.
25 Years of EVS
At the 2019 NAB Show in Las Vegas, EVS will begin its 25th anniversary celebrations by showing its entire line-up of hardware, systems and software that connects creative teams, reduces technical demands and supports more efficient live IP-based production workflows.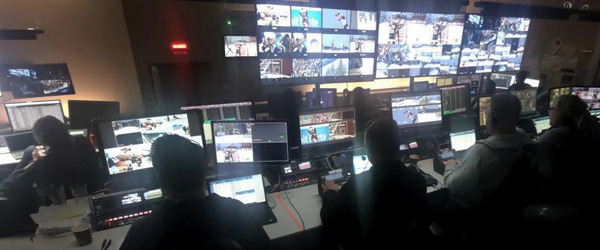 Demonstrations of new products and systems will show their tight integration with EVS' core service platform, VIA, which focusses on the user experience. Content creators are using XT and XS-VIA servers to deliver multi-format productions like the productions above, and using a new software-defined ingest server to set up flexible studio operations and virtualise back-end resources.
In the AI Experience Room, EVS will demonstrate Xeebra, the virtual assistant refereeing (VAR)system currently in use at several soccer leagues around the world, including Spanish division LaLiga. Visitors will see how Xeebra uses machine learning, a subset of AI, to automatically calibrate the field of play so operators can swiftly insert a 3D offside line with multiple viewing angles and higher precision that will increase over time.
The new PMZ hypervisor appliance from EVS supports the virtualisation of backend infrastructure, so facilities providers can make the best use of valuable space within mobile production or fly pack units. evs.com