Vizrt Acquires NewTek and Releases Viz Engine 4 at NAB
Viz Libero
Vizrt has acquired NewTek, forming a single company dedicated to developing software-driven, IP-based video production. Also, one of the main technical developments Vizrt will announce at NAB 2019 is Viz Engine 4, now released with a new physically-based render pipeline.
Acquisition
The combined companies will continue their work toward the transition to IP video for live production based on NDI and SMPTE 2110 delivery standards, and continue developing services and software for media workflows serving sports, entertainment, education, enterprise and esports production.
"Our organisations share a vision of software-based video production that uses the power and flexibility of computing and IT-based systems," said Vizrt CEO Michael Hallén. "The combined business will be well positioned to deliver turnkey systems that give a creative advantage to companies producing content for diverse output platforms."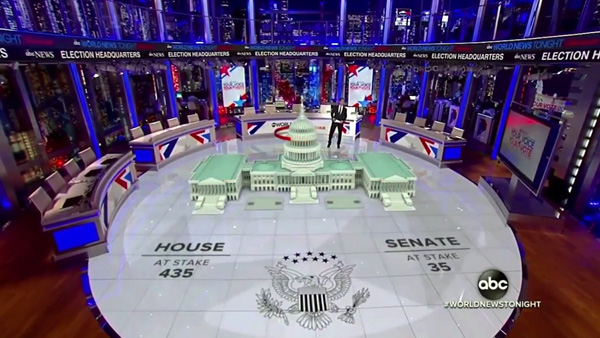 Augmented reality
Vizrt and NewTek note the complementary nature of their software-based systems that together create production-to-delivery workflows for content producers. Also, both are dedicated to increasing the adoption, strength and accessibility of IP systems in all markets, and both have established channel networks that can benefit from a wider portfolio of products. The new company combines the individuals that invented the NDI protocol with Vizrt's developers of template-driven real-time graphics.
R&D Focus
The company will be R&D focused with the vision of developing the software-based methods in video that will be the foundation of the future of the media industry and a smooth migration from traditional broadband to the flexibility of IP video. Michael Hallén, currently both president and CEO of Vizrt, will lead the business. Dr Andrew Cross, current President and CTO of NewTek, will assume the role as President of Research & Development of the combined company.
"Taking advantage of modern computing, software and networking to make video more accessible and fun to create has always been NewTek's mission. The tools from our two companies have changed the way stories are told worldwide," said Andrew Cross.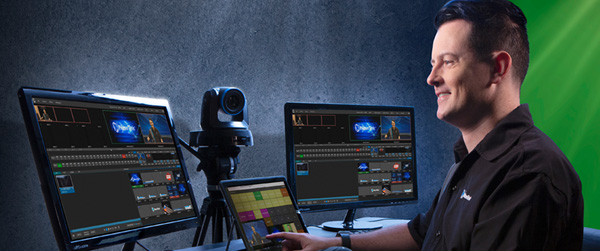 NewTek streaming software
"Anyone who wants to can create and share a show – ranging from classroom productions, local sports and web shows to mainstream broadcast news and sports. The combined company will continue to change the video industry, but the goal remains the same - to build new IT-based video systems to increase the reach and impact of anyone with a story to share."
Vizrt's New Viz Engine 4
One of the main technical developments Vizrt will announce at NAB 2019 is Viz Engine 4, the new version of the company's render engine for live media. It runs all of Vizrt's live media software and workflows that depend on real-time performance, low latency flow of media, precise 3D compositing tools and photorealistic looks.
Viz Engine is designed with three render pipelines that integrate design elements with Vizrt's template-based workflow. The Reality Fusion render pipeline is new and allows users to add many different post-processing effects. Especially effective for virtual studios and augmented reality graphics are the newer realistic effects, made possible through the use of physically-based rendering, global illumination and similar techniques, and achieved while maintaining real-time performance.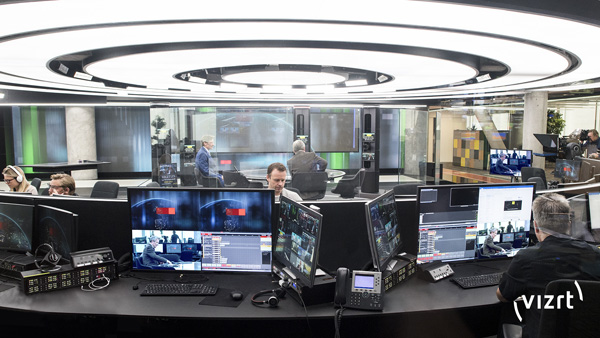 Vizrt for newsrooms
Backward compatibility of scenes allows users to continue with their established workflows and pipeline so that studios can make a smooth transition to the new render pipeline. Compatibility with 3rd party render engines like Unreal Engine 4 is another new development, supporting a third render option. This means users can add interesting looks like backdrops with physical simulations depicting trees blowing in the wind, and combine them with a simpler template-driven workflow for the foreground graphics.
SDI or IP Broadcast Server and Compositor
Viz Engine 4 is built to integrate into most SDI or IP broadcast environments with functionality including control applications and asset management, on top of graphics rendering, clip playout, downstream keying, switching and DVE production.
Viz Engine functions as both a video server and a graphics and video compositing platform, capable of rendering animated 3D scenes in real-time in HD, 4K and higher. Users can integrate their own proprietary control software and have a scripting language to manipulate graphics objects and customise project-specific plug-ins.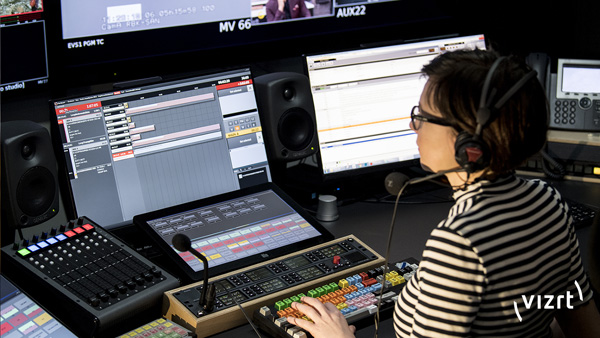 Automation
As a multi-channel 4K video playout server, Viz Engine supports the common codecs and can operate on the same SAN as Vizrt's Viz One MAM system or as a standalone server. A single Viz Engine is capable of back-to-back clip playback of up to 10 clip channels, plus closed clips, clips-in-transfer and video taken straight from an ongoing recording on its loop recorder.
Viz Engine uses graphics channels to display multiple separately controlled Vizrt scenes simultaneously in a single output layer for up to 8 live inputs, 16 clip channels, 4 stream inputs and 16 graphic channels. The graphics channels function as flat 2D DVE channels or as textures on 3D objects, giving flexibility for displaying content.
New Fusion Keyer
The new v4 Fusion Keyer updates Viz Engine's keyer with recent techniques including light-wrapping, a denoiser and multiple mattes, resulting in a pipeline for clean, invisible keys in real time, preserving very fine edge details, and achieves fast compositing speeds. It is compatible with established and emerging media systems and formats including SDI, IP, UHD and HDR, plus IP standards including WebRTC real-time web browser communications interfaces, NDI and the SMPTE 2110 standard.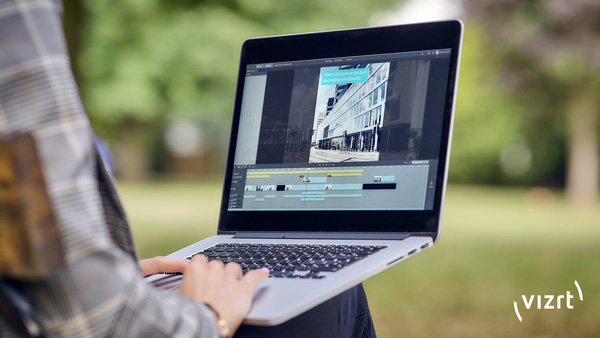 Viz Story
Viz Engine streams IP video in and out. Graphics and video are composited in real-time and output as a stream in chosen formats for use online, on mobile devices and live on-air. The IT infrastructure makes Viz Engine portable and affordable for OB vans. Viz Engine can function within NewTek's Tricaster NDI system with stream in and out capabilities. It can handle multiple high-res fill and key outputs in a single system when configured with Matrox video boards and NVIDIA graphics boards.
The combination of the plug-in API and an ASCII protocol is a flexible foundation for various applications. Given the current availability of high-performance graphics hardware, Viz Engine can be used as the graphics layer for applications requiring high-quality graphic content and interactivity.
Viz Engine's capabilities and other Vizrt tools can be seen in action on the Vizrt stand at NAB 2019, Las Vegas, including regular AR demos. www.vizrt.com