EVS XNet-VIA Network Shares Media Faster for Remote and IP Workflows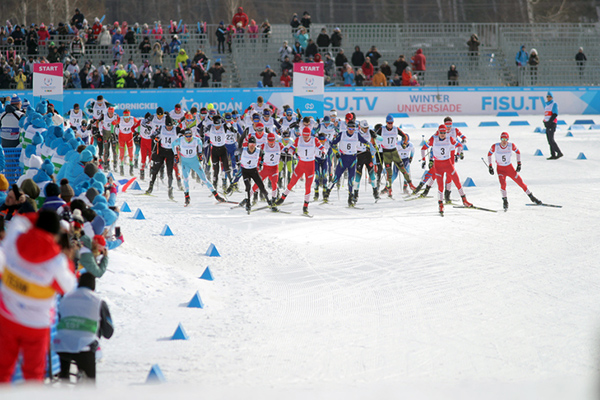 Broadcaster MatchTV chose XNet-VIA for the 29th Winter Universiade.
EVS has continued to extend the VIA platform, introduced last year for live production workflows, by developing a faster new sharing environment for UHD/4K, 1080p and HDR productions that use the XT-VIA and XS-VIA servers.
At NAB 2019, EVS debuted its XNet-VIA ethernet-based live media sharing network that supports sharing of high-resolution content between the XT-VIA live production and XS-VIA studio prodution servers to match the requirements of stadium and arena production teams, and outside broadcast providers.
Optimised for High-Resolution and Super Motion
As 1080p, UHD/4K in SDR and HDR formats, and IP workflows become more prevalent, secure Ethernet media sharing is a way to gain bandwidth and speed. XNet-VIA is a 10Gbps bi-directional Ethernet-based network that is optimised for high-resolution formats and super motion content. It has about three times the bandwidth of EVS' previous SDI-based transport network to move high-resolution recorded media between the new production servers.


XNet-VIA is configured through a new XHub-VIA network appliance that automates discovery and IP addressing to make IP systems simpler to manage. One unit can support up to 18 servers initially, and then be expanded to connect more than 30 servers on the same network. The hardware unit is small and shallow to make it suitable for outside broadcast set-ups. Overall, the system means broadcasters and mobile producers can accommodate larger, more complex distributed networks and faster workflows, fairly simply.
The system has already been market-tested. Host broadcaster MatchTV chose to use XNet-VIA for the 29th Winter Universiade, a multi-sport event spread over 11 different venues held in early March 2019 in Krasnoyarsk, Russia. XNet-VIA was used at the event's broadcast centre operations to share clips and recorded media covering more than 50 sports. Their production teams were able to keep up a considerably higher level of sharing as they worked than they have before.
IP-based Production Truck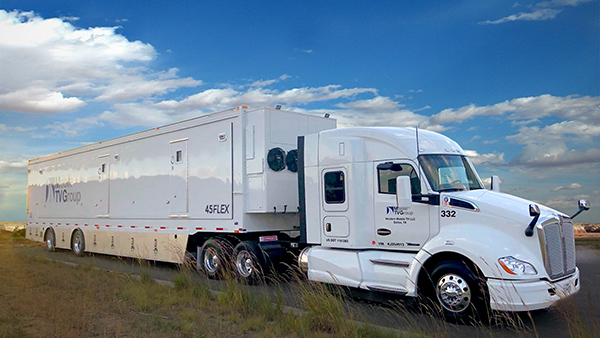 XNet-VIA has also been integrated into mobile applications by live production facilities provider Mobile TV Group in its new 45 Flex SMPTE 2110 uncompressed IP-based mobile production truck, which was on display at Mobile TV Group's outdoor booth at NAB. This truck also incorporates Grass Valley cameras and switchers and Evertz routing, SDI-IP interfacing, monitoring and IP timing.
XT-VIA production servers, which support live IP industry standards including ST2110 and NMOS, will replay, edit and produce all content on board 45 Flex. They can also upscale 1080p content to UHD-4K for playout. With the XS-VIA, used in this case to record multiple audio and video feeds and control the channels of playback operations, the XT-VIA servers are linked to the XNet-VIA sharing network so that their LSM replay operators can rapidly share the captured content as they work on it.
EVS has a virtualisation platform, PMZ, designed specifically for OB trucks and live events. Because of its hyper converged infrastructure (HCI) architecture, PMZ is more robust than many other hardware IT virtualisation systems. It is optimised for demanding environments with software-defined storage that scales out for more processing power when necessary. HCI architecture consolidates and orchestrates virtual resources, networks, various storage types and computing from individual machines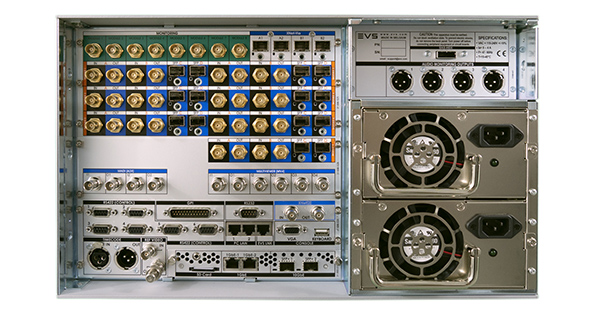 XT-VIA back panel.
Virtualising EVS backend tools means that resources remain flexible to reconfigure for each live production, and your workflows can be changed day to day. It also means less investment in dedicated hardware, less rack space and lower energy consumption.
XFile3 Live Asset Management
Operators on 45 Flex will be using EVS' XFile3 live archiving, a kind of asset management system for live productions that archives and transfers media as the production proceeds. Starting with different formats from multiple destinations, users can monitor, manage and deliver each asset in native formats directly to transportable media files or connected WAN circuits for remote production. Assets are managed from a single connected workstation via one interface that gives control and visibility over all of the workflows. www.evs.com